October 4, 2018 - Written by: Nancy Pollard
Read Time: 1 Minute Subscribe & Share

Lilliana was a Peruvian friend of Stephanie Gorenflo, one of our beloved Cuisinettes when La Cuisine was open. Stephanie, who knew a thing or two about quailty cocktails, swore by Liliana's recipe for a Pisco Sour, and having been disappointed by what was served at $14.00 by mixologists, I will just have the in house bartender make them at home. Lilliana's recipe is still the best. Ironically it was invented by an American bartender in Lima, Peru in the 1920's And yes, there is a Chilean version which is also claimed to be the best or the original, but I will just drink Lilliane's cocktail and let the Peruvians and Chileans fight it out.
Liliana's Pisco Sour
2018-10-04 13:42:24
Serves 4
Our favorite version of this Peruvian cocktail
Ingredients
1/2 cup caster sugar
3 tbs water
1 egg white
2.5 oz fresh squeezed lime juice (key Limes are preferable)
7.5 oz Pisco (Peruvian liqueur made from Muscat Grapes)
Instructions
Make the sugar syrup by boiling the water with the sugar until clear and allow tocool
Pour lime juice and Pisco into syrup and stir until smooth
Pour mix into blender jar and add enough ice to double volume of liquid.
Blend on high to crush ice.
Add one egg white and blend on high for one minute
Transfer to pitcher and offer first one to cook and assistants.
Notes
Basically the proportions are 3 parts Pisco to 1 part key lime or Persian lime juice to 1 part sugar syrup( but the syrup proportions should be the one listed in the ingredients) We tried with other sugar syrup and the cocktail was not the same.
Adapted from Cuisinette Recipe Files
Adapted from Cuisinette Recipe Files
Kitchen Detail https://lacuisineus.com/
Hungry for More?
Subscribe to Kitchen Detail and get the newest post in your inbox, plus exclusive KD Reader discounts on must have products and services.
---
Share Us on Social Media: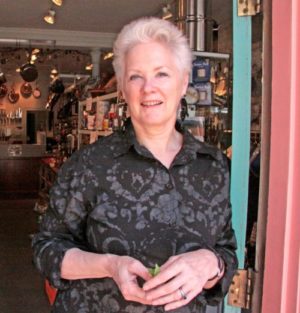 After owning one of the best cooking stores in the US for 47 years, Nancy Pollard writes a blog about food in all its aspects – recipes, film, books, travel, superior sources and food related issues.