November 20, 2019 - Written by: Nancy Pollard
Read Time: 2 Minutes Subscribe & Share
Resoundingly Lemon Naturally
You must know how much we revere the recipes from Maida Heatter at Kitchen Detail, and this Lemon Buttermilk cake from
her original version of Maida Heatter"s Book Of Great Desserts is no exception. This recipe apparently met with some resistance and was deleted from some subsequent reprints. But I have discussed this cake with other lifelong home baking friends who have made this cake with no problem, and we all fail to see any reason for controversy. It's such a delicious cake. Tender, lemony, with great keeping power. And it uses buttermilk, which I always seem to have left over after making things like Southern biscuits. You can make this in individual loaf pans as well. We recommend the stiff paper ones from Novacart or the nifty French ones from Panibois that are made from birchwood and can be put in the oven. When La Cuisine was open, I used 1/2 teaspoon of the French Lemon Essence in this cake if the lemons that I could get were not flavorful. I also added 1/8 teaspoon to the glaze. I always taste both and adjust accordingly. You can now get this sam essences from www.simplygourmand.com
A note on baking tins: I think aluminum, tinned steel or copper baking pans create a superior crust on these cakes. I never use non stick cake pans as they make a crust look "sweaty".
Lemon Buttermilk Cake
2019-11-20 19:21:40
Still our favorite lemon cake, and we like and have baked others. This is lemon flavor in a cake with no additional lemon fortification! Light and moist with great keeping power under a cake dome
Ingredients
Finely grated rind of 2 large lemons
3 tbs(4.4cl) lemon juice
3 cups (420gr)unbleached all purpose flour
1/2 tsp baking soda
1/2tsp fine sea salt
8oz (227gr) or 1 cup unsalted butter
3 cups (612gr) caster sugar
5 large eggs
1 cup (24cl) buttermilk
For the glaze
1/3 cup (7.9cl)lemon juice or mixture of lemon and lime juice
1/2 cup (100gr)caster sugar
Confectioner's sugar for sifting before serving
Instructions
Preheat oven to 325F
Butter a 10-12 cup tube cake mold of your choice
Dust with fine dry bread crumbs or (my choice) almond flour
Mix lemon rind, juice and set aside
Sift together flour, baking soda and salt and set aside
In a large bowl of an electric mixer, with the whisk attachment, cream the butter and gradually add the sugar until it is light and not sandy looking.
Add the eggs one at a time, beating after each addition at a medium high speed.
Beat for an additional 2 minutes after the last egg has been added.
Add the sifted ingredients in three parts and the buttermilk in two parts while your beater is on low speed.
Scrape down sides of bowl with a spoonula or rubber spatula and give a final few folds to make sure all intredients are gently but thoroughly combined.
After removing the bowl from your mixer stand, fold in the lemon juice and rind before turning the batter into your prepared pan.
Rotate pan and smooth batter, give a small thump on the counter to level it.
The cake should bake over an hour but check with a Thermapen as your done temperature should be a bit over 200F in the center or use the cake tester approach.
Mix the glaze while the cake is baking and let the liquid smooth out any little lumps in the confectioner's sugar.
When the cake is done, allow it to cool in the pan for 5 minutes.
Cover with a rack and invert (I always loosen the exterior edge and the tube edge with a narrow knife) over a sheet pan or parchment.
With a pastry brush, wipe the glaze allover the warm cake until it is absorbed, then let it stand until glaze is set.
Sprinkle generously with confectioners' sugar through a fine strainer and tranfer to serving platter.
Notes
If your lemons are not that flavorful, add 1/2 teaspoon of the Lemon Essence from Grasse, France carried by www.simplygourmand.com.
Adapted from Maida Heatter's Book Of Great Desserts
Adapted from Maida Heatter's Book Of Great Desserts
Kitchen Detail https://lacuisineus.com/
Hungry for More?
Subscribe to Kitchen Detail and get the newest post in your inbox, plus exclusive KD Reader discounts on must have products and services.
---
Share Us on Social Media: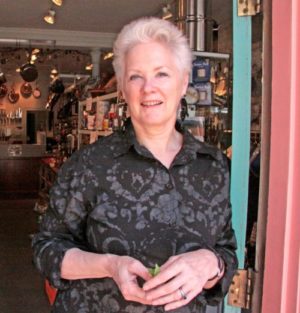 After owning one of the best cooking stores in the US for 47 years, Nancy Pollard writes a blog about food in all its aspects – recipes, film, books, travel, superior sources and food related issues.