June 21, 2019 - Written by: Nancy Pollard
Read Time: 1 Minute Subscribe & Share
Green Chile & Avocado Dip
2019-06-17 21:26:08
This has become my all season dip and sometimes sandwich spread
Ingredients
1-2 green jalapeno or similar fresh green chiles, halved and seeded
25gr (1 1/4 cups) cilantro leaves
3 tbs plain yogurt
4 garlic cloves, peeled
1 ripe avocado, peeled and pitted
4 tbs mayonnaise (optional)
Fine sea salt and freshly ground pepper to taste
Instructions
Put all the ingredients in a blender or food processor (except for the mayonnaise).
Blend until smooth.
Taste and adjust the seasoning.
The mayonnaise can be added if you wish before transferring to a serving bowl.
Notes
This sauce can be used with tortilla chips or lavash crackers too. Cover tightly and refrigerate and it will keep for a couple of days. I have used it also as a spread on sandwiches.
Adapted from Together - Our Community Cookbook
Kitchen Detail https://lacuisineus.com/
Hungry for More?
Subscribe to Kitchen Detail and get the newest post in your inbox, plus exclusive KD Reader discounts on must have products and services.
---
Share Us on Social Media: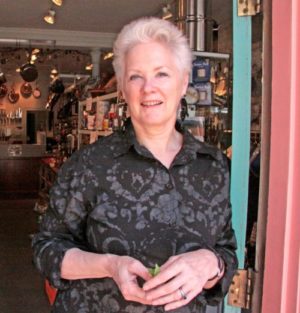 After owning one of the best cooking stores in the US for 47 years, Nancy Pollard writes a blog about food in all its aspects – recipes, film, books, travel, superior sources and food related issues.