November 27, 2018 - Written by: Nancy Pollard
Read Time: 1 Minute Subscribe & Share
Crispy Bacon-Wrapped Stuffed Dates
2018-11-26 19:52:47
Serves 6
Ingredients
18 pitted dates (she suggests Medjool, but I think a lesser pitted date is better for this )
18 pieces Parmesan cheese, each about 3/4 inch xy 1/4 inch
6 slices cured bacon, each cut into thirds (she suggests apple cured, but I have used others)
stemmed parsley for garnish
Instructions
Preheat oven to 450F
Pit dates if not already done (i buy the pitted ones)
Insert a piece of parmesan into each slit.
Wrap a piece of bacon arond each stuffed date and secure with a toothpick
Place dates on a baking sheet.
Bake for about 5 minutes or until the bacon on top is crisp.
Using tongs, turn the dates and bake for another 5 minutes. - bacon should be crisp on this side too.
Transfer dates to a double layer of paper towels to drain.
Transfer to a serving platter, optionally garnish with parsley leaves and serve.
Notes
These can be made 1 day ahead but unbaked.
Cover and refrigerate but bring to room temperature before baking.
Pecorino or Sonoma Jack can be substituted
Adapted from Seriously Simple Holidays
Adapted from Seriously Simple Holidays
Kitchen Detail https://lacuisineus.com/
Hungry for More?
Subscribe to Kitchen Detail and get the newest post in your inbox, plus exclusive KD Reader discounts on must have products and services.
---
Share Us on Social Media: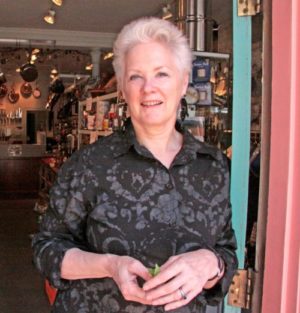 After owning one of the best cooking stores in the US for 47 years, Nancy Pollard writes a blog about food in all its aspects – recipes, film, books, travel, superior sources and food related issues.