June 11, 2019 - Written by: Nancy Pollard
Read Time: 1 Minute Subscribe & Share
Focaccia Dough with All Purpose Flour
2019-06-11 17:16:27
This will make two focacce about 10x15 inches. You can freeze the dough after the first rise.
Ingredients
1/2 tsp (4gr) caster or superfine sugar
2 tsp (5.7gr) dried yeast (instant yeast is faster)
3 cups (705ml) water (lukewarm if it is dried yeast)
2 lbs (907gr) all purpose flour
2 tsp (7.5gr) fine sea salt
3 tbs (45ml) olive oil
cornmeal or semolina for dusting.
Instructions
1,Combine the sugar and yeast in 1/4 cup (59ml) water to activate it, which may take as long as 5 minutes. .
2. Mix the flour and salt in a bowl, adding 2 tbs olive oil, yeast mixture and 3/4 of the remaining water.
3, Mix and then add the rest of the water, a little at a time until you have a loose dough.
4. Knead this either with a dough hook or by hand at least 8 minutes.
5 ,It should be smooth and leave an impression when you an indentation made by a finger springs back immediately - or do the bread windowpane check.
6. Oil a large bowl with remaining olive oil and roll the dough in the bowl to coat it.
7. Cut a shallow cross in the dough with a sharp knife.
8 .Allow to rise (covered loosely in plastic or cloth in a warm draft-free place for 11/2 hours until dough is doubled in size,
9 .Alternatively, cover and leave in fridge for 8 hours- slower rise will yield a looser texture in the baked bread.
10. Punch down the dough and divide into two portions (you can freeze one or store it in fridge for 4 hours but bring back to room temperature to form)
11.Start by rolling the portion out into an 8x11 inch rectangle and then stretch or push out into a 10x15 inch rectangle.
12.Lightly grease your baking sheet and dust it with the semolina or cornmeal.
13.Allow it to rise inside a loose plastic bag or under a towel for around an hour or two.
14. Your dough is now ready for the final recipe choice and be baked at 425F for 20-30 minutes.
Notes
Suggestions from this book are: 1 cup of green olives pressed into the dough, then dosed with olive oil and sprinkled with salt and leaves from two rosemary sprigs
OR 3 oz diced pancetta, pressed in the dough followed by 10 basil leaves, torn in half, pressed in, dosed with olive oil and topped with grated Parmigiano
OR 1 cup Gorgonzola, mashed with 1-3 tbs mascarpone, gently spread across with 10 sage leaves, torn in half and 2 tbs Italian pine nuts scattered on top..
By multiple authors
Adapted from Food Of Italy
Adapted from Food Of Italy
Kitchen Detail https://lacuisineus.com/
Hungry for More?
Subscribe to Kitchen Detail and get the newest post in your inbox, plus exclusive KD Reader discounts on must have products and services.
---
Share Us on Social Media: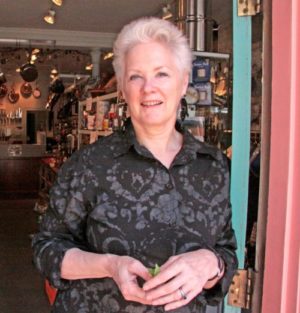 After owning one of the best cooking stores in the US for 47 years, Nancy Pollard writes a blog about food in all its aspects – recipes, film, books, travel, superior sources and food related issues.