August 28, 2019 - Written by: Nancy Pollard
Read Time: 2 Minutes Subscribe & Share
CinCin
Even though the term "spritz" is a leftove
r bit of cocktail vocabulary when the Veneto area was ruled by the Austo-
Hungarian Hapsburgs, this drink is All Italian. Aperol itself was created in Padua by two brothers, Luigi and Silvio Barbierie in 1919 ( the Hapsburgs had left this area of Italy) for a lifestyle fair. Aperol gets it bright color from gentian, a slightly bitter taste from rhubarb and other secret herbs and spices. In the period after World War II, aperitivi in the late afternoon became a trend and Aperol with its cleverly designed posters which were aimed at both sports loving men watching TV in bars AND women enjoying a libation. The Art Nouveau inspired posters were used in newspapers, magazines and of course TV. The combination of Aperol and Prosecco as part of a Veneto "spritz" probably occurred in the 1980s. I personally love the glasses that Luca Trazzi designed for the Aperol Spritz which is sort of an hommage to the original Aperol bottle of 1919.
You can see it is pretty simple to make, no crushed ice, big ice cubes are essential, but the Resident Wine Maniac did some some serious research on this delightful low-alcohol sprits and found that if blood orange soda is added, you get a more robustly flavored drink. Not stronger, not sweeter, it just has that added je-ne-sais-quoi. Our favorite blood orange soda for this drink is from Effervé
Kitchen Detail Aperol Spritz
2019-08-23 14:51:08
Serves 1
This version of one of the most popular Italian summer cocktails has more "oomph" to it.
Ingredients
2 parts prosecco
2 parts Aperol
1 part Blood Orange Soda
Instructions
For each drink he uses 1.5oz prosecco, 1.5 oz Aperol, .75oz Blood Orange Soda.
Fill each glass with ice cubes.
Pour in the Prosecco first, followed by the Aperol and topped with the Blood Orange Soda.
Garnish with an orange slice.
Notes
I use Efferve Blood Orange Soda.
Kitchen Detail https://lacuisineus.com/
Hungry for More?
Subscribe to Kitchen Detail and get the newest post in your inbox, plus exclusive KD Reader discounts on must have products and services.
---
Share Us on Social Media: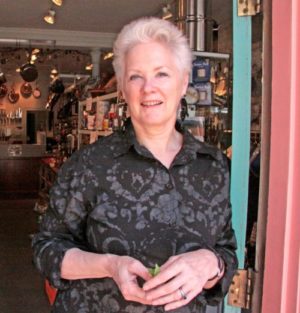 After owning one of the best cooking stores in the US for 47 years, Nancy Pollard writes a blog about food in all its aspects – recipes, film, books, travel, superior sources and food related issues.