March 23, 2023 - Written by: Nancy Pollard
Read Time: 2 Minutes Subscribe & Share
Souffles Are Easy
Do you have eggs, milk, butter in your fridge? Sugar, and chocolate in your cupboard? Guess what? You can make a souffle – it really is easy. Besides a functioning oven (always handy), check your drawers for a good heat conducting saucepan, a whisk or electric beater, a metal or glass bowl, a casserole dish, spatula and grater. I'm a great believer in scales, but if you are clinging to your measuring cups and spoons, that is just dandy. Less than 30 minutes of your precious time and another 20-30 minutes in the oven and pouf! you are done. And people will think you're a genius.
This particular chocolate soufflé is an unusual one and creamier than other versions. It is from Christophe Felder, a pastry chef whose wild
recipes I just adore. I think his method of folding the yolks into the meringue and then adding the chocolate base is ingenious. I always butter the souffle dish and then add sugar and cocoa powder to line the interior instead of just sugar. It's important not to skimp on buttering the mold and make sure that the sugar (or sugar and cocoa powder) thoroughly line the interior. This allows the souffle to hang onto the sides in that first blast of heat. . For Felder's recipe, it's specially important to purchase a superior couverture chocolate. My favorites for chocolate souffle are the mid-range (cocoa solids over 60% but under 72%) and I have used Cluizel, Valrhona, Venchi, Slitti and Amedei with great success. A large bowl of whipped cream is de rigueur as you pull your trembling masterpiece out of the oven So here is a recipe developed by Stella Parks of Bravetart fame, available through Epicurious. This way, the whipped cream is done several hours before you start putting this recipe together. C
Chocolate Souffle
2023-03-23 13:31:02
Serves 6
After trying this version of chocolate souffle, I am sold on this technique. Creamy in texture and lush in flavor
Ingredients
8 oz/ (225gr) 70% chocolate
2 2/3oz (75gr) unsalted butter (1/3 cup)
9.5oz (270gr) egg whites (1 1/4 cups)
3.5oz (90gr) caster sugar (1/2 cup)
4 large or extra large egg yolks
Instructions
Preheat oven to 420F
Generously butter an 8 cup soufflé mold or heat-proof tea cups or ramkins
Sift caster sugar or a combination of caster sugar and cocoa generously in the interior.
You can also use our Setteveli Croquant to line the molds.
Melt the chocolate (if it is in block form, cut into shards) in a bowl over simmering water.
Add the butter and allow it to melt into the chocolate, off the burner.
Stir the combination and leave at warm room temperature.
Whip the egg whites and add 25% of the sugar in teaspoons as you are whisking.
Then you can add the 75% remaining in 3 spoonfuls so that you have a meringue-like finish.
Whisk the yolks and incorporate them into the meringue.
Fold the chocolate butter mixture gently into the yolk-enriched meringue.
Fill your molds about three fourths full.
Put your molds on a bake sheet and slide them into the oven.
Individual molds will take 10 to 15 minutes, but a large mold will take 20-25 minutes.
The souffle should be creamy in the interior and served immediately..
Notes
Christophe Felder suggests that you can add liqueur soaked pieces of savoiardi or ladyfingers in the middle of the souffle before putting it in the oven.
You can do these as individual souffles, the cooking time will be about 15 minutes
Souffles can be really runny in the center or more baked, it depends on how you like them - experiment with cooking times.
Adapted from Le Chocolat
Adapted from Le Chocolat
Kitchen Detail https://lacuisineus.com/
Hungry for More?
Subscribe to Kitchen Detail and get the newest post in your inbox, plus exclusive KD Reader discounts on must have products and services.
---
Share Us on Social Media: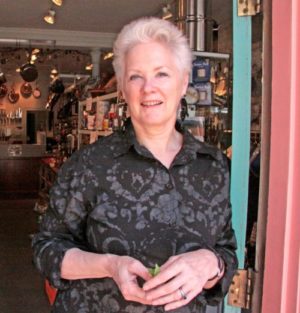 After owning one of the best cooking stores in the US for 47 years, Nancy Pollard writes a blog about food in all its aspects – recipes, film, books, travel, superior sources and food related issues.