June 1, 2021 - Written by: Nancy Pollard
Read Time: 5 Minutes Subscribe & Share
Apericena or Drinner
Apparently, making a meal out of hors d'oeuvers is now A Thing. In the Before Times, a close friend and wonderful cook invited us over, not for dinner (it was, except no dessert) but instead to have a meal of different hors d'oeuvres (or in CuisinetteSpeak – Horses Doovers) and some light wines. It was such a treat, so casual, we just sat outside on her deck and never moved. We all had a grand time tasting from several different canapes, crackers and dips and a couple of seafoody things. So this is not taking Happy Hour home with you – which, if memory serves, was little more than some mixed nuts, chips and dips. Not very happy.
But in Italy this type of hors d'oeuvers dining is done with great style, and has moved them to coin the word "Apericena" – a
combination of aperitivo and cena(drink and dinner) . The Italian Insider says that bars in Bologna get very competitive with their Apericena offerings. You can have Prosecco or,
even better, Francia Corta – the Italian version of French Champagne – and any number of light aperitivi. To learn how to create your own Apericena, you can take a zoom class from Domenica Marchetti, who now includes an Apericena episode, replete with a custom-made aperitivo from her resident barman, who loves Italian amari as I do. You can look through our archives to check out other Drinner ideas too.
Crackers, Spuma, Sopes For Drinner
One of my cooking crazes caused by the Pandemic was the making of crackers. I thought I didn't like them, but I was wrong. I just didn't like the packaged variety. Since I became a prisoner of my sourdough starter, this particular one has been a repeat at Casa Pollard, along with the poppy seed version pictured here. This new one with its lemon and pepper zip mixed in with Parmesan or Pecorino is just perfect for summer. It is a great stand-alone cracker with a drink because of its lemon, pepper and dry cheese taste, and it makes a good base for a smoked trout or tuna dip hors d'oeuver, like the one from
Patricia Wells listed here. I increased the lemon a bit from the original recipe in the 1994 Best of Gourmet Menu Cookbook. You can either make the somewhat squarish log as suggested in the recipe or roll it out like a very thin pie crust. The first option is to slice the dough thinly to make cookie-like crackers. I prefer to roll the dough like a pie crust and then cut into rectangles, squares or diamonds or you could use a cutter to make other shapes and then re roll the scraps. I prefer this to the slice and bake approach listed in the original recipe. When I roll them out, the cracker is more flaky rather than cookie like. In either case, you can sprinkle a little flaked salt and additional pepper on them before you bake if you prefer a sharper saltier taste than what you get from the cheese. These can be kept in an airtight container but may need to be crisped up in the oven if you keep them longer than a day or two.
Lemon Pepper Parmesan Crackers
2021-05-25 20:17:33
Yields 40
Ingredients
1 1/2 cups or (approximately 350ml) finely grated Parmigiano or Pecorino
3/4 cup (96gr) white all purpose flour
1 teaspoon grated lemon zest
3/4 teaspoon freshly and coarsely ground black pepper - some additional for grinding on the crackers before baking.
1/4 cup (67gr) cold unsalted butter, cut into small pieces
1 2 tablespoon cold water- you want enough to make a smooth dough
1-teaspoon fresh lemon juice - I add a bit more because I like a more pronounced lemon flavor
Instructions
In the bowl of a food processor, you will add the flour, grated parmigiano or pecorino cheese, the 3/4 teaspoon ground pepper, and lemon zest and quickly pulse twice just to mix.
In the bowl or mixer bowl, add these ingredients and stir to mix.
Add the cold butter bits to the processor bowl, and pulse a few times to create coarse meal.
By hand you would do this with a pastry blender and with a mixer, on low speed, the flat blade should create the same result.
In the processor, add the water and lemon juice through the tube opening while pulsing, so that you get the ingredients to combine into a dough.
In the bowl, you will create a well and then add the water and lemon juice into the well and combine with a fork until it just forms a dough.
In a mixer, you will add the water and lemon juice while the blade is turning slowly just until it clumps together into a dough.
On your work surface, knead this until it is relatively smooth and uniform.
At this point you can form it into a log (Gourmet says square, which I have not managed to do perfectly) but you want a log that is about 1 1/2 inches in diameter and 11 inches long.
Cover and allow to rest in the refrigerator for at least an hour.
Or you can make a square-ish disk and allow it to rest for the same amount of time
Preheat your oven to 350$ (175C) and slice the log into 1/4 inch(2/3cm) thick slices.
Lay slices out on a Silpat or parchment sheet and bake for about 15 minutes.
If you roll out the dough like a pie crust, cut into desired shapes and transfer the cutouts on to a Silpat or parchment.
Adapted from The Best Of Gourmet 1994
Adapted from The Best Of Gourmet 1994
Kitchen Detail https://lacuisineus.com/
A customer in the shop alerted me many years ago to the vast difference between American canned tuna (sorry, Charlie, but not so much) and the
Spanish and Italian versions. We carried the Ortiz brand and, once addicted, clients ordered it by the case. Spuma di tonno is a standard Italian dip hors d'oeuver, but this version from Patricia Wells's cookbook Trattoria, is still my favorite. We used to serve it every summer at Saturday tastings at La Cuisine. It may have been the butter that made it yummier than others we had tried. It works nicely with the above cracker too. If you have fresh oregano or marjoram hanging out in your garden or window box, the addition of about 1 tablespoon of either is nicer than dried.
Lemon & Oregano Scented Tuna Mousse
2021-05-27 23:19:31
use it as a dip, a base for crostini or even mixed in with the hardboiled yolks for devilled eggs.
Ingredients
6 1/2 oz (190gr) imported tuna packed in olive oil - don't drain the tuna!
2 oz (60gr) unsalted butter, softened
grated zest of one lemon
2 tablespoons freshly squeezed lemon juice
2 tablespoons extra virgin olive oil
1/2 teaspoon dried oregano or 2 teaspoons fresh oregano or marjoram
1 garlic clove, degermed (split in half and remove greenish core) and minced
Instructions
Flake the tuna before adding to a food processor bowl with the oil.
Add all the other ingredients and process until smooth and creamy.
Transfer to a small bowl and then serve at room temperature
You can cover and store the mixure in the refrigerator for up to three days.
Adapted from Trattoria
Adapted from Trattoria
Kitchen Detail https://lacuisineus.com/
Moving from the Old World to the New, this is a horses doover I learned how to make from Larissa, our store manager for over twenty years. The
masa base for sopes is thicker than a corn tortilla, so it is easier to pat out by hand.. I tried making corn tortillas by hand after watching numerous Cuisinettes patting them out perfectly…but I failed. The masa is patted into whatever size you want, and children can make them with you. I use bacon grease or pork fat to fry them. I don't put them on dry comal, the frying in lard gives them a softness and extra flavor. Your can make a little ridge around the edge when they are warm if you want to give the traditional look. You can of course, use pinto beans or chickpeas instead of black beans.
Larissa, you and I have eaten together pupusas, pollo a la brasa, carne asada, your mother's killer corn tamales and sometimes, El Salvadorian sausages would arrive in my fridge before Christmas…thank you Lari for all those wonderful treats and this gorgeous mouthful with a drink of your choice. I miss our times together.
Sopes
2021-05-27 23:33:03
Delicious anytime. Kids can help making them.
Ingredients
2-cups masa harina
1 cup water plus extra as you need to make smooth pliable dough\
(I add a teaspoon of salt to my dougn)
1/2 head iceberg lettuce, shredded
1/2 medium red onion, thinly sliced
1/2 lb black beans cooked and roughly pureed (use cooking water to thin if necessary)
2 bunches cilantro, minced (I include some stems)
2 6 inch stems of mint leaves, minced
1/4 cup Mexican Crema or American Sour Cream
1-2 limes juiced
6 small flavorful tomatoes, diced
1.5 cups queso fresco, grated
Salt to taste
Instructions
To make the masa: Start out with 2-cups of masa flour in a large bowl.
Add about 1 cup cold water and begin to mix by hand.
Add more cold water as needed to form a ball of dough that is soft but does not stick to your hands.
To make Chimol: In a medium size bowl combine cilantro, onion, tomatoes, lettuce, mint, and lime juice.
Toss ingredients with a spoon until well combined and salt to taste.
To fry sopes: Heat a large cast iron skillet on low-med heat.
Add sunflower or grapeseed oil or lard to skillet and allow to heat.
Form masa into bite sized discs about 1/4 inch thick.
Fry until golden on both sides.
Transfer to a half sheet pan.
To assemble: spread refried beans, then crema, then the grated queso fresco, and top with chimol. Transfer to platter and serve while still warm.
I reverse it a bit and top with the grated cheese after the chimol.
Notes
A small offset icing spatula is perfect for setting up the sopes. And as usual a line cook spatula makes flipping sopes really easy. The number of sopes this recipe makes depends on the size of the disk you make.
Kitchen Detail https://lacuisineus.com/
Hungry for More?
Subscribe to Kitchen Detail and get the newest post in your inbox, plus exclusive KD Reader discounts on must have products and services.
---
Share Us on Social Media: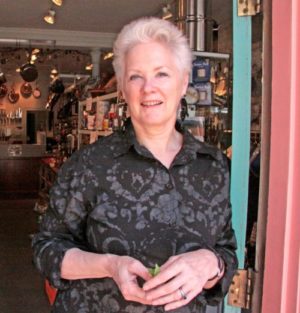 After owning one of the best cooking stores in the US for 47 years, Nancy Pollard writes a blog about food in all its aspects – recipes, film, books, travel, superior sources and food related issues.