May 3, 2023 - Written by: Nancy Pollard
Read Time: 5 Minutes Subscribe & Share
It's All In The Name
Some years ago, I ordered Risotto Alla Milanese in a highly regarded and somewhat snooty Italian restaurant in downtown DC. Not having any idea what it should taste like, but having heard the name frequently, I was curious. It tasted like saffron, rice and cheese – not unpleasant but somewhat insipid. Then on a trip in Northern Italy, I ordered it in a not famous and not snooty restaurant, not in Milan. I was stunned at how rich, how delicious this creation was. It probably sealed my love for all dishes with bone marrow.
Every Dish Has A Story
I love looking up the legends behind dishes that "stand the test of time". This particular legend is found in the Trivulsiana Library in Milan, which has manuscripts dating back to the fifteenth century. Certainly
Risotto Alla Milanese has its share of culinary mythology. An apprentice to a Master glass maker, Valerio of Flanders, was given the nickname of Zafferano or Saffron because he added it to every meal he prepared. At the time, saffron was used to color glass, and Valerio of Flanders had been commissioned to create some of the stained glass windows for the Duomo Di Milano cathedral under construction. On September 8, 1574, the story goes, the daughter of Valerio of Flanders was married to his assistant, and a rice dish colored brightly by lots of saffron was served as a joke. It also had the symbolic color of wealth. But the assembled guests ate all of it and thus, the progenitor of Risotto Alla Milanese was supposedly born. After that there is no printed material about this rice preparation until 1809, where it was written in a cookbook as Riso Giallo In Padella and included saffron, nutmeg, bone marrow, butter and cheese. Then in 1929, a Milanese chef, Felice Luraschi, christened this recipe Risotto Alla Milanese Giallo in his restaurant.
Having looked at videos on the YouTube Italia Squisita channel, and others from various Italian and American cooks, I found several riffs on this golden rice. One involved a saffron, butter and cheese foam, another called for the rice to be toasted lightly first, followed by some pretty amazing flipping of ingredients in frypans – something I am still practicing, alone of course. And several chefs suggest that unless you have a very rich roasted chicken broth, it's better to use a meat-based one so that it stands up to the saffron, butter and cheese.
One thing I learned was that the onion needed to be diced à la fine brunoise, down to about the size of the rice grains. The amount of stock that can be absorbed by rice is approximately 3:1 and that it takes about 18 minutes from start to finish. You may not use all your warm broth. At the end, they put in butter with a technique called mantecatura. This Italian culinary addition is derived from the Spanish word for butter, oddly enough. Butter and sometimes cheese are added to the almost finished risotto off the heat, and either by stirring with a wood spoon or swirling the pan, the risotto achieves an unctuous creaminess right before it is served. And it should be served all'onda or very loose and creamy.
Usually veal marrow rather than beef is used, and the rendering of the marrow is often called into service to sauté the onion and then the rice. You can pulverize the saffron in between your fingers and then add to a small amount of stock about a half hour before you begin your 18-minute risotto run. You can also lightly poach in stock or sauté some marrow rounds for a minute or two to serve as a garnish on each serving of risotto alla Milanese. Sometimes shallots are substituted in the soffritto instead of onion. Using a white pepper, which is milder, rather than black pepper makes for a more attractive presentation.
Which Rice?
You will not get the necessary risotto texture and taste if you use any old long grain rice. If that is all that is available, make something else. Of the short grain rice types, Carnaroli is my favorite. It has a higher starch content than Arborio rice and a longer grain. I think it keeps its shape better than Arborio, too. It was developed in 1945 and is a cross between Vialone Nano and Lencino rice strains.
Arborio rice was developed as a cultivar of Vialone and Lady Wright rices in 1946. It is short-grained but hardier and a bit larger than earlier Italian rice varietals. Arborio is now grown in the US and other rice-growing countries. Its higher starch content and ability to blend in with flavors made it synonymous with risotto. The grain has a center that remains a little resistant or "al dente." It often is the best choice for rice desserts.
Baldo Rice is a short hybrid of Arborio and a Turkish rice called Stirpe 136 and is grown in both countries. Some find it to be stickier when cooked than Arborio. Vialone Nano may be the surviving strain of the ancient rice cultivars in Italy. And it is the Vialone strain that was bred with another called Nano (named for the low height of the plant). It is cultivated specially in irrigated areas with pure resurgence water. This particular strain has been grown in Veronese paddies since 1937 and great pride has been taken in its cultivation. So much so that it has been given IGP status in 1997 (coveted bona fides certifying a product's origin and sustainable agricultural practices).Highly recommended for risotti, arancini, and suppli, Vialone Nano rice easily absorbs your condiment additions to the base recipe for risotto.
While there are numerous riffs and recipes on how to make this dish, sometimes a good video clears up a few questions. This video from Giallo Zafferano covers all the bases on making this dish at home. Plus he does show you how important it is to make a rich meaty broth.
Risotto Alla Milanese
2023-04-16 00:55:04
Serves 4
My take on on this creamy and rich golden rice dish
Ingredients
240gr (1.2cups) Carnaroli rice
1 cup (237ml) white wine or white wine vermouth
100gr (7tbs) room temperature butter
1 small white onion or a large shallot very finely diced "a la fine brunoise"
1.5L (generous 6 cups) meat stock - you won't use it all- kept at low heat
40gr (generous 1/2 cup) grated Parmigiano
2gr (2 teaspoons) saffron in stamen form
6 pieces of veal or beef marrow
salt, pepper and best quality extra virgin olive oil to your taste - the olive oil is optional, some feel it adds a bit of freshness to the dish.
White pepper is preferred over black pepper
Instructions
You can either render some of the marrow and then add the onions and cook them over medium heat until they are translucent but not browned, or do the same in some butter and olive oil.
Add your rice, stir and sauté gently until the rice is barely translucent and coated with the fat.
Add your wine next, stirring until it has almost evaporated.
Start adding your warm broth by the ladleful and stir until it has almost evaporated before adding the next.
After a couple of ladles of broth, add the small bowl of saffron-infused broth and continue with adding broth until the rice has a slight resistance in the center of the grain when you bite into it.
Take the pan off the burner and add the butter and the cheese, stirring it until you achieve a creamy consistency.
It should be slightly runny as you ladle it into serving bowls or plates.
Adjust seasoning to your taste with salt and pepper and if you want a bit of herby freshness a bit of an excellent olive oil.
Top with lightly poached or sauteed bone marrow and additional cheese, if desired.
Adapted from several videos and cookbooks
Adapted from several videos and cookbooks
Kitchen Detail https://lacuisineus.com/
Shop Items Mentioned in the Post
Hungry for More?
Subscribe to Kitchen Detail and get the newest post in your inbox, plus exclusive KD Reader discounts on must have products and services.
---
Share Us on Social Media: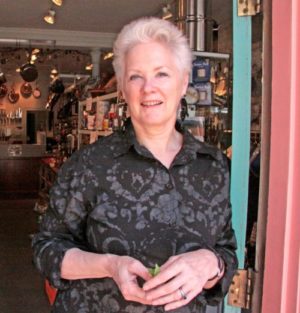 After owning one of the best cooking stores in the US for 47 years, Nancy Pollard writes a blog about food in all its aspects – recipes, film, books, travel, superior sources and food related issues.