April 30, 2019 - Written by: Nancy Pollard
Read Time: 6 Minutes Subscribe & Share
Riso, Ragazzi And Risotto
Bitter Rice was made in 1949 — a combination of Italian neorealism film production and the va-va voom pulpy look at gorgeous women that endeared it to male audiences both here and in Europe. My husband remembers as a pre-teen in Mississippi, going with his (male) friends to the weekend matinee that featured kids' movies and cartoons, followed by adults-only fare. The adolescents hid under the seats after the matinee, so that they could see Bitter Rice and Silvana Mangano in her seductive glory. He also remembers that they were bored after the first half hour but could not leave for fear of being discovered. Clearly, Riso Amaro is worth a watch. Perhaps fix a bowl of risotto and enjoy incredible photography and politically provocative story lines that cleave more toward Italian Communism than to Catholicism. This film is a remarkable 1949 look at the post-war rejection of the fascist control of film-making, with its elaborate sets and homage to state-run propoganda. Instead, Bitter Rice and other films of this period created stories around the forgotten citizens who struggled to find work, but were controlled by both corrupt companies and unions. After all, in Italian "Riso Amaro" means not only "bitter rice" but also "bitter laughter." As a side note, Silvana Mangano, who was raised in extreme poverty, became a dancer and actress of note. One of her last roles was in Dune in 1984 and she is also the grandmother of Giada DeLaurentis.
Not Just Arborio
I have made risotto with just about any rice within my reach and my hands down favorite remains Carnaroli. I have even stepped out of the rice corral and done a couple with farro and one with barley (which I didn't like) but here is a brief course on what the differences are in suitable Italian rices. Carnaroli is considered a medium grain (it is grown in the Vercelli province, where Riso Amaro was filmed). It has a higher starch content than Arborio rice and a longer grain. I think it keeps its shape better than Arborio, too. It was developed in 1945 and is a cross between Vialone Nano and Lencino rice strains.
There is actually a town in the Po Valley named Arborio, where this rice was born as a cultivar of Valone and Lady Wright rices in 1946. It is short-grained but hardier and a bit larger thean earlier Italian rice varietals. Arborio is now grown in the US and other rice-growing countries. Its higher starch content and ability to blend in with flavors made it synonymous with risotto. The grain has a center that remains a little resistant or "al dente." It often is the best choice for rice desserts. It has a high yield and is easier to grow than other strains.
Baldo Rice is a short hybrid of Arborio and a Turkish rice called Stirpe 136 and is grown in both countries. Some find it to be stickier when cooked than Arborio. Vialone Nano may be the surviving strain of the ancient rice cultivars in Italy. And it is the Vialone strain that was bred with another called Nano (named for the low height of the plant). It is cultivated specially in irrigated areas with pure resurgence water. This particular strain has been grown in Veronese paddies since 1937 and great pride has been taken in its cultivation. So much so that it has been given IGP status in 1997 (coveted bona fides certifying a product's origin and sustainable agricultural practices). It, too, is highly recommended for risotti, arancini, and suppli, as it easily absorbs your condiment additions to the base recipe for risotto.
My Risotto Bible is American
While I have several books on making risotto, the one I return to regardless of the season was written by two American women, Judith Barrett and Norma Wasserman, in 1987. It has now been reprinted with a different publisher. I learned from this book that after 18 minutes, you remove the risotto from the heat, finish off with a small amount of broth, stirring it quickly (sometimes with additional cream, butter, or cheese). The result is indeed toothsome (our word for al dente) yet creamy and full of flavor. Risotto has an unvarying basic setup, but once mastered, there are numerous permutations, and many can be done in under a half hour from prep to plate.
I use a 4 quart Mauviel copper saute pan, which is older than my copy of Risotto. Once you have your broth ready, you combine diced onions or shallots in a soffritto, have your rice choice ready, your other condimenti or fixin's and a bit of butter, cream, Parmesan (depending on the recipe) and you are ready to go! For example, the recipe for radicchio risotto, with white wine rather than red, is one of my favorites. Radicchio, which I love for its bitter taste in salads, becomes almost buttery in this risotto. I serve it with grilled lamb usually, although any risotto choice can be made as a first course, as is tradtitional in Italy.
Risotto with Radicchio
2019-03-25 21:22:27
Serves 4
Simple and buttery turn for one of my favorite bitter salad greens.
Ingredients
5 cups (1 1/8lt) light veal, chicken, or vegetable broth
1/2 cup (125ml)dry white wine or broth
2 tbs 28gr) unsalted butter
1 tbs (14gr) olive oil or other choice
1/3 cup (50gr) finely minced onion
1 1/2 cups (300gr) Arborio, Carnaroli, Vialone Nano rice
1 cup (70gr) finely chopped or sliced radicchio leaves
1/4 cup cream (60ml) (light is recommened by the authors)
1 tbs finely chopped parsley
1/3 cup (50gr) grated Parmesan cheese
Instructions
Bring the broth to a steady low simmer in a saucepan on your stovetop.
Heat butter and oil in a 4-quart (2ltr) casserole over moderate heat.
Add the onion and saute for a couple of minutes - it should be soft, but not browned.
Add the rice, stirring with a wood spoon until all the grains are coated with the soffrito.
Add the wine, and stir gently until it is completely absorbed.
Add the radicchio leaves and a ladle (60-80ml) of hot broth, stirring frequently.
Wait until that addition is absorbed before adding another measure of broth.
Continue this procedure, but save 1/4 cup (60ml)to add at the end.
Your risotto should just about be ready after 18 minutes - it should be tender, but still a bit firm.
Add the broth, the cream, Parmesan and parsley, and stir vigorously to combine with the rice.
Serve immediately in warm bowls or plates.
Notes
I always have to serve extra Parmesan.
Never throw away extra risotto, but save it for making the Italian suppli or arancini. it is not a recipe, but rather a procedure of making a small ball or baton of the cold rice mixture and then frying it after it has been coated.
Adapted from Risotto
Adapted from Risotto
Kitchen Detail https://lacuisineus.com/
Risotto Tools And A Recipe
Save this recipe for late summer and fall (well, winter too). It is one of my favorites from Gourmet Magazine twenty years ago.
This risotto showcases butternut (or similar squash) by incorporating a rough purée made from one half of the squash and the other half, diced and roasted . It takes the same size pan as the risotto recipe above.
My favorite peeler for stress-free peeling of any squash is this one by Messermeister. The handle is well designed for your grip, and more importantly, the blade is not cheap and doesn't fall off its hinge under pressure. Some of the other ones I used had dreadful handles or if the handle was "ergonomic," the blade was a throwaway. And I must admit, I use it to peel celery as well. The Anchor Hocking Batter Bowl has the measurements marked in raised glass and not painted on. It can keep the stock pretty hot on the back of the stove. I now just pour the stock out in increments as needed. It also comes with a BPA-free lid, which makes it really handy in the fridge for storing pancake batter or broth.
You really don't need a "risotto pan". Even in the sublime restaurant, Da Fiore in Venice, the waiter brings it out in a copper saucepan, stirring your portion before it is plated. Pictured is the 4 quart saute pan, which I have used daily for more than 40 years. It works as well for risotto as it does for rib chops. A copper pan is an investment, but I can attest that it gives results like no other piece of cookware and will last beyond your lifetime and never go into a landfill. You can purchase a stainless steel lined Mauviel saute pan here. Or look at the tin-lined ones from Brooklyn Copper or the fait-tout from Duparquet copper.
Butternut Squash Risotto
2019-03-25 22:12:46
Serves 4
An unusual way to make a risotto with squash.
Ingredients
Butternut squash - 3lbs(1.3kg) approximately
4.5 cups (1.2lt) chicken broth
1 large onion, finely diced
2 large garlic cloves, sliced thin
1 tbs ((14gr) minced fresh ginger
1 cup (185gr) risotto rice of your choice
Parmesan curls for garnish
5 tbs (77gr) unsalted butter
1/2 cup (125ml) dry white wine
1/4 cup (60ml)chopped fresh chives
Instructions
Preheat oven to 450F (230C)and oil a shallow baking pan
Halve the squash lengthwise, and scrape out seeds
Put one half cut-side down onto sheet and bake for 15 minutes
Peel remaining half and cut into 1/4 inch (2/3cm) dice.
Add diced squash to pan, spreading them into a loose single layer, season them with salt and pepper.
Bake the squash dice and half another 15 minutes - they both should be tender.
Scoop out the flesh from the squash half and roughly chop it.
Bring the broth to a bare simmer in a saucepan on top of the stove.
In a 4 quart (2ltr)casserole, gently saute the onion, garlic, and ginger in the butter until just softened.
Stir in the rice and coat with soffrito with a wood spoon.
Add wine, stirring until it completely absorbed.
Stir in broth in 1/4 cup increments, stirring, so that it gets absorbed before adding the next one.
Stir in the diced and roughly chopped suash about half way through the process.
Finish with your final ladles of stock - it should be just under 20 minutes.
Stir in chives, salt and pepper to taste.
The chopped squash should give a creaminess to the risotto, so that you will just garnish with curls of Parmesan (done easily with a peeler) and additional chopped chives.
Serve immediately in warm bowls.
Notes
You can prep the squash the day before, - cool it and then cover and refrigerate.
Adapted from Gourmet Magazine 1997
Adapted from Gourmet Magazine 1997
Kitchen Detail https://lacuisineus.com/
Hungry for More?
Subscribe to Kitchen Detail and get the newest post in your inbox, plus exclusive KD Reader discounts on must have products and services.
---
Share Us on Social Media: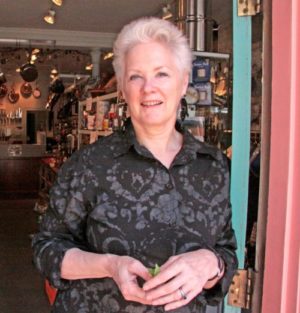 After owning one of the best cooking stores in the US for 47 years, Nancy Pollard writes a blog about food in all its aspects – recipes, film, books, travel, superior sources and food related issues.