September 4, 2018 - Written by: Nancy Pollard
Read Time: 5 Minutes Subscribe & Share
The Proper Funeral For A Coffee Cake
"È la morte sua" quoted my son-in-law from Le Marche, Italy. He was waxing poetic about the seductive deliciousness of dunking a slice of correctly baked ciambellone into coffee at breakfast. His nostalgia for this tradition totally eluded me, but I got the gist of the proverb.
Tatiana and I both started baking different coffee cakes to see what made a particular style such perfection for dunking and eating, that in the end it was its own death. It would be sweet, but not overly so. It should have a spice or citrus zest combination and maybe a few finely chopped nuts and raisins, but nothing over the top like American sticky buns. The cake texture couldn't fall apart or be too dry during its fatal dives. Crunchy sugar or a glaze wouldn't be deal-killers for the contestant cake, but restraint was the byword. Also, the crust must be crisp, not sweaty. And, finally, it needs to cling to its quality at room temperature. Under a cake dome to be sure, but never in the fridge.
I tried two from Artusi's cookbook. Not even repeated dips into coffee saved its nothing flavor and texture. Next we tried one from The Silver Spoon Cookbook (the cookbook every Italian bride used to receive as a gift). It was okay, but certainly not worth wasting a cup of good Italian coffee on. I decided that what I needed (and maybe you did too) were some variations on the proverb's theme. So here are three equally good dunking coffee cakes that can slowly die in coffee, baby coffee, hot chocolate or even as my grandsons do it – cold milk.
Going Back to Maida Heatter
I personally went back to my beloved copy of Maida Heatter's Great Dessert Book. And my choice is Hungarian in derivation rather than
Italian. But, hey, the Austro-Hungarian Empire had terrific cafés and knew a thing or two about pastries and coffee. Even with the glaze and a restrained filling of walnuts, currants and cocoa and cinnamon, it hit the sweet spot and was indeed consumed to its own death with coffee. Should you search out this book, be advised that later versions omitted some of the recipes. The original was first printed in 1965 and had several reprints after that (my copy was a reprint in 1974). Make sure the copy includes this cake and the Buttermilk Lemon Cake (another delicious Maida Heatter classic) so that you know that it is the proper version. Bonnie Slotnick Books is an excellent place to start, but check with other resellers of out-of-print cookbooks too.
Ciambellone As It Should Be
The second one, which became "The Test" against classic ciambellone recipes, is the one featured in Domenica Marchetti's now out-of-print book, Big Night In. It is her mother's recipe, which, according to Domenica, she occasionally doubled to fit a 12-cup mold. This recipe fits a 6-7 cup ring cake pan. Domenica has written several excellent cookbooks, and I cannot understand why this outstanding one slipped through the publisher's fingers and is now out of print. I was looking through my copy and counted several constant repeaters: Sour Cherry-Mascarpone Cake, Sour Cherry Gelato With Bittersweet Chocolate-Cherry Sauce, Beef Tenderloin alla Bandiera Italiana, a beef fillet with three sauces in the colors of the Italian flag, Slow Roasted Arctic Char with Sautéed Fennel and Pernod – and there are more. Also check through her website, Domenica Cooks, for her cooking inspirations and tours.
An American Ciambellone
Tatiana made some happy changes to the Wednesday Chef ciambellone recipe. Her family loves it for breakfast or a mid-afternoon snack. She
removed the lemon zest and added chopped chocolate to make it more interesting – and let's face it – you know how we Americans can't resist a hit of chocolate chips. It's wonderfully versatile and holds very well for up to a week, especially if stored in a domed cake stand or covered in plastic wrap. Her final touch is that she butters and sugars the cake pan interior to help it unmold easily and to give this cake a delicious crystallized sugar finish.
Some Final Thoughts On Cake Pans
I use my copper molds for baking and they release beautifully. All the cakes baked for this post were done in these molds from Birth Gramm in Switzerland or Christian Wagner in Germany. I have reservations about non-stick coatings on baking pans, not only for the serious environmental concerns in their manufacture, but also for two other reasons. Once the coating inevitably scrapes off, the baking pan gets tossed away and just ends up in a landfill. And second, you are always advised to butter and flour it anyway, so is it really "non-stick"? Anodized aluminum pans by Fat Daddio's will give you excellent baking and release results as well. Without any environmental or ethical hazards.
Budapest Coffee Cake
2018-08-09 18:47:06
Serves 12
Maida Heatter's version of a Hungarian cake that is delicious with coffee, tea or hot chocolate. Great keeping cake at room temperature under a dome
For the Nut Filling
3/4 cup (150gr) Dark Muscovado Sugar
1 tbs (7.5gr( cinnamon
1 tbs (7.5gr) unsweetened dutched cocoa powder
2-3 tbs (14-21gr) currants or raisins, coarsely chopped
1 cup (125gr) very finely chopped walnuts
For the Cake Batter
3 cups (330gr) sifted all purpose white flour
1 1/2 tsp (6gr) double acting baking powder
1 1/2 tsp (6gr) baking soda
1/2 tsp (3gr0 fine sea salt
3/4 cup (170gr) unsalted butter
2 tsp (10ml) vanilla extract
1 1/2 cups (340gr) caster sugar
3 large eggs
2 cups (500ml) sour cream
For the glaze
2 cups 9220gr) confectioner's sugar
1 tsp (5ml) vanilla extract
2-3 tbs (30-45ml) hot milk
Instructions
Adjust rack to mid level in the oven and preheat to 375F
Butter a 12-14 cup cake pan with a tube in the center
Sift together flour, baking powder, soda and salt.
In a large bowl of an electric mixer, cream the butter, adding the vanilla and caster sugar.
Add the eggs individually, beating thoroughly until incoporated.
Beat at high speed until smooth and creamy, using a rubber spatula to scrape down ingredients to keep all the mixture smooth. .
On lowest speed, add the dry ingredients in three additions, the sour cream in two, alternating each with the other.
Do not overbeat,, just beat until all is incorporated.
Spread a thin layuer of the batter in the bottom of the pan.
Sprinkle one third of the nut filling evenly on this layer.
Create another layer of batter, then a third of the nut filling twice more
Your top layer should be batter.
It is easy to spread the batter by small amounts and spread with the back of a spoon or spoonula.
Bake 50 to 60 minutes, until a cake tester comes out dry or the cake's internal temperature is around 205-210F on a Thermapen.
Prepare the glaze while the cake is baking
Leave the cake in the pan for no longer than 5 minutes and then unmold as you want to apply the glaze while it is still warm.
In a small bowl, mix the sugar, vanilla, and some of the hot milk until you get a semi-fluid mixture.
The cake should be on a cake rack in a half sheet pan while you quickly pour the glaze over the top of the cake, allowing it to run unevenly down the sides.
Allow the glaze to set and transfer with two spatulas to cake plate.
Notes
Generally I use India Tree Caster Sugar and their Dark Muscovado Sugar. I prefer Vann's Vietnamese cinnamon and either a French vanilla or Niellsen Massey Vanilla Paste or their Tahitian Vanilla. My favorite baking powder is the produced by Bakewell Cream in Maine.
Adapted from Original 1965 Maida Heater's Book Of Great Desserts
Adapted from Original 1965 Maida Heater's Book Of Great Desserts
Kitchen Detail https://lacuisineus.com/
Ciambellone
2018-08-24 19:23:33
A recipe for what Italian Ciambellone should be. It keeps covered at room temperature for several days. Good for picnics with fruit too.
Ingredients
3 cups (375gr) unbleached all purpose white flour
1 1/2 cups (300gr) granulated sugar (caster sugar blends faster while natural unbleached sugar will give a more caramel flavor)
2 tsp (7gr) baking powder
1 tsp (3gr) baking soda
1/2 cup (113gr) unsalted butter, cut into 1/2 inch (1cm) pieces
Additional butter for greasing pan
A pinch fine sea salt
3 large eggs, lightly beaten
1/4 cup (60) light cream or half-and-half
2tbs 30ml)same for the glaze
1 tsp (5ml) vanilla extract
1tsp (5ml( almond extract
2 tbs (30ml) Punch Abruzzese Liqueur, dark rum, or Amaretto to which you can add some lemon and orange zest
2 tbs Pearl Sugar for decor.
Instructions
Preheat oven to 350F
Butter and flour a 9 inch (23cm) 6-7 cup ring mold - I prefer to use ground almonds or almond flour instead of flour.
In a mixer bowl (or by hand) combine the flour, sugar, salt, baking powder and soda and use the paddle beater rather than the whisk.
Add the softened butter pieces around the edge to fully incorporate
Whisk together, eggs,cream, extracts, and liqueur.
Add this gradually to the bowl of the other ingredients. until all is well blended.
The dough is sticky and thick, so scoop it up and spread it evenly in the prepared mold.
Bake the cake for 30 minutes.
Remove from oven and brush the remaining cream and sprinkle with pearl sugar(or crushed sugar cubes as an alternative)
Return the cake to the oven and bake for another 5 minutes.
Cake should be golden brown, with center coming out clean when a cake tester is inserted. Or use a Thermapen to test doneness which is a bit over 200F.
Allow to cool for 20-30 minutes before unmolding onto rack and let it cool completely before transferring to a platter.
Notes
This can be kept at room temperature wrapped or under a dome for several days.
Adapted from Big Night In
Adapted from Big Night In
Kitchen Detail https://lacuisineus.com/
Chocolate Chip Ciambellone
2018-08-13 13:00:19
A simple Italian-style coffeecake gets a chocolate upgrade and a crisp sugary crust.
Ingredients
1 1/2 cups (300 grams) caster sugar
4 eggs
1 cup (200 grams) full-fat plain yogurt
7 ounces (200 grams) unsalted butter, melted
1 teaspoon vanilla extract
3 1/3 cups (400 grams) all-purpose flour
Pinch of salt
4 teaspoons baking powder
1 cup chocolate chips or chopped chocolate
Instructions
Preheat the oven to 350 F (180 C).
Butter and sugar the inside of a 10 to 12 cup bundt pan or mold.
With an electric mixer, beat the sugar, eggs and yogurt until smooth. Beat in the butter and vanilla.
Add the flour and pinch of salt and mix one cup at a time. When blended, quickly beat in baking powder.
With a spoon or spatula, mix in the chocolate chips. Pour the batter into the prepared pan and bake for 40-45 minutes, until golden brown.
Let the cake cool for about 15 minutes before unmolding.
Notes
You can substitute sour cream for part or all of the yogurt, which will somewhat change the crumb structure, but it is still dunkable.
Adapted from The Wednesday Chef
Adapted from The Wednesday Chef
Kitchen Detail https://lacuisineus.com/
Hungry for More?
Subscribe to Kitchen Detail and get the newest post in your inbox, plus exclusive KD Reader discounts on must have products and services.
---
Share Us on Social Media: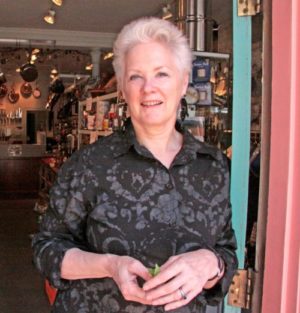 After owning one of the best cooking stores in the US for 47 years, Nancy Pollard writes a blog about food in all its aspects – recipes, film, books, travel, superior sources and food related issues.

Tags: instagram, recipe, recipes