April 5, 2022 - Written by: Nancy Pollard
Read Time: 8 Minutes Subscribe & Share
Bittersweet Memories
My life's work was pre-ordained. As a child, I would carefully unwrap squares of Baker's Unsweetened Chocolate from their white papers, pull out the canister of white granulated sugar, dip each square in the sugar, chew off a bit and then repeat the procedure. I was troubled neither by bitterness nor bacteria at that age.
Later in life there was the unfortunate incident described in this post. At La Cuisine we broke down couverture chocolate that was generally unavailable to consumers in small amounts. Larissa designed and had made a series of pull-out plexiglass boxes to hold various chocolates we loved.We probably had more than twenty different types of couverture from Valrhona, Cluizel, Domori, Slitti.The first two are probably two of the most highly regarded players in superlative chocolate couverture. These large European firms had longstanding relationships with cocoa grower plantations (the actual fairness in these relationships is something that will be explored in another post). But clearly they either got better beans or their conching process was superior to the premier chocolate companies in the US. They had no flavor rivals in the US until a tiny "bean to bar" movement gained a toehold. A pseudo-pioneer in the bean to bar movement was Mast Brothers Chocolate, whose techniques and artisanal backstory have actually been repeatedly challenged. While we Cuisinettes didn't know the depths of their fraudulent marketing, their chocolate bars were really pathetic in taste, with an astonishing price point. But the landscape in bean to bar, small-batch chocolate production has changed, with a group of real masters who treat their sources with fairness and sustainability.
Bean To Bar Rebellion
The chocolate revolution bears a resemblance to the Great Wine Awakening, when the conviction that only the French
could make great wine was shattered by the book Judgment Of Paris. Sometime in the first decade of the 21st century, there emerged individuals who had stumbled across cocoa plantations or who were simply curious about exploring how to produce chocolate, from choosing the beans to the final conching and flavoring process. Hence the name of a loose association of widely different people who have developed small companies that create chocolates in very small batches, choosing beans from different plantations. The phrase "bean to bar" also inherently means that the cocoa is ethically sourced and processed and the plantations are paid fairly. (None of the large chocolate houses are exactly clean on those issues). These entrepreneurs then clean, roast, ferment, and conche the cocoa to produce their own chocolate bars and confections. You can download a very nifty Bean to Bar Map for your phone. Check it out, and contribute your own finds.
Assembling The Team
I had been pondering how to go about gathering examples from some of these small batch, bean to bar explorers, and I subscribed to some of the better known ones. Lo and behold, Dandelion Chocolate recently offered an assortment of different Small Batch Warriors. The box contained twelve imaginatively presented bars from single beans (no blends). All bars were in the 60gr range and were at least 70%
cocoa-based, with no additional flavorings, spices, dried fruits or fillings. When we tasted pure chocolate, there was a smoothness from the conching, unique and long-lasting flavors, and no over-reliance on sugar, which made the experience fascinating.
We created a tasting panel. We did have two tasters under the age of ten, and their notes made a priceless counterpoint to our research. As one of two tasters from France (I feel the French are always in the forefront of presentation) Sonia felt that the packaging should be mentioned as an important component, like the design of wine labels, so we included those impressions as well. So this part of the KD family set out for our take on the twelve bars. We think you should get to know these rebels with a chocolate cause…that is if you really think you are a chocophile, not a less discriminating chocoholic. I suspect I'm a bit of both.
A Bean To Bar Selection
French Broad Chocolate is based in Asheville, North Carolina, and the company selects cocoa from small planations in central and South America. This one is from the The Anamalai Farm in India, where they grow not only cocoa, but also coconut and nutmeg. The presentation and packaging is beautiful and the cardboard container is designed to close and reopen.It is a very savory chocolate, somewhat chalky in texture with a nice balance between bitter and sweet. 71% cocoa
Ambar Chocolate is based in Nova Lima Brazil, and their website is in Portuguese. This bar is from a rejuvenated estate in Bahia that supplies their beans to several of the featured bean to bar companies in this tasting.The owners of Ambar use demerara sugar, and you can taste the difference. Very creamy and buttery finish. One taster over the age of 21 pronounced it as his favorite after he had sampled all the bars. The packaging was considered exceptional. 70% cocoa
Hummingbird Chocolate is located in Almonte, Ontario in Canada, and the Zorzal bar was created from
a wild bird sanctuary (with particular attention to the Zorzal or Bicknell's Thrush, which is an endangered species) in the Dominican Republic. Funds from the sustainably grown cocoa support the sanctuary. This has a sweet beginning but a sharper, almost tea-like finish. All the ingredients in this bar are organic.The packaging and presentation are loaded with information in French and English. 70% cocoa
Solstice Chocolate is based in Salt Lake City, Utah. Out of all the
packaging and presentation designs, this bar had the simplest, almost like a ziploc bag. This company sourced this bar from the Anamalai plantation – the same source for the chocolate bar from French Broad, but the taste was completely different. This had the aroma and taste of spices, while still maintaining the acidic taste of an intense bittersweet. Perhaps this bar brought out the relationship of cocoa grown with nutmeg and coconut trees. 70% cocoa.
9th & Larkin which showcases a Vietnamese cocoa, has its home in San
Francisco, CA. The packaging is beautiful, and the cover paper is even somewhat aromatic.This was indeed powerfully fruit-forward, as was described on their website. Ben Tre, a province in the Mekong Delta, has only recently been on the radar screen of bean to bar chocolate makers. The acidic fruit does not take over the chocolate. 72% cocoa.
Mission Chocolate is also based in Brazil, Sao Paolo is its home office. This
particular bar comes from the Fazenda Vale Potumuju, which is the bean used also by Ambar Chocolate. This plantation's owners, Tuta and Juliana Aquino, are a stellar example of owners taking care of the sustainability of their cocoa, and, more importantly, their workers. With simpler packaging and origami like graphics, the bar itself has pronounced cocoa aroma (no spice or fruit). It is very creamy in texture and has a shorter finish in taste. 70% cocoa.
Marou Faiseurs De Chocolat actually make their chocolate selections in Ho
Chi Minh City in Viet Nam. The owners are Franco-Japanese and Franco-American who work with small cocoa farms in the Mekong Delta.The packaging very much reflects a French sensibility, combined with Vietnamese graphics. This particular chocolate has a strong tobacco aroma and savory taste. Very nice balance and finish, considering the intensity of cocoa at 78%
Ritual Chocolate is based in Heber City, UT and in this bar uses a cocoa from
Ecuador. It also is a purely organic bar, and Ritual has very thorough descriptions of its process and the provenance of its beans on its website. Intricate packaging, with a tasting panel and guide on the interior where you can write your notes and easily resealable. This is an intense, almost savory chocolate with a long finish, which may be due to the special fermenation process from this cocoa plantation. 75% cocoa
Raaka Chocolate is located in Brooklyn, NY and is the only chocolate maker in this
selection that does not roast their beans, but relies on a multi-faceted fermenting process. This example was from the Zorzal Santuary in the Dominican Republic. And the resulting bar is quite different in taste from the Zorzal bar from Hummingbird. Fascinating. It was more floral and honey-like, but unfortunately we could not find it among the current selections on their website! 71% cocoa
Majucau Chocolate is another Brazil-based chocolate maker, in Sao Paulo. They also
use beans from the Fasenda Vale Potumuju but these are Trinatario, which is a crossbreeding result of Forastero and Criollo cocoa. Very charming cardboard package and presentation. This one was a Franco-American favorite at our tasting table. Lovely balance of flavors with a not too buttery finish. A full chocolate flavor with no highly acidic or savory notes. 70% cocoa
Chocolates Baiani is produced by the owners of the Fazenda Vale Potumuju in the Amazon Forests of
Brazil. Their sample had much softer flavors than some of the other chocolate makers featured in this post who used beans from their plantation. Of course, they have quite a variety of cocoa trees on their plantation, and they process other beans from smaller farms, so it is hard to make a comparison.. A little raisin taste, but also a bit rubbery in the first taste and a shorter finish. Their cardboard packaging is designed so that the flaps refold to store the chocolate. 70% cocoa
Dandelion Chocolate, the San Francisco-based bean to bar and sustainably
produced chocolate movement included their take on cocoa from the Zorzal Bird Sancturary in the Dominican Republic.The bar comes in a foil and paper wrapper. One of the fascinating discoveries in this tasting is the difference in flavors from beans that have the same provenance. In Dandelion's version, there was a definite citrus flavor and a softer flavor than the other Zorzal examples. Also a shorter and sharper finish. 70% cocoa
Hungry for More?
Subscribe to Kitchen Detail and get the newest post in your inbox, plus exclusive KD Reader discounts on must have products and services.
---
Share Us on Social Media: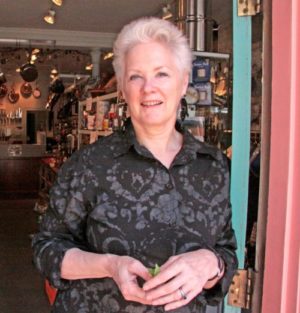 After owning one of the best cooking stores in the US for 47 years, Nancy Pollard writes a blog about food in all its aspects – recipes, film, books, travel, superior sources and food related issues.