November 4, 2020 - Written by: Nancy Pollard
Read Time: 5 Minutes Subscribe & Share
The Apostle Of Quality
My introduction to carrying a selection of authentic copper cookware and other beautifully crafted tools in the first years of La Cuisine was through the higgledy-piggledy warehouse (and equally higgledy-piggledy catalogue) of Charles F. Lamalle. He had an eye for excellence — no instinct for organization. He stirred his stock of commonplace (but perfectly executed) extending rulers in with specialized professional kitchen tools of superior quality. They all set a standard for me. Lamalle had arrived in New York a bit before the stock market crash of 1929. He founded his company after his first job as a coffee entrepreneur folded, specializing in special wood spigots produced in his province that were in great demand during Prohibition. He even returned to France to fight against the Germans, leaving his company in the care of his wife for seven years. As the products increased, his selections were, simply put, a revelation. Charles always wore a suit and usually a signature beret. He supplied the White House and countless restaurants across the US and Canada. It was through this lone purveyor of French tools dedicated to the French art of cuisine that I started to feature copper from Lecellier, Havard and Mauviel. He often referred to himself as the "apostle of quality," and I found good reason to take him at his word.
The Heavenly City Of Frying Pans
Of these three companies that supplied La Cuisine, only Mauviel has survived and evolved. It was one of several chaudronneries in the area of Villedieu-Les -Poeles in Normandy. These chaudronneries also
fabricated the storied bells of many churches and cathedrals throughout the world. The hammered finish on their works in the early years produced the nickname of sourdins or "deaf ones" in tribute to the many affected workers in the Chaudronneries in this town. One of the companies in Villedieu-Les Poeles is currently fabricating new bells for Notre Dame in Paris, which had been destroyed in the infamous fire on April 15, 2019. According to a fascinating and meticulously run website, Vintage French Copper , while the beginnings of what we know as Mauviel may have started in 1830, it was not until the latter part of the 19th century that Mauviel was consolidated into the now-famous company producing copper and other alloys that are the mainstays of many serious restaurants and home cooks throughout the world. (An interesting note: Mauviel was chosen to outfit the kitchens of the Titanic).
Under the direction of Valèrie Le Guern Gilbert, a Mauviel descendent, the company has greatly expanded its offerings and has installed a special hall for cooking classes and events. We used to import their copper, aluminum and later stainless steel cookware directly through their agent in France. Later, however, the company entered into a distribution partnership under the name of Mauviel USA with a warehouse in Delaware. The partnership proved unsatisfactory and was severed earlier this year. Mauviel has recently added a US sales component to their website. If you are a US citizen, living in the EU, you should order from mauviel.com. In any case, you should look at their complete catalogue on their site to see all that they offer and write with a request.
Bourgeat in France was founded in 1918 and started cookware production for a domestic and
commercial market (read home cooks and restaurants). This family-run company (as so many were in France) stopped making cookware for home use and focused solely on commercial cookware. We used to carry their aluminum and later some of their stainless steel alloy pieces. They later merged with Matfer (a mold manufacturer and reseller of Mauviel copper) and produce a small selection of 2.5mm copper that is lined with 18/10 stainless steel. The combined companies now produce and also resell hundreds of tools and equipment to the food service industry globally.
Into The Future
De Buyer, which we featured in an earlier post , has produced the most innovative copper design in their Prima Matera
line. They actually have two lines: Inocuivre, which is a 2mm solid copper series of pans lined with 18/10 stainless steel (the best quality copper is only lined with 18/10 stainless steel); and then their Prima Matera line, which is also 2mm thick copper with a stainless lining and the bonus of an exterior thin plate of magnetic stainless steel so that it works on any induction hob. The handles are quite unique (and sort of look like a sleek Eiffel tower) in that their grip is easier to work with than my traditional pans from Mauviel, Lecellier, Falk and Havard. They offer ease of sauteing, (no scorching, beautiful golden sear) and the creation of gorgeous sauces from what you have left in the pan. I have also caramelized sugar with great success and no crystallization. And the cleaning makes the investment of greater value than the repeated purchases of any non-
stick cookware. As with any copper cookware worth its gauge, you use lower heat to get the desired effect.
A final word about induction-ready cookware. Gas, as much as I love it, may disappear as a souce of fuel. Electric hobs are problematic for me for different reasons. I adjust, but it ain't easy. Induction, which is pretty prevalent in Europe, I think will be a happy addition in the US as a source for stovetop cooking. It operates on a magnetic field between the base of the pan and the surface of the hob. So your cookware must have a ferrous metal as a base or sandwiched in the base. When you put the pan in contact with the hob, the heat commences, and when you remove it, the heat source stops functioning. Wikipedia explains it all beautifully. You can purchase a conversion disk for all of your non-ferrous cookware.
DeBuyer is offering a very generous 20% discount to KD readers on any combined purchase within their whole catalogue through November 30, 2020. This code can be used more than once during this period. Use the code KITCHENDETAIL20 in the discount field when checking out.
Hungry for More?
Subscribe to Kitchen Detail and get the newest post in your inbox, plus exclusive KD Reader discounts on must have products and services.
---
Share Us on Social Media: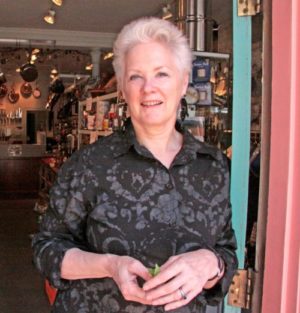 After owning one of the best cooking stores in the US for 47 years, Nancy Pollard writes a blog about food in all its aspects – recipes, film, books, travel, superior sources and food related issues.