December 1, 2020 - Written by: Nancy Pollard
Read Time: 6 Minutes Subscribe & Share

My favorite version of the creamy apple tart from Alsace is from the

Lutèce cookbook

, which has a very wordy introduction written by my favorite restaurant reviewer,

Seymour Britchky

. I wish we could have gone to Andre Soltner's restaurant. The book has lots of recipes that are Haute Difficile but lots of simple ones too. And this is one of them. Soltner is a bit short on directions, so after several versions in my kitchen, I am here to help you out. You can use any crust you feel comfortable with, as long as it can be unmolded. Personally, as a late bloomer in food processor ownership, I have converted to Cathy Barrow's All Butter Crust, which is in all her

cookbooks

and on her

website

. As she advises, I make two of them, freeze one and roll out the other. It is the delicious energizer bunny of crusts. You can save the scraps, freeze and use them to make the KD riff on Joanne Chang's Apple Pop Tarts. The double version of Cathy Barrow's crust is given below.
All Butter Crust (Double Version)
2020-11-27 22:37:29
Yields 2
Easy, indestructible and delicious. What more could you ask for? This is the food processor version; Cathy Barrow has instructions for mixer version and also doing this crust by hand on her website: www.cathybarrow.com
Ingredients
3 cups 320gr) all purpose flour
8 oz (226gr) unsalted butter, cubed and frozen for 20 minutes
2 pinches fine sea salt or kosher salt
1/2 cup (120ml)ice water
Instructions
Place your processor bowl on a scale set to zero and weigh in the flour.
Cathy Barrow uses bleached flour, as it does not turn grayish when stored in the fridge
Weigh in the cubes of frozen butter - I cut my butter frozen and then add.
Add the salt and insert the metal blade, cover and pulse 15 times.
Add the water all at once, process until the dough comes together in a rough ball.
Cathy advises to place two sheets of plastic wrap in an X fashion, flour it lightly and dump your dough onto it, scraping up any extra pieces from your work bowl.
With a scraper, form your dough into a ball - I weigh out 2 halves (about 332gr each).
Roll each into a 4 inch diisk or a 3.5 inch square and wrap.
Once wrapped, roll each briefly and gently across the package of dough on each side.
Put one in the freezer if you are not using it for baking now but label the date - the other needs to rest in the refrigerator at least 4 hours or overnight.
Adapted from When Pies Fly
Adapted from When Pies Fly
Kitchen Detail https://lacuisineus.com/
Alsatian Apple Tart
2020-11-27 23:35:29
Serves 6
Easy to set up, delicious by itself, you can add vanilla or spice ice cream as they did at Lutèce
Ingredients
1 prepared tart crust about 10 inches (25cm) across
3-4 small Golden Delicious apples
juice of 1/2 lemon
1/2 cup (115gr) white granulated sugar - I prefer India Tree Caster Sugar
1/2 cup (120ml) heavy cream
1 egg
1 teaspoon Kirsch or
My preference is 1/8 teaspon French Green Apple essence and 1 teaspoon Calvados
Instructions
Preheat oven to 375F and blind bake your crust in a metal short-sided tart pan with a removable bottom.
Peel and core the apples and cut them into 8 slices each.
Moisten them with the lemon juice and arrange them in a circular pattern in your prebaked shell, still in the pan.
Bake the tart for 20 minutes
While it is baking, mix the sugar, cream, egg and flavorings
When you have removed the tart, strain this mixture through a fine sieve over the tart.
Return the tart to the oven and bake for an additional 25-35 minutes - the apples should be soft and the cream lightly set.
Serve at room temperature.
Notes
The tart keeps 2 days covered at room temperature. It will keep a couple of days longer in the refrigerator, but it should reheated slightly for serving.
Adapted from The Lutèce Cookbook
Adapted from The Lutèce Cookbook
Kitchen Detail https://lacuisineus.com/
An American Icon Revisited
As an adolescent, I whined incessantly to my mother to buy me the American toaster wonder, Pop Tarts. I mean they
had to be as good as Mounds Bars or Hostess Cupcakes! Reluctantly, she bought a pack. I popped them in our toaster with their no melt icing (that should have been a warning) and the disappointing taste was my first lesson, but certainly not my last, in false marketing. You can use the All Butter Crust and create this oh-so -superior version of Pop Tarts from Joanne Chang's first book. She makes hers the sizes of a small index card; I make mine smaller. You can re-roll the scraps of this crust to eke out a few more. I find my pasta cutting tool from August Thomsen invaluable for this and other precision cuts. Freeze them on a tray and then pop into a sealable freezer bag. Bake them frozen (you'll have to add a few minutes to the baking time) and then frost them when they are cooled. I keep them covered at room temperature for 2-3 days.
Apple Pop Tarts
2020-11-28 17:55:11
the best way to have an apple for a snack. Bet you won't eat just one. I make mine about 3 inches square.
Ingredients
1/2 recipe of the All Butter Pie Crust given in the post
1 egg lightly beaten with a pinch of salt
For the filling
3 tablespoons (43gr) unsalted butter
2 apples peeled, cored, and sliced thinly (she uses Granny Smith, I use Golden Delicious)
1/2 cup (110gr) Light Muscovado sugar - I use India Tree
1 egg, lightly beaten
1/2 teaspoon ground cinnamon -Vietnamese cinnamon offers a more pungent flavor than others.
pinch fine sea salt
1/2 cup (70gr) white all purpose flour
1/8 teaspoon Green Apple Essence
For the glaze
1 cup (120gr) confectioner's sugar - I use India Tree
2 tablespoons calvados or apple cider
1/4 teaspoon ground cinnamon
bare 1/8 teaspoon Green Apple Essence from Grasse
Instructions
Preheat oven to 350F
In a medium saucepan, melt the butter over medium heat and add the apple slices.
Lower the heat and cook the apples in the butter, stirring occasionally with a heat resistant spatula for 2 to 3 minutes - the apples should be just soft.
Add the sugar and continue to toss and stir for another 2 to 3 minutes - the sugar should be dissolved, and the apples should start to fall apart.
Remove from heat and transfer the mixture to a small bowl and allow to cool for about 20 minutes.
When cool, add the flour first and mix thoroughly.
Then add the beaten egg, cinnamon, salt and essence, if using.
Make sure that all the ingredients are thoroughly incorporated - it should have a jammy consistency.
This mixture must be cool when you start filling your squares or rectangles of pastry.
Roll out your pastry into rough rectangle or square and create the size squares or rectangles you want - I use an adjustable pasta/pastry cutter.
Save the scraps from the edges as there is at least one or two more you can make when you roll the scraps out.
Brush with an egg wash (I have omitted this step occasionally,but it just insures a seal, especially if you freeze them).
In the middle of every other square/rectangle, put about 1 1/2 or 2 tablespoons of filling - if you have made rectangles make the mound a bit longer than wide so that if follows the shape of the cut pastry.
Top with the other piece, pull each one away from the other, and crimp all four edges with a fork - press the fork down firmly, especially on the corners.
Bake on a parchment or Silpat liner sheet for about 40 minutes - crusts should be a light gold color.
Allow to cool completely on a rack before brushing on the glaze.
Mix the confectioner's sugar and cinnamon with the Calvados or cider, add the essence to taste
Apply it with an icing spatula or, if getting fancy, drizzle through a pastry bag with a small tip.
The tarts keep nicely if covered at room temperature for 2-3 days.
Glaze and filling can be kept covered in the refrigerator for a week
You can make the tarts ahead and freeze them without baking them and frosting them - pop them in the oven and glaze when cooled
Adapted from Flour -Spectacular Recipes From Boston's Flour Bakery & Café
Adapted from Flour -Spectacular Recipes From Boston's Flour Bakery & Café
Kitchen Detail https://lacuisineus.com/
Apples And Olive Oil
I fell in love with Ottolenghi food shops years ago. There was one near the apartment we used to rent in Islington. I
kept thinking, one day, one day, they ought to have a cookbook. Now they have at least four. His book changed how I made meringues, and Helen Goh, his inventive pastry chef, in her book Sweet, made me like oatmeal cookies. I introduced the other person in the house to this cake with the warning that it was a combination of apples, olive oil, and maple syrup. You can imagine the look of disbelief. But Helen Goh's version of this cake is simple looking, and sublime in taste. It is one of several recipes that I make frequently. It is a big seller at all the Ottolenghi venues. I use mascarpone instead of cream cheese, as I can't get a cream cheese here that doesn't taste a bit gummy.
Apple and Olive Oil Cake with Maple Icing
2020-11-28 18:36:36
Delicious, not too sweet, and you will probably have another slice.
Ingredients
2/3 cups (100gr) sultana raisins
1 1/8 cup (275ml) water
2 3/4 cup (350gr) white all purpose flour
1/2 teaspoon ground cinnamon
1 1/2 teaspoons baking soda
1 1/2 teaspoons baking powder
1/4 teaspoon fine sea salt
3 large apples - I use Golden Delicious, she uses Bramley
1 cup (200gr)caster sugar - I use India Tree
2/3 cup (150m) extra virgin olive oil
2 large eggs plus 2 extra egg whites
Scraped seeds of 1/2 vanilla pod or 1 1/2 teaspoons extract or 1/2 teaspoon Vanilla Essence from Grasse
Finely grated zest of 1 lemon (1 teaspoon)
For the maple Icing
1/2 cup (100gr) unsalted butter at room temperature
1/2 cup (100gr) Light Muscovado Sugar - I use India Tree
1/4 cup (85gr) maple syrup
1 scant cup (220gr) mascarpone (or good quality cream cheese)
Instructions
Preheat oven to 350F (180C)
Grease and line with parchment a 9 inch (23cm) cake pan - I use a 9x3 inch cake pan with a removable bottom.
She advises that the parchment should have a 2-3cm (a bit over an inch) side in the pan.
Place the sultanas in 200mls (3/4 cup) water, simmer until the water is absorbed and set aside
Sift or mix the flour, cinnamon, baking powder, salt in a bowl and set aside.
Peel and core the apples, and then dice into 2-3cm (a bit over an inch) pieces and set aside in a separate bowl.
Place the sugar, olive oil, whole eggs, vanilla, and lemon zest in your mixer bowl with the paddle attachment in place.
Beat on medium speed until the mixture is light in color and doubled in size and has thickened a little - You do not want air bubbles from using a high speed on your mixer.
Remove the bowl from the mixer and with a spatula, fold in the apples, sultanas and the remaining 75 mls (1/3 cup) water.
Add the dry ingredients and fold to combine.
In a separate bowl whip the egg whites until soft peaks form, then fold those into the batter
Pour the batter into prepared pan, level the top with an offset spatula and bake for about 50-60 minutes. I look for an instant read temperature of about 190F or a skewer comes out clean.
Unmold and allow to cool completely before icing.
Make the icing by beating the butter, sugar, and maple syrup together again with the paddle blade in your mixer.
When it is light and airy, add the mascarpone or cream cheese, a quarter at a time, just until smooth
Split the cake into two layers and spread half the icing on the base layer and top it with the second layer and finish icing just the top with remaining icing.
I sprinkle mine with orange and gold decorating sugar.
Notes
Refrigerate cake covered if you keep it longer than 2 days.
Adapted from Sweet
Adapted from Sweet
Kitchen Detail https://lacuisineus.com/
Hungry for More?
Subscribe to Kitchen Detail and get the newest post in your inbox, plus exclusive KD Reader discounts on must have products and services.
---
Share Us on Social Media: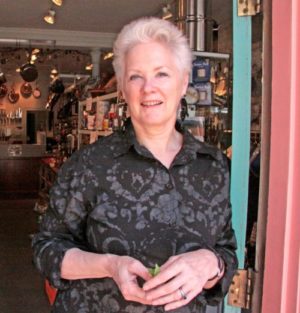 After owning one of the best cooking stores in the US for 47 years, Nancy Pollard writes a blog about food in all its aspects – recipes, film, books, travel, superior sources and food related issues.