January 4, 2023 - Written by: Nancy Pollard
Read Time: 6 Minutes Subscribe & Share
Awesome Advice
"
You really must sell this," a local and frequent customer emailed me a few years ago when La Cuisine was still open. She was referring to a packet of nondescript papers she had purchased at Whole Foods. They had fulfilled their promise to keep food fresh, but then they disappeared. She dropped by with a packet for me to try – as she later told me, she was convinced I wouldn't move fast enough to suit her needs! Try them I did – and they work! One of the best products ever selected by a client. The company is young, lean and quite tech savvy. But the paper itself looks pretty old-fashioned.
I think we all are trying to find ways to use less cling wrap and fewer plastic bags when we buy and store food. More compostable containers and bags are slowly creeping into our lives. San Giovanni's Farm has been a local leader in packing their marvelous produce in compostable containers. Ocean Watch of Australia gives us a good definition of the difference between compostable and biodegradable materials.
The main differences between these materials are that biodegradable products could be referring to any material which breaks down and degrades in the environment, whereas compostable products are only organic elements that degrade in the environment. Compostable products that break down in compostable environments will only leave behind beneficial residual products like fertilizers and others which improve the soil health. On the contrary, biodegradable plastic depends on the element of fabrication, which means that some of them can leave micro toxic waste residue behind.
KD's sharp-pencilled editor suggested that we take our used and new paper bags to the farmers' market we frequent and now we do the same at grocery stores (it takes a lot self-training as does remembering to take our own grocery bags). But the niggling problem of storing foods at home still remained. And this is where these paper inventions come in handy. The company, originally named Fenugreen when we carried the first papers, trades now under the banner of Freshglow. They currently make four different products.
A Science Project Grows Up
You'll find the back story of this series of food savers most intriguing. The inventor, Kavita Shukla, from Ellicot City, Maryland, once accidentally swallowed some questionable tapwater while brushing her teeth when she was visiting her grandmother in India. She had been warned about not swallowing tap water.
Her grandmother gave her an "herb tea," which successfully mitigated any microbial infection. Later in school, she used this experience as the basis for a middle school science project. In an article for the Washington Post, Jane Black noted that Shukla also received a patent at age 13, for inventing a Smart Lid – "Inspired by her mother, who regularly forgot to screw on the gas cap on her car, the lid beeped when a container or jar was left open."
In a sort of casual experiment, Kavita Shukla, who realized that the combination of spices in her grandmother's spice tea recipe helped prevent microbial infection, dipped a basket of strawberries into the tea and was rewarded with berries that stayed fresh. Another undipped basket didn't fare as well. At 17 years of age, Kavita filed successfully for her second patent.
Of course, this science student went to Harvard, where she continued to noodle around with her idea to create a process or product that would mitigate spoilage in produce. The result is this organic, spice-infused compostable paper that can be used in a variety of ways to keep your foods fresher… not forever, but definitely longer than just a day or two.
That Maple Scent
I use all four products, two of which they have adapted from other food storage ideas but with their added organic spice and compostable formulations. It is important to clean out your crisper drawer and arrange your produce
regularly. These little 5-inch square papers cannot undo already existing fungus and microbial damage. Don't limit it to produce in the fridge. Use them to protect your foods in baskets and bowls in your kitchen and on your dining table. Fresh Paper products inhibit mold and microbes but will not give your foods the infinite shelf life of a Twinkie. So be mindful.
The original Freshsheets come 8 to a packet and, unused, have a shelf life of two + years if you keep them in the resealable packet. The company offers a savings when you buy multiples. On your return from the grocery store or farm market, add a sheet to the bowls, bags (hopefully compostable), and baskets in which you ripen produce or add a couple to your crisper drawer in the fridge. I mark the date on them as the Freshglow people write that the papers last about a month. The lack of their maple-y scent will also indicate that the time has come to throw them in compostable trash. If the baskets are small, I sometimes cut the paper in half to fit the smaller size. And it is important not to keep your produce in airtight containers or add additional moisture. I wash my lettuce, for instance, and then spin dry before placing in a bag with a Fresh Paper.
Keeping bread has always been a conundrum for us. Again, this sheet is specially formulated for baked goods which spoil differently than produce – the scent to me is stronger on this one but that may be my imagination. I keep my bread outside of the fridge, and in a somewhat sealed bag. I have also put a sheet with cakes that I have made and keep under a glass dome. Freshglow suggests that it can be used equally well in lunch boxes, coolers, and bread boxes. Since my baguettes and other sourdough loaves used to go stale in a day or two, it's been a relief to have them last a few days longer.
Freshglow Cheese paper is a larger sheet (9.5×12 inches)with an interior finish so that the cheese does not penetrate the exterior. Each pack has 8 sheets. I wrap the cheese and I fold like a package. Unlike the French, I do keep my cheese in the fridge!
With their Freshwrap, which is their adaptation of some other
beeswax coated cloths, I found their all-cotton version is better than the two or three others I have tried. Hand wash in cool water (a must!) with a mild soap and hang to dry. I usually use a rubber band to hold this fabric in place. These cloths can be bought in packs with four different sizes – a packet holds two 10-inch square wraps, or a selection of one each 7-inch square, 10-inch square and 13×14 inch cloth. The other two choices are a pack of two 13×14 inch cloths or a packet of one 17×23 inch cloth.
Hungry for More?
Subscribe to Kitchen Detail and get the newest post in your inbox, plus exclusive KD Reader discounts on must have products and services.
---
Share Us on Social Media: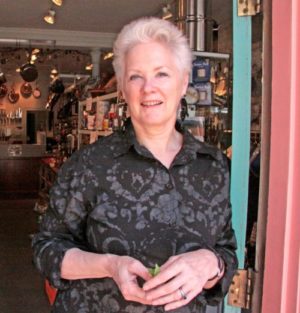 After owning one of the best cooking stores in the US for 47 years, Nancy Pollard writes a blog about food in all its aspects – recipes, film, books, travel, superior sources and food related issues.