March 6, 2019 - Written by: Nancy Pollard
Read Time: 6 Minutes Subscribe & Share
My Introduction To The Forlorn Hope
I first learned about the picturesque term Forlorn Hope when I became addicted to Bernard Cornewell's series of novels about Richard Sharpe, an orphan who became a foot soldier in many English battles in the first part of the 19th century. Some of his novels were turned into a very successful British television series distributed here by PBS. The actor, Sean Bean, who played the protagonist, said the series was life changing for his acting career.
Cornwell was born in London in 1944 and given up for adoption by his biological parents, a Canadian Airman and a British member of the Women's Auxillary Air Forces He was adopted by a family who were members of the Peculiar People, a strict sect of Christian pacifists who adopted children in order to save their souls. He apparently developed his most famous fictional character from an imaginary friend he created as a very lonely adopted child He wasted no time in changing is last name to Cornwell, his birth mother's maiden name after the death of his adoptive fahter and spent much of his life longing to meet his biological family. According to Wikipedia, he met his father for the first time when he was 58, after telling a journalist on a book tour, "what I wanted to see in Vancouver was my real father." He joyously met his half-siblings, with whom he shares many traits, and learned his genealogy. And he shares now many happy reunions with his long lost family.
March Is a Battle Of The Seasons
The Forlorn Hope is a long used military term from the Dutch "verloren hoop" or "lost troop" for the bands of soldiers who were willing (or were
volunteered) to be sacrificed in knocking down the weakened barriers of the enemy's fortifications. So even if I have digressed in this Kitchen Detail post, I often feel that March represents the season of the Forlorn Hope. It is Spring battling against the weakened fortifications of Winter It is the first little shoots of early bulbs that get wiped out in a sudden freeze. It's the sudden warmth of a a day or two (when you don't wear undershirts under your sweater and hats covering your ears)followed by a week of sub freezing weather. It's the surprise sleet storm when you have run out of de-icer for your walk and doorway. We have forgotten the heat and humidity of August, so we buy tomatoes four months too early – we just long for Spring and it seems just that much farther away. So I dedicate this menu to our Forlorn Hope of Spring with the realities of Winter.
Foraging Forlornly
One of the first things you can get in early sring is radishes, French Breakfast, Cherry Belle, Sparkler and White Beauty are a few that I have found.
You can split them crosswise almost to the base. Then soak them in ice water to get a nice little flower look or you can get the clever Monkey Business radish cutter and create little Fly Amanita ones. Ravanello is a bit fiddly, but I have had fun using it occasionally. Serve them with fleur de sel or Maldon salt, and optionally with sliced baguette and butter.
In our first Gift Guide, we featured a fund raising cookbook from the survivors of the Grenfell Tower fire in London. It's a gem. These are all foods that you would cook at home but as many of the survivors are from the Middle East and North Africa, there is lots that will be new to you. One of my favorites is this dip from Munira Mahmud, whose dream is to run a food truck. I would stand in line for her food truck any time. Serve this with either crackers or raw vegetables. I have used it as sauce on grilled vegetables, and lamb too.
Green Chile & Avocado Dip
2019-02-20 22:38:44
this dip with its spicy and summery flavors really knows no season. Serve as a garnish on grilled meats and vegetables too.
Ingredients
1-2 green jalapeno or similar fresh green chiles, halved and seeded
25gr (1 1/4 cups) cilantro leaves
3 tbs plain yogurt
4 garlic cloves, peeled
1 ripe avocado, peeled and pitted
4 tbs mayonnaise (optional)
Fine sea salt and freshly ground pepper to taste
Instructions
Put all the ingredients in a blender or food processor (except for the mayonnaise).
Blend until smooth.
Taste and adjust the seasoning.
The mayonnaise can be added if you wish before transferring to a serving bowl.
Notes
This sauce can be used with tortilla chips or lavosh crackers too. Cover tightly and refrigerate and it will keep for a couple of days. I have used it also as a spread on sandwiches.
Adapted from Together - Our Community Cookbook
Adapted from Together - Our Community Cookbook
Kitchen Detail https://lacuisineus.com/
The Italian dish of veal shanks or Osso Buco surrounded with a tomato sauce and served with either polenta or rice is one
that is delicious from early fall to late spring. This is not the same as Osso Buco Milanese as that has no tomatoes. I posted this version on Instagram and Facebook earlier this year and was roundly scolded for not giving out the recipe! It is the fortification you need in March.
Some Sauté Thoughts
Personally, I have found that getting a golden, even sear is not easily done in enameled cast iron,You can get overly browned meat and an almost burned base that gives an off taste to the final sauce. Pictured here is the classic tin lined copper sauté pan, which will give you an even, golden sear. Currently Mauviel and Matfer Bourgeat make their professional weight sauté pans with a bonded 18/10 stainless lining, and that works really, really well too. Mauviel makes one that is called a rondeau in France and it works just like a sauté except that it has casserole handles, which makes it easier to slip into the oven. Well seasoned cast iron would be another choice, but you will need to watch your timing as it can give you a dark sear easily. If stainless steel is used, it is best to get a sauté that is 18/10 stainless steel with a heat diffusing alloy not only on the base but on the sides sandwiched between. You can special order Mauviel tin lined copper through their domestic distributor, www.mauvielusa.com
Tin lined copper cookware has also had a renaissance from a small group of artisans in the US. Two that I am familiar with are Housecopper.com and brooklyncoppercookware.com/
Also, rather than wrapping your bay leaf, thyme, parsley stems in cheesecloth, make a sandwich with two pieces of celery and tie with twine, shown at the right. If you can find marrow spoons, so much the better as the marrow hiding inside each piece of shank bone is the prize. They have a larger spoon on one end to scoop up the bigger pieces of marrow, and on the handle side, a teeny one to get marrow from out from smaller bones.
Osso Buco with Tomatoes
2019-02-13 22:31:56
Serves 6
This is not Osso Buco Alla Milanese, which does not have tomatoes, but it is our family favorite. We serve it with polenta or rice
Ingredients
6 veal shanks, 1.5 -2 inches thick
all purpose flour, seasoned with fine sea salt and freshly ground pepper
1/4 cup olive oil
4 tbs butter
1 garlic clove
1 small carrot, peeled and finely diced
1 large yellow onion, peeled and finely diced
1 small celery stalk, finely diced (I peel mine, but that is my peculiarity)
1 cup dry white wine
1 1/2 cups veal or chicken stock
14 oz chopped tomatoes
bouquet garni
Instructions
Tie each veal shank around the middle, so that the meat stays secure to the bone.
Dust them all over with the seasoned flour.
Heat the oil and butter and garlic in a large casserole or saute pan.
The shanks must fit together in a single layer.
Put in the shanks and brown all sides of each shank over medium heat - this should take about 15 minutes.
Remove the shanks, set aside on a plate and discard the garlic.
Add the carrot, onion and celery to the pan and cook over moderate heat for a few minutes, stirring so as not to allow them to brown.
Add the wine and increase the heat to high, cooking this for about 3 minutes.
Now add the stock, tomatoes, bouquet garni, and season with salt and pepper.
Return the shanks to the pan, standing them up in a single layer. Cover the pan, reduce the heat to a simmer and allow it to cook at this low heat for an hour.
The meat should be tender so that you can cut it with a fork.
You may need to remove the shanks and boil down the sauce to get the consistency you want.
Serve one on a plate with polenta or rice, once you have discarded the bouquet garni and adjusted the seasoning to your taste.
Notes
This recipe can be made ahead a day, covered and refrigerated and then reheated an hour before serving.
Some think it is even more delicous the next day!
Adapted from The Food Of Italy

Adapted from The Food Of Italy

Kitchen Detail https://lacuisineus.com/

Even though we think of raspberries from farm markets in the summer, they are a dependable fruit when you are suffering from the Folorn Hope
doldrums. And since, let's face it, whether they are from the Dark Side of Driscoll or another purveyor, they benefit from being heated. That said, this gratin makes cheerful use of a fruit other than apples and pears. Winter strawberries with their snow white innards need not apply. I have tried this with blueberries and blackberries, at this time of year, but they are just not as cheerful. These can be done in individual low sided bakers in ceramic or copper. I have not seen a difference in the results. You do not have to brush them with butter, the macerated berries will release some juice while in a hot oven. This recipe is a mash-up from Marmiton.org, Christophe Felder and Tamasin Day-Lewis's cookbook Supper For A Song.
Raspberry Gratin
2019-02-21 00:01:52
Serves 4
Delicious with winter raspberries just when you despair that Spring will never come.
Ingredients
4 cups (500gr) fresh raspberries
1 tbs (14gr) caster sugar
1tbs Triple Sec
For the Sabayon
4 extra large egg yolks
1/2 cup (115gr) caster sugar
Juice of 1/2 orange
1/2 cup (105gr) heavy cream
Instructions
Preheat your oven at its highest temperature if you do not have a broiler.
Put the raspberries in a bowl and add the sugar and the Triple Sec.
Allow the berries to macerate while you prepare your sabayon
Put a saucepan on filled with water to about 2 inches (5cm) in depth and allow to come to a simmer.
Put the egg yolks in a heat-proof bowl and add the sugar and orange juice while whisking thoroughly - then put on top of the simmering saucepan.
Whisk this mixture until it becomes slightly thick - it should be like a pancake batter.
Refrigerate the bowl with the sabayon while you whisk the cream in a separate bowl until it is thick and somewhat stiff.
Fold the whipped cream into the sabayon mixture.
Divide the berries among 4 individual shallow bakers.
Lightly top each baker with the sabayon mixture - you do not have to spread it, it will level out in the oven.
Put on a baking sheet in the preheated oven and allow to bake until it is lightly browned on the edges, but the middle is still pale.
The berries, depending on their ripeness will throw off a delicious juice, so serve each lucky guest a serious spoon!
Notes
This is a dessert that really should be served as soon as it is browned.
You can allow the bakers to cool a bit before serving,
You can prep the sabayon ahead of the day of serving, but the berries cannot be macerated for more than the minutes it takes to finalize the sabayon.
Adapted from adapted from Marmiton.com, Christophe Felder and Supper For A Song
Adapted from adapted from Marmiton.com, Christophe Felder and Supper For A Song
Kitchen Detail https://lacuisineus.com/
Hungry for More?
Subscribe to Kitchen Detail and get the newest post in your inbox, plus exclusive KD Reader discounts on must have products and services.
---
Share Us on Social Media: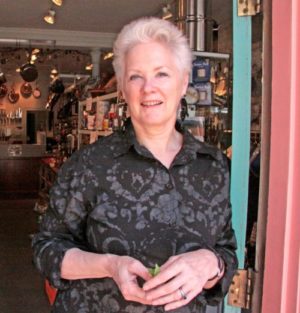 After owning one of the best cooking stores in the US for 47 years, Nancy Pollard writes a blog about food in all its aspects – recipes, film, books, travel, superior sources and food related issues.