August 1, 2018 - Written by: Nancy Pollard
Read Time: 6 Minutes Subscribe & Share
Beach Vacay, Italian Style
If you follow Kitchen Detail on Instagram, you probably know by now that I just had my first Italian beach vacation. While I loved the white sandy beaches of the Outer Banks of North Carolina and spent my adolescence prowling the boardwalk in Rehoboth, Delaware, nothing prepared me for the delights of San Benedetto del Tronto. This unique resort on the Adriatic Coast of Le Marche, Italy, is set against the foothills of the Appennine mountains, offering a welcome breeze and a lovely backdrop to blue sea and blonde sand. With a series of stone breakwaters, the beach has plenty of warm, shallow water that invites young and old alike to enjoy swimming, rafting and playing all day long. San Benedetto Del Tronto itself has two distinct areas: San Benedetto proper and the area where we stayed – Porto D'Ascoli. Tatiana, the KD Travel Scout for all things Italian, chose this last area partly for its one-lane-one-way beachfront road, which is easily crossed with little ones. It also shortened the distance between our family and the thrills of the sea. And as you read on, you will see why we all fell in love with this Riviera delle Palme
A Setting For All Ages
As you drive into San Benedetto, an unwavering line of palms and oleanders welcomes you. In fact, the urban landscaping here, with its modest scale, should inspire American beach destinations. Hotels are not skyscraper high; apartments and villas are designed with clean minimalist lines, engaging colors and attractive architectural details. Beach kitsch is not overwhelming, and evening or morning walks on the lungomare with its intimate
themed gardens are a delight. We were a family of grandparents, parents and children, and we were not alone in strolling along this beautifully paved walkway every night, stopping for a meal or gelato after dinner. Children have lots of small seaside play areas that require only their imaginations and some stamina – so much better than arcades of video games and whack-a-mole. Bikes for singles, doubles, triples, quadruples and yes, even sextuples are available – and no matter your group, you should definitely try it at least once. Hilarity and exercise make a delightful combination.
We chose a ground floor apartment at Cala Luna Suites which was directly across from fully serviced beach concessions. It had an enclosed terrace with a large retractable awning – perfect for dining morning, noon and night. We paid for a space in the garage and an optional cleaning service with weekly fresh linens. The apartments were perfect for rambunctious boys to build raceways, forts and hideouts, while an older group could either watch the World Cup or set up our own aperitivo hour. If you want something more luxurious, consider one of the hotels such as the Smeraldo Suite Hotel – which has a first-class restaurant, Messer Chichibio, where we happily ate several times. Your favorite holiday search engine will guide you to the sort of lodging and dining venues you want. There are neighborhood grocery stores that have local specialties and basic necessities, if you don't feel like doing the short drive to the IperCoop supermarket nearby.
Daily Diversions
Having spent my summers helping my brothers install our beach umbrella, unfold chairs, and then pack them up at night — plus inflating rafts and carrying food to the beach every day, I went through an anti-seaside vacay period. What I did not realize was that all I required was a beach with services! And these abound in almost endless charming fashion in San Benedetto. San Benedetto (and its Italian sister destinations) has a dizzying array of beach "concessions" where, for a fee, you rent umbrellas with tables and chairs. Most offer outdoor showers right on the beach. Memo to self: Italians bring a swimsuit change, on the theory that it is uncomfortable and unhealthy to sit on the beach in a wet one. You can leave beach toys and paraphernalia under your chairs . Your concessionaire proprietor cleans his beach section every evening, furls your umbrella and then preps it in the early morning. Our concession was run by Dino and several brothers, one of whom owned the edicola across the street where we bought newspapers, Italian cooking magazines and assorted tools for building sand castles.
If you dread inflating the flamingo or shark raft, no worries, they do it for you there. If you're reluctant to purchase a raft for your children, they collect abandoned ones and hand them out to those who ask. An Aperol Spritz in your chair or on their patio? Done. Breakfast of freshly squeezed orange juice, cappuccino and pastry? Right there under the patio parasols. A simple quick lunch or dinner? Most concessions have their own little
dining area serving midday and evening fare. New to me was the parade of women in beach cover-ups (they would never call them muumuus). And no self-respecting vacationing female would have just one. Guys just wore their assorted swim trunks in varying shades of bravado. And in case you had not brought enough of these seaside fashion statements, vendors along the beach had them for sale, along with hats, sunglasses, and beach-appropriate jewelry.
Plus the almost endless number of concessions dotting San Benedetto's lungomare are just wonderful to explore. Some offer flashier dining and dancing – Chalet Da Andrea, for example. If you want something quiet but with casual elegance you may want to check out Chalet La Lancette. Our favorite ultra easy-going beach shack was Chalet La Scogliera where I could not stop eating their version of Spaghetti with Clams. They also had Trippa di Pesce one night, a local specialty that was so slurpily good that I am practicing it for a future KD post. But no matter what style of restaurant you choose, children are always welcome.
Getting Around San Benedetto
Our crew arrived by plane, train and automobile. San Benedetto has its own train station, while airports include nearby Ancona and Pescara with larger hubs like Bologna and Rome a little further afield. We wanted to explore the area so we rented a car from the local Avis agency. Once in San Benedetto you can easily use the bus to go up and down the main drag or rent a bike. The spacious bike path follows the coast north to Grottammare and as far as Cupra Marittima.
Plan on two weeks if you are a family group, which allows plenty of beach time, savoring restaurants and markets, plus a chance to take day trips as far
away as Assisi and Spello or just up into Le Marche's hinterland with picturesque towns like Ripatransone and Offida. A worthwhile stop is Ascoli Piceno, which has one of the most wonderful piazzas in Italy. Charming shops and little cafes are nestled in between some pretty astonishing Roman and medieval history. Or you could make a short trip to Mount Conero with its dramatic coastline, turquoise waters and delicious restaurants like Da Emilia.
Nancy & Tatiana Pollard
Hungry for More?
Subscribe to Kitchen Detail and get the newest post in your inbox, plus exclusive KD Reader discounts on must have products and services.
---
Share Us on Social Media: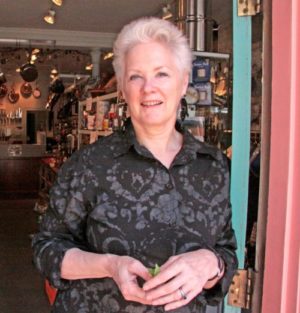 After owning one of the best cooking stores in the US for 47 years, Nancy Pollard writes a blog about food in all its aspects – recipes, film, books, travel, superior sources and food related issues.