November 21, 2023 - Written by: Nancy Pollard
Read Time: 5 Minutes Subscribe & Share
In Search Of Ragu
The Resident Wine Maniac may be a Bolognese manqué as he and his grandson are in serious pursuit of the best and truest-to-form version of Tagliatelle al Ragù. While cooking with my daughter in her kitchen is fun, this is not a dish I even attempt to recreate. In our brief time here while he is busily hunting down every wine store within walking distance (I am still trying to get him to give me a brief rating on each, but he has told me that his research is incomplete and he must continue) the one thing that he orders regularly throughout our travels in central Italy has been this highly contested recipe of a flat egg pasta and a meat sauce. Not surprising, both he and Greg have
definite opinions. The best versions so far are still made in Bologna, according to grandfather and grandson. The former has also noted that he has not sampled enough versions to give a definitive rating, so we will have to hold the presses.
In the meantime, I feel that we need to travel beyond his adopted dish – plus I find it an adventure and a treat to explore restaurants in Bologna that offer cooking not centered on the specialties of Emilia Romagna. So we have at my request gone to restaurants in the historic center that feature the cuisines of two regions much further south. Acquaintances from Puglia and Sicily have stated with great authority that the cooking from their respective regions is the best in Italy.
A Taste Of Sicily
Ristorante Sikelia on Riva Di Reno sits across from a beautiful building that once housed a cigarette
factory and is now the main office of the renowned Cinateca. – and just a few doors down from a Halal fast food franchise improbably named Chicken Taste. You step into a brightly lit small restaurant painted all in a soft white, with artfully arranged wines and pastas on shelves. Cristian Galli is the chef since 2014, and Attilo Riso greets you as the front of the house. Although the restaurant has been in existence for some time, these two restaurateurs have changed the spaces and included bottega featuring Sicilian products they use or have partnered with. The KD Italy Insider said they also upped the game, and we should eat there. The restaurant's name is derived from the period when this island was the Arab Imirat Siqilliya from the 9th through the 11th century.
Seafood is the name of Sikelia's game, and the accompanying vegetables are seasonal
, simply cooked and delicious – fresh artichoke and baby cuttlefish salad for instance. Fresh tuna in Italy should not be missed – here we ordered it with a pistachio crust and another with an unusual red onion and NeroD'Avola sauce. Portions are moderately sized, so it's easy to have two courses and dessert, which you should indulge in. The RWM says he is not a dessert fan, but I am. So when the cleverly deconstructed canolo was served, he took one bite of mine — and then several more. I complained about the thievery, and the best coffee semifreddo we have ever eaten arrived. While many of their dishes are pictured on their website, their wine list is not, but it features well priced, carefully chosen and primarily Sicilian wines – do not miss your chance to explore some unusual ones from this storied triangular island.
Puglia And Then Some
I have not visited Puglia….yet. But my daughter has, and she said the food was so good here that dear friends (neither of whom come from that region) had their wedding lunch at this restaurant. Officine Degli Apuli, is as dark and cavernous as Sikelia is light and small. You walk past a dentist chair
in the entrance and shelves of other unrelated bibelots of yesteryear, into a bar with a few tables. Through the arched doorway with shelves weighed down by a surfeit of wine and liqueur bottles, there is a series of dining areas and also a substantial courtyard.
An incredibly delicious Pugliese burrata was served on a bed of sautéed cicoria – a brassica green I have come to love. Definitely have dessert here, as
whoever is running that part of the menu is clearly ambitious beyond the Pugliese border – an outstanding molten chocolate cake with vanilla ice cream and a flakey layered pastry with fresh fruit and whipped cream are stellar examples. We were offered a new-to-us Pugliese cherry and dried grape liqueur called Rosoli Di Puglia after an excellent espresso.
In addition to their menu, they also pride themselves on their pizzas. I looked doubtfully at this, but when some whizzed by, I have changed my mind and am planning to come back to try one. The RWM was so taken by the wine list that he begged me to change from a pasta with zucchini blossoms and seafood to one with meat so he could order a red wine that caught his fancy. I did and have no regrets about having an excellent pasta flavored with citron and an unusual prosciutto. The incident has been recorded in my"You Owe Me" mental notebook. Nevertheless, this Anniversario 62 was worth the switch. Apparently we will try a couple of their pizzas, accompanied by an irresistible Amarone he also spotted on the list. And never fear…I'll remember to add all those stolen dessert bites to the list of IOUs.
Hungry for More?
Subscribe to Kitchen Detail and get the newest post in your inbox, plus exclusive KD Reader discounts on must have products and services.
---
Share Us on Social Media: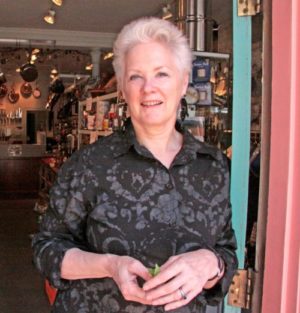 After owning one of the best cooking stores in the US for 47 years, Nancy Pollard writes a blog about food in all its aspects – recipes, film, books, travel, superior sources and food related issues.