August 22, 2023 - Written by: Nancy Pollard
Read Time: 5 Minutes Subscribe & Share
Promises, Promises
A wild promise was made to me when we moved to Italy – the other person in this relationship rashly pledged to eat more fish once we landed. His complaint had been that seafood in the US is just not as fresh, or not diverse enough, or too overpriced. It was always something. He certainly shocked the waiter at Re Enzo, a restaurant where we frequently dine, when he ordered their excellent turbot – and even their branzino – instead of his usual Spaghetti Alla Carbonara. I was impressed. But when our son-in-law offered a field trip to a town in Emilia Romagna for Bistecca Alla Fiorentina, he happily reverted to form.
Like his search for the best bagels and lox or the perfect pastrami sandwich, no distance is too great or shipping
cost too steep to overcome. After trying just about every steak offered locally and not so locally from our last home base, he singled out the ones from Peter Luger– always delivered fresh, never frozen. The gold foil-covered chocolate coins and house steak sauce we discarded, but the steaks were wondrous. We settled on occasional steaks from Butchers Alley as a good local resource to ease the lengthy wait from Fathers Day in June and his birthday in December. Of course, I liked the fact that it was the Luger women who taught themselves the craft of butchering and the art of discerning Prime Porterhouse Steaks.
The Quest Continues
In the meantime, much has been made of Dario Cecchini and his Macelleria in Panzano, Tuscany, first in Bill Buford's book "Heat" — a well written and somewhat fawning account of his adventures in Mario Batali's restaurant and later his stage in Dario's butcher shop. In 2020, the Netflix Series, Chef's Table, featured him and his enterprises. With its rich orchestral music and beautiful cinematography, this episode certainly made La Maccelleria Cecchini a Mecca for beef acolytes. And I certainly appreciate his passionate philosophy that none of what a cow has to offer in its butchery should be wasted. At one time at the Eastern Market in DC, we had a wonderful butcher, Charlie Fincham, who was very much of the same school as Dario Cecchini. We could purchase tripe and veal liver or kidneys. And he had the most delicious hamburger I have ever eaten – it included beef heart. It's hard to forget that Charlie's burger was 39 cents a pound when we discovered it.
What's The Beef
The reputation of the Italian Chianina cattle is legendary almost to the same degree as the variations of the Waygu beef from Japan. Ironically, this largest of cattle breeds was initially raised as a draught animal rather than for its meat. It is one of the oldest cattle breeds in the world, with a record as far back as Etruscan and Roman eras, They are named after the Chiana Valley in Tuscany, where Chianti wine is produced. When plowing became mechanized, Chianina cattle were then bred for meat. While interest in breeding this gentle white giant increased due to its growth rate – up to 5lbs a day – butchers appreciated the superb texture and taste of the meat. Their large and well formed musculature has little fat waste but exhibits excellent marbling. Additionally, Chianina cattle were excellent foragers, resistant to extreme heat, parasites and disease. Chianina and several hybrids are also raised in the US, Canada, Spain and South Africa.
Off The Beaten Path
All of which should entice you to include a dinner at one of many restaurants throughout Emilia Romagna and Tuscany, which feature this acclaimed specialty. While it is easy to be seduced by the film and press accolades of Cecchini, I think a more intimate experience, with fewer theatrics and certainly a lower bill – can be had in a restaurant such as Nonno Poldo in Roncobilaccio. It's an easy drive between Emilia Romagna and Tuscany. If you are fluent enough in Italian (and I am not) you can detect distinct Bolognese and Florentine accents in the local population in this area that was highly contested between the feudal fiefdoms of Bologna and Florence.
I am always charmed by restaurant signage that reflects the confidence of the owners that they will be found by a discerning clientele. So how could you not love the hand painted sign of Nonno Poldo the size of a license plate, just down the road from a more posh restaurant with more sophisticated advertising. It has a grapevine covered terrace plus a rustic dining room with tables topped with first rate linens and glassware. Children are welcomed here, a laudable tradition found in most Italian restaurants.
The menu includes homemade filled pastas and their version of pappardelle with a wild boar ragù –
never successfully achieved in the US. Their carefully chosen prosciutto is unusual in flavor, and truffles are featured in several other choices for first and second courses. But we are here for their version of Bistecca Alla Fiorentina – rare of course- and it is terrific. A modest wine list of well chosen local wines includes a well priced Chianti Riserva. Simply grilled seasonal vegetables and fresh spinach are nice diversions from your steak. I am not a big fan of Italian crostatas filled with jam – the crusts are usually somewhat dry and the jam indifferent in flavor. The Nonno Poldo cherry crostata is a worthy exception. Again, freshly made in house, we ate it so quickly that I never got a chance to take photo!
Although their site suggests using the Casello or Badia exits from A1, my son in law has maintained a well worn path to Nonno Poldo and advises the following route. If you take the A1 coming from Bologna to Florence, you will see a fork in the road: the new right lane will take you directly to Florence and the older left lane (indicated by the the word Panoramica) will take you by an exit marked Roncobilaccio. This exit also goes through a gas station. Follow the signs to Roncobilaccio, and the restaurant is on the left side of the road – it's an uphill driveway with the aforementioned sign. On the right side of the road is a small parking area. Happiness awaits.
Hungry for More?
Subscribe to Kitchen Detail and get the newest post in your inbox, plus exclusive KD Reader discounts on must have products and services.
---
Share Us on Social Media: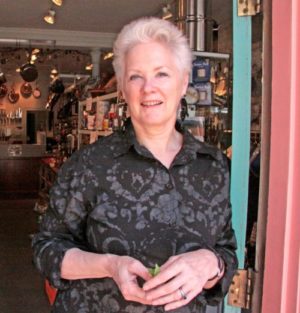 After owning one of the best cooking stores in the US for 47 years, Nancy Pollard writes a blog about food in all its aspects – recipes, film, books, travel, superior sources and food related issues.