January 25, 2023 - Written by: Nancy Pollard
Read Time: 5 Minutes Subscribe & Share
Time For DRVs
Now that we are in the clutches of the JanFebs, perhaps it's time to appreciate the lowly and humble root vegetable offerings rolling around in our grocery store produce bins. Beets, rutabagas, parsnips and, yes, celery root all come under the Cuisinette heading of DRVs. (Dense Root Vegetables). Celery root, knob celery, turnip celery (celeriac if you reside in France and sedano rapa in Italy), while related to celery, is not the root bulb of stalk celery, as you would have every reason to suspect. But both are descendants of wild celery, which the ancient Egyptians grew as a medicinal plant. Surprising to me, as I was forced to read some Homer in high school, this DRV is mentioned in both The Iliad and The Odyssey. Widely used in Europe, celeriac was introduced into the US as a crop only in the 19th century and has generally been ignored by most food shoppers ever since.
Once you have looked past its dirty and warty exterior, don't do as I first did in picking celery root, which was to select the largest on the mistaken theory that bigger is better. In this case, it is not. You want them to be about the size of a large apple or orange. The super-large ones are always more fibrous. Feel for soft spots, as they are an indication of deterioration. I learned from someone at a market that you should avoid any that have a green tinge in the middle, as that means the root has been exposed to the sun for a while, rather than freshly harvested.That green tinge is a sign of photosynthesis. Unlike celery, don't put this variety in a bag with a damp towel. It will get moldy. Rather, drop it in your produce drawer or on a shelf in the refrigerator. It will be perfectly happy in dry cold.
I have some directions to prep celeriac for any of these recipes. You can wash it if you feel it is truly dirty (grocery store versions tend to be a bit cleaner than those at a farm market). Have a bowl of acidulated water ready — just water with a lemon squeezed into it. If there is a bit of green thatch at the stem end, you can cut it off and save it for making stock. The green stems of celery root make an intensely flavorful addition. It is best to slice away the warty exterior with a knife instead of a peeler. Take a slice off the bottom as well as the top, so that the bulb is stable while you cut around the sides and crevices. Be generous in how you clean up the bulb, so that all the crevices are removed. You lose about a quarter of the weight when peeling away the rough exterior. You should have a roughly shorn bulb with no brown nooks and crannies. At this point, slice it according to the recipe you want and drop the pieces in your bowl of acidulated water – this will keep them from discoloring.
Taming Of The Root
If you have never made a basic Celeri Remoulade, perhaps this classic French salad or condiment is a good
place to start. I have made it with a cream base and with mayonnaise and much prefer the latter. There are so many recipes in the internet ether for this; I chose one adapted from Marmiton – a French alternative to our Epicurious. Celeri Remoulade gives us yet another reason why you should make your own mayonnaise. Truly, it is so easy – check out the David Tanis recipe here. Make the dressing first, and then grate your prepped celery root. You can grate on a large-holed grater (box or flat) or on the large hole disk of a food processor or electric rotary grater. You might have more dressing than you need, but that you can use for a variation of another French classic Les Oeufs Mayonnaise or as part of the yolk mixture in your deviled eggs. I like to add capers to the dressing and top the finished salad with chopped parsley, if I have it. Try it as a side dish with steak frites or even as a garnish for hot dogs.
Celeri Remoulade
2023-01-16 18:09:35
Serves 4
Ingredients
For a celery root weighing over 1lb or 500gr - grated
1 cup (237ml) homemade mayonnaise or best quality commercial mayonnaise.
2 tablespoons Dijon Mustard
Fine sea salt to taste
Freshly ground pepper to taste
Optional additions - a tablespoon or two of capers or finely chopped cornichons
Instructions
You can squeeze some lemon juice over the grated celery root.
Mix the mayonnaise, mustard, salt and pepper to taste
If there is liquid in the bowl of the grated celery root, pour it off.
Add the dressing until you have a mixture you like; add the capers or cornichons.
Once mixed, adjust seasoning and serve immediately or cover and refrigerate.
Notes
I have served this the next day, and it is fine, but freshly done is best.
You can thin the dressing with a bit of cream or even water.
I sometimes serve celeri remoulade with a few slices of prosciutto at the base as an appetizer.
Adapted from Marmiton website
Adapted from Marmiton website
Kitchen Detail https://lacuisineus.com/
Suzanne Goin, a notable chef in California with several restaurants under her direction, as well as a couple of cookbooks, always has
intriguing ways of upping the game on the most humble of dishes. And her take on combining russet potatoes with celery root is a big improvement over my first efforts at doing this combo as an alternative to mashed potatoes. One of my besetting culinary sins, according to another person in this house, is that I am always trying to make mashed potatoes more interesting. Anyway, Suzanne Goin simmers the potatoes and celery root together. Bear in mind that the potatoes will be done before the celery root – so I do them separately. For an extra smooth finish, which I like, she strains the mash through a sieve, but if you want to save time, this mash is delicious even without this step. You can toast walnuts instead of hazelnuts, which will be the garnish to this side dish. Almonds and pecans don't work as well. I also think it is important to use hazelnut oil with the hazelnuts, and walnut oil with the walnuts at the finish, as the combination quite sets off this side dish.
Celery Root Puree With Toasted Hazelnuts
2023-01-17 16:19:35
Serves 8
My favorite riff on mashing celery root with potatoes. The nut garnish just takes it to another level.
Ingredients
3 lbs (1.36kg) celery root, peeled and cut into 1/2 inch cubes
3 lbs (1.3kg) russet potatoes, peeled and cut into 1 inch cubes
Kosher salt -
2/3 cup (158ml) heavy cream
2/3 cup (158ml) whole milk
1/2 cup (113gr) chilled unsalted butter cut into 1/2 inch cubes
Freshly ground black pepper
1 tablespoon good quality hazelnut oil
1/4 cup (60ml) coarsely chopped toasted hazelnuts
You will also need a food mill or a ricer
Instructions
Place the celery root and potatoes in a large heavy pot. (I put them in separate saucepans, as the potatoes get soft quicker than the celery root).
Add cold water to cover, season with salt.
Bring to boil over medium-high heat; simmer until vegetables can be piereced with a fork - 20 to 25 minutes.
Drain vegetables well and then pass through food mill or ricer into the same pot.
Meanwhile, bring the cream and milk just to a simmer in a medium saucepan; remove from heat.
Stir vegetable puree constantly over medium -low heat until excess moisture evaporates -about 2 minutes.
Stir butter into puree, a few pieces at a time, blending between additions.
Remove from heat: slowly fold in cream mixture until a smooth puree forms.
Season to taste - and then strain puree through a medium-mesh sieve into a serving bowl (this makes the texture especially smooth and creamy).
Drizzle with the hazelnut oil and scatter hazelnuts over.
Notes
Puree can be made 1 day ahead. Cover, chill. Rewarm in a microwave or a heatproof bowl over a large pot of simmering water.
I have made this with toasted walnuts and walnut oil and they make a lovely counterpoint too.
I also use more than one tablespoon of oil across the finished dish.
Kitchen Detail https://lacuisineus.com/
And in appreciation of Italy, where cooks allow vegetables to be themselves, you can't beat this technique with celery root, which is similar to the Italian sautéed potatoes. Treated simply with olive oil and chopped rosemary, the peeled root is cut into 2-3cm dice, and cooked in boiling salted water for about 10 minutes. After draining them, the cubes should be somewhat soft – sort of al dente. Add them to a fry pan to which you have added some olive oil to coat the cubes. While you cook them, add some chopped rosemary (and salt and pepper to taste) and stir to turn them over until they become a light gold color, as you would treat potatoes. The frying shouldn't take any more than about 10 minutes. Serve them with any protein as a main course.

Shop Items Related to the Post
Hungry for More?
Subscribe to Kitchen Detail and get the newest post in your inbox, plus exclusive KD Reader discounts on must have products and services.
---
Share Us on Social Media: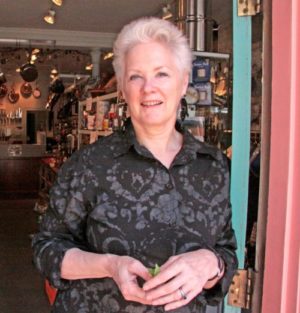 After owning one of the best cooking stores in the US for 47 years, Nancy Pollard writes a blog about food in all its aspects – recipes, film, books, travel, superior sources and food related issues.