July 27, 2022 - Written by: Nancy Pollard
Read Time: 4 Minutes Subscribe & Share
Will You Won't You
I love the poem by Lewis Carroll The Lobster Quadrille and occasionally say a couple of the lines while I am cooking
lobsters. He wrote it as a parody of the song The Spider And The Fly written by Mary Botham Howitt. Whereas the spider in Ms. Howitt's song is about a spider seducing a fly into its web, the Whiting in question tries to get a snail to join a dance with lobsters and be swept by the sea from England to France, where, of course they eat snails. The snail declines the invitation.
Lobster Tales
My husband had a very colorful relative in Camden, South Carolina — Bill Smoak, who ran an equally colorful restaurant with the name of The Smoakhouse. In addition to his highly unorthodox way of running a restaurant, Bill was married a few times. One of his out-of-sorts ex-wives burned his restaurant down when he remarried. He had a sketch of the ruined, smoking building in his new restaurant, with the title of Hell Hath No Fury Like A Woman Scorned written underneath. One of his specialties were his smoked "lobster dainties," a divine little patty of pure lobster that Bill smoked in an old refrigerator parked outside the restaurant. I do not have enough room in this post to detail more of the stories of the irrepressible William Smoak. But he did give us some old iron table legs from his burned restaurant as a belated wedding present, which we still have supporting our dining table.
Another time, our French friends Julia Cuvy and the Panels (of Panel Chocolates fame from the La Cuisine days), when we invited them to visit my sister-in-law in Maine, not only
danced across the Atlantic to join us, but also insisted that we eat lobster every day – American lobster, that is. And at $3.00 per pound, this wish was easily granted. Jacqueline showed me how to cook lobsters flamed in cognac ( she also suggested using Scotch) served along with a beurre blanc – which was a HUGE hit with the dyed -in -the wool Mainers who joined us. Jean Claude dipped Oreo cookies in tempered Valrhona chocolate for dessert.
And of course we did our favorite recipe for Maine Lobster Rolls from the cookbook Lobster At Home by Jasper White, which the Trois "Js" loved. With a lobsterman (who never learned how to swim, I would like to add) living down the road from our backyard in Phippsburg, Maine, dancing daily with lobsters was easy. I once made a highly respected recipe for Lobster Pot Pie, but we all agreed that the lobsteryness got lost and the very rich and complicated crust was the star.
Back To Reality
But it is harder to dance with lobsters here in Alexandria, VA. My luck with getting them out of tanks has not been great. I can
taste the lingering unhappiness of their confinement, perhaps. I had one time taken them home from Portland on the plane packed in seaweed in a cooker, which may not be allowed anymore. So I had accepted with sadness there would be no more
lobster dishes or dances — and certainly not at $3.00/lb. But KD's sharp-penciled editor clued me in on fresh lobster meat sold locally by the pound through Mas Seafood. You have to call to reserve. The pound consists of lobster knuckle and claw meat only – which, ironically, we all prefer to the tail. Obviously the tail meat, considered the primo piece, is cut out separately and sold to restaurants or seafood processors. Your first reaction might be just to melt butter, dip the lobster pieces and chow down, an approach I endorse wholeheartedly. But when you want to have something a bit more unusual and even more delicious try this Lobster, Potato and Corn Salad. We plucked this gem once again from the same Gourmet Farm Fresh Cookbook that gave us the delicious raspberry limeade. We think it screams summer, even though it does not contain tomatoes, which, frankly, I think can overshadow the flavor of lobster meat.
For KD readers who want to go to Mas Seafood, they close every year during the first week in August so that all employees can take a vacation. Additionally when you reserve your pound of lobster meat, if you mention Kitchen Detail, Mas Seafood will deduct $5.00 off the price.
Lobster, Potato And Corn Salad With Tarragon
2022-07-22 01:07:21
Yields 4
Make this with fresh lobster meat that you can buy (you don't have to cook lobster) and produce from your farmers market.
Ingredients
2lbs (907gr)boiling potatoes - if you can get new potatoes, even better
2 large ears of corn
2 shallots
1/2 cup (118ml) extra virgin olive oil
3 1/2tablespoons (52ml) rice vinegar
2 tablespoons (30ml) heavy cream
1/2 cup (118ml)loosely packed fresh tarragon leaves
Instructions
Cut enough kernels from the cobs to measure 1 1/4 cups
Bring enough water in a saucepan to boil and have ready a bowl of ice cold water.
Blanch the corn kernels in the boillng water for 30 seconds and then transfer them with a sieve to the bowl of ice water to stop the cooking.
Drain the corn well (I put it in a towel)
In another saucepan, cover the potatoes with cold salted water by 2 inches.
Simmer the potatoes until just tender —15-20 minutes.
Drain potatoes and cool, peel and cut them into 1 inch (2.5cm) pieces.
Mince shallots.
In a bowl, whisk together half of the shallots with 1/2 cup of the oil and 1 1/2 tablespoons rice vinegar.
Add the diced potatoes to this mixture, add some sea salt and freshly ground pepper to taste and gently mix the dressing in with the potatoes.
In another bowl mix the remaining oil, 2 tablespoons of rice vinegar and the two tablespoons of cream.
Add the remaining minced shallots and season to taste with sea salt and freshly ground pepper.
Add the lobster meat to this dressing and combine thoroughly (we like making the lobster pieces a bit smaller and slightly more uniform.)
Chop the tarragon leaves coarsely and add to the potato mixture, and then add in the lobster and corn, tossing gently - I have to rearrange a few claw pieces when I put it on a platter.
Notes
You can make this about 4 hours ahead and refrigerate, covered with cling wrap, but you may want to bring it to room temperature before serving.
Adapted from Gourmet's Fresh From The Farmers Market To Your Kitchen
Adapted from Gourmet's Fresh From The Farmers Market To Your Kitchen
Kitchen Detail https://lacuisineus.com/
Hungry for More?
Subscribe to Kitchen Detail and get the newest post in your inbox, plus exclusive KD Reader discounts on must have products and services.
---
Share Us on Social Media: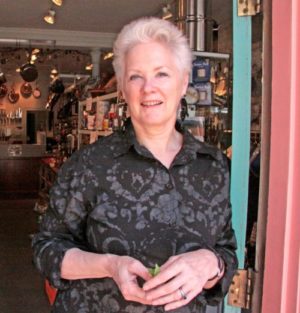 After owning one of the best cooking stores in the US for 47 years, Nancy Pollard writes a blog about food in all its aspects – recipes, film, books, travel, superior sources and food related issues.