October 13, 2021 - Written by: Nancy Pollard
Read Time: 5 Minutes Subscribe & Share
Fall Outings In The DMV
Now that the humidity, heat and vacation traffic have come to a somewhat blessed halt, I am thinking of fall drives. Our area is famous for the autumn coloring in the Blue Ridge Mountains, and if you want to participate in another creeping line of cars, albeit this time with lovely scenery, this is the time to do it. The UK division of the Pollard family made a picnic from the sandwiches and desserts at The Red Truck Bakery in Marshall, and my daughter showed off her childhood memories to her son and husband. But there are other agreeable outings in Northern Virginia. Wineries abound, some with picnic areas and others with food offerings to go with their vintages. We have several Pick Your Own Orchards, a treat planned by the Italy Insider for our grandson and American Nonno, which they both tired of within five minutes. The Nonna and Mamma Team, however, happily persisted and picked our full quota before we repaired to our favorite restaurant in the Northern Virginia countryside.
The Little Restaurant That Could
While our appealing area has some starred restaurants and some less than stellar ones that certainly get loads of coverage, this sturdy little restaurant in a former rail station
in The Plains has been a delightful and affordable dining interlude for almost three decades. Decidedly small, and definitely casual with its menu and attitudes, the owner and chef, Tom Kee, has built a repeat clientele. None of us repeat diners talk about it much and perhaps we should. The Rail Stop had a previous life as a country diner, with lots of local clients (this area of Virginia is heavy into farming, horses and their attendant millionaires). Tom, who grew up in a family where cooking for large groups of relatives was the norm, took an unexpected turn when he was working as a substitute teacher. On a whim, Tom took a course at the now defunct L'Academie De Cuisine. He was surprised that most of his classmates were kitchen employees who had been sent by restaurants to learn how to cook.
Upon graduating, a friend offered him a job in a DC restaurant and Tom then worked for several years with the owner chefs at I Ricchi and Le Pavillon before being invited to work in an ambitious restaurant in The Plains. The restaurant in its several reincarnations disappeared, but Tom felt at home and ultimately worked out an arrangement to create dinners at the Rail Stop Diner, as the owner only wanted to work breakfast and lunch shifts. One of the regular clients was Robert Duvall, (his breakout role as Boo Radley in "To Kill A Mockingbird" I have never forgotten) who still resides in the area. Duvall was so enamored with Tom's cooking that he offered to back him into creating a restaurant out of the Rail Stop diner when the owner retired. Over the next few years, Tom would expand the dining area and made this tiny rail station so successful he was able to buy out his celebrity partner and become the sole proprietor.
Among this spot's many charms is the old toy train that runs around the ceiling of the original diner. It is a replica of a pretty sleek train that, even in recent years, ran between Manassas and Winchester. When one of my grandsons saw it making its way around the ceiling, he was so taken with it that he wanted to take the whole set-up home. When we told him it was not possible, that it was part of the restaurant, he burst into tears. His unhappy loss was soon fixed by a large helping of their soothing homemade ice cream and a lush brownie.
It's Not Italian Or French, It's Just Good
People have asked me and other diners, what type of cuisine The Rail Stop is noted for. Despite having more than earned his stripes in Italian and French cooking, Tom's food is really quite simple and reflects a variety of his experiences. And it's just plain good. The wine list is modest, with the focus on affordable wines that are eminently quaffable without having to worry about the complexity of the aroma or if there is a lot of malolactic acid activity in the glass. He uses local suppliers when their products are good and affordable (having dined at restaurants where the local heart is in the right place, but the end product is not great, I appreciate that). Oddly enough, it's the kind of restaurant you wish there were more of in our rural areas. I love high-end dining in any country but gosh, I so enjoy small restaurants that you find in the countryside in Italy and France, and they seem so hard to find here. The Rail Stop is one of those finds.
Tom has very kindly shared two favorites from his restaurant that he says are easy to make at home, if you are not in The Rail Stop neighborhood. He wrote that the tart is baked in a convection oven, so baking time will have to be adjusted for my conventional oven. I have not made either of these, only happily eaten both when we were at The Rail Stop.
Rail Stop Key Lime Tart
2021-10-09 21:24:47
a winner not only with me but also a reporter from Southern Living, who found this version superior to the ones he had tasted from Florida restaurants
Ingredients
2 1/2 cups (592ml) graham cracker crumbs
1 cup (227ml) melted butter
4 1/2 large egg yolks or 452gr
3/4 cup (178ml) Key Lime juice
2 1/2 cans Condensed Milk - a 14 oz can, which indicates weight not fluid ounces gives 10 fluid ounces of condensed milk so you need 25 ounces fluid weight or 739ml.
Instructions
Mix graham cracker crumbs with melted butter and press into an 11 inch shallow tart pan with removable bottom.
Bake in a preheated 225F(110C) oven for 4-5 minutes and allow to cool.
Add yolks to the blender and blend just a little bit.
Add the Key Lime juice and blend a bit more.
Now add the condensed milk and blend another minute.
Pour through a strainer into the tart shell.
Bake for another 4 - 5 minutes and then allow to cool.
It is best to cool and set for several hours before cutting and serving.
Garnish with whipped cream and sieved powdered sugar.
Notes
His baking times are based on his convection oven. Conventional ovens will take longer.
Kitchen Detail https://lacuisineus.com/
Rail Stop Grilled Chicken Skewers
2021-10-09 21:52:26
Ingredients
1 1/2 - 2lbs (680-907gr) boneless chicken breasts or tenderloins cut into bite size pieces - you should get about 9-10 appetizer servings
1/4 cup (59ml) soy sauce
3/4 cup(178ml) toasted sesame oil
(when adjusting, just remember it is 1/3 soy to 2/3 sesame)
To sauce the noodles
1/4 cup (59ml) Soy Sauce
3/4 cup (178ml) Sesame oil
1 tablespoon(15ml) tahini
1 teaspoon Pukka Sauce or other similar hot pepper sauce.
1 teaspoon chili paste
1 peeled and thinly sliced garlic clove
Shredded carrots and thinly sliced (on the diagonal) scallions for garnish
Instructions
Thread chicken pieces onto metal or bamboo skewers before marinating them in the first mixture.
Allow the chicken skewers to rest in the marinade for 3 or 4 hours.
Mix the ingredients for the noodles sauce and allow to sit for a couple hours.
Strain out the garlic before adding the sauce to the grilled chicken skewers.
Grill the chicken skewers, turning them over regularly on a preheated cast iron grill on top of your stove or on a charcoal grill.
You can serve these on your homemade or store bought linguine
Drain the linguine when it is done to your taste and place them in a small mixing bowl and add just enough sauce to taste - you don't want the dish overwhelmed with sauce.
Plate the pasta and lay the chicken skewer on top or you can remove them from the skewer as pictured here.
Add a bit more sauce to the chicken pieces if desired and garnish with shredded carrot and scallions.
Kitchen Detail https://lacuisineus.com/
Hungry for More?
Subscribe to Kitchen Detail and get the newest post in your inbox, plus exclusive KD Reader discounts on must have products and services.
---
Share Us on Social Media: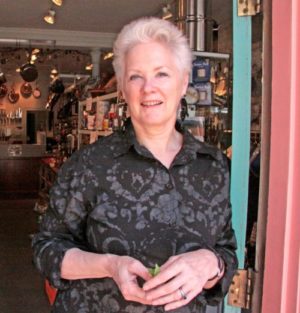 After owning one of the best cooking stores in the US for 47 years, Nancy Pollard writes a blog about food in all its aspects – recipes, film, books, travel, superior sources and food related issues.