June 20, 2018 - Written by: Nancy Pollard
Read Time: 3 Minutes Subscribe & Share
Yes, Virginia There Is A Real Knife Sharpening Service
High on the list of laments when La Cuisine closed and the Cuisinettes flew off to their new futures, was the yen for a professional and reliable person who sharpens knives to replace our service. I had lots of places not to recommend. Kitchen shops that used vertical electric knife sharpeners, or hardware stores that thought lawn mower blades and knives were interchangeable. But at the suggestion of Barbara Dunn, an intrepid La Cuisine client and cook, we have checked out and tried Precision Knife Sharpening Service. And it is 100% Cuisinette-approved!
Mail Or Drop Off Those Dull Dudes
Sometimes you are lucky enough to have good neighborhood karma. And we did in our discovery of Dave and Sherrie Arnold, who live in Alexandria. You ship to or drop your knives off at their business in Del Ray. He got his culinary training as a chef at Johnson and Wales and worked as a food professional for over 20 years. He saw the need for just this type of service, and it is right here — pretty much next door! His mail- order knife sharpening instructions are really simple to follow or, if you live in the DMV, you can drop them off at the bin in his driveway and then pick them up when you get an email notice that your blades are ready for pick-up. You will follow the same procedure as the mail-order process, but indicate that it is a drop-off and pick-up. I taped a copy of my internet order onto my bag of knives. Kind of like sharpening things in Mayberry.
Some Sharp Details
Obviously, the type of knife, whether it is European or Japanese, decides the method. Sometimes Dave has to use more than one process, depending on
the damage. His knife sharpening process includes the use of 3M Trizact Aluminum Oxide belts, with varying grits on a smaller version of the belt grinder used to make knives. Sometimes whetstones with varying grits of 400, 1000, 2000 or 6000 are used. Each side is done separately — rather than the dreaded vertical sharpeners, which are sold to us unsuspecting victims! Each knife is finished with a leather strop or belt, treated with jewelers rouge and polish to finish the edge after sharpening. All knives are cleaned and wiped down when
they are shipped or picked up. Sigh. We should all be treated with such respect!
He found, as we did, that even though angle-setting guides and clamps are available, years of practice make sharpening more effective if done by hand. While he will sharpen Lawn & Garden Hand Tools for $10, he does not do scissors, as that requires entirely different equipment. He also offers a knife sharpening service for your serrated knives, which is quite unusual. Serrated knives are sharpened using a unique technique.
A Special Deal For Kitchen Detail Subscribers
So don't wait for 20 years, as some our clients and Dave's, before you take advantage of this wonderful service. If you have a knife inherited from your
grandfather, he can sharpen that heirloom, too. Nicks and chips will disappear under Dave's watchful eye and sharpening belt. He very kindly has offered Kitchen Detail readers a one-time discount of sharpening five knives for the price of four. Simply enter KITCHENDETAIL in the coupon field when you write out your order.
.
Hungry for More?
Subscribe to Kitchen Detail and get the newest post in your inbox, plus exclusive KD Reader discounts on must have products and services.
---
Share Us on Social Media: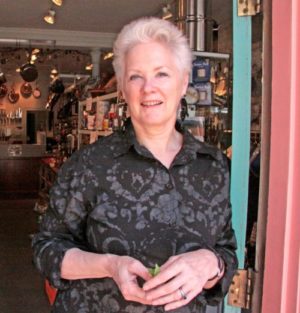 After owning one of the best cooking stores in the US for 47 years, Nancy Pollard writes a blog about food in all its aspects – recipes, film, books, travel, superior sources and food related issues.