March 16, 2021 - Written by: Nancy Pollard
Read Time: 5 Minutes Subscribe & Share
One Stop No Waste Shop
One of my regrets when we decided to completely obey the pandemic protocols (even though I am math impaired, the Covid morbidity statistics for 75 and over are alarming) was missing out on the opening of the first Zero Waste store in the DMV area, which is located a few blocks away from where we live. A visit to Mason & Greens at 911 King Street was on our Have To Do List after we cleared the hurdle
of two weeks post Moderna vaccine chapters I and II. It's a quick walk from the King Street Metro stop and they have an ecommerce component too. Housed in narrow Victorian brick townhouse (with a sustainably furnished guest rental apartment above) this shop carries a small vegan-based selection of groceries and fresh produce (and the nicest fresh herbs I have gotten in a store); delicious and well crafted organic breads through Fresh Baguette (we used to go around the Beltway to get their breads); pertinent books for young and old; home and garden tools; some skin care products for babies, ladies and gents. You bring your own bags, natch, and also bottles to refill, or you can purchase containers in glass or metal. They sell pretty nice toilet paper (move over, Charmin), but not paper towels or napkins because you should use cloth ones. But they do sell a compostable confetti, and each highly colorful shred has a seed embedded within. So when the confetti is thrown, there is a good chance a flower will grow. I was so charmed by this discovery! I know you will find something unexpected, useful and zero waste, too, at Mason & Greens.
How Did We Get Here?
There are dozens of everyday occurrences that seem somewhat innocuous individually, but with repetition wind up adding greatly to this non- disposable pile. One example is the difference in coffee-drinking here and in Italy. There you stop during your errands or work, grab a coffee in a ceramic cup, swallow a shot of espresso while standing at the bar, or sit down with a cappuccino and then move on. Here, we walk around with huge plastic cups of milk seasoned with
coffee, full of sweeteners and ill-conceived flavorings, which are then tossed when empty. A second one: when we had the shop, we spent hours removing useless packaging from kitchen utensils. The number of filled trash bags after a shipment was staggering. A third one is the amount of plastic cling and padding that your clothes bring home from the dry cleaners. We actually once had a wonderful laundry and dry cleaner on South Fairfax Street where everything was hung on hangers or folded and wrapped in paper and string. And we returned the hangers.
When you consider that a couple of surfers have made a business of picking up our plastic trash because they couldn't stand swimming through it, clearly we need to rethink our conveniences and introduce a bit of self-discipline. A country is making a profit out of the plastic largesse in the EU. Several countries are paying Sweden to take their trash, which is then converted into energy for heating. Plus, in Sweden itself, recycling and minimizing waste is taught to children and there are rewards for families who participate in certain recycling programs.We are so immersed in single-use plastics – be it packaging, containers, bags, brushes, even appliances, that it will be almost impossible to really get rid of it all.To quote one of the owners of Mason & Greens, Anna Marino:
When you find out that plastic never actually breaks down, (ever!) then you really start to realize that there's a problem with that material.
Plastic cannot be indefinitely recycled like metal and glass can. It has a life expectancy and when it can no longer be broken down and made into new things (which is rarely happening anyways) it becomes destined for landfills or to float around in our oceans forever. We want to have an impact on the future of our planet, so we exist to bring awareness and to show others that there are alternatives and they are actually better than what we have been led to believe otherwise.
So now you see why the pioneering appearance of this Zero Waste Store is like a breath of plastic-free air.
Mason Jar Goals
The term Zero Waste probably entered our vocabulary in the 1980s, with the founding of a salvaging company called Urban Ore, by Daniel Knapp and Mary Lou Van Deventer in Berkeley, California. Their success showed other municipalities that stuff can be reused and not just thrown into a landfill. But then the onslaught of disposable plastic, paper and fast fashion overwhelmed us as a nation. We were shipping our trash to China as one of several cheap solutions. Municipalities have been very slow to implement the meaningful but not inexpensive reforms that Sweden started introducing years ago. On a personal level in the 21st
century, we have blogs to help us out of this trash bag. One is run by someone who apparently has been able to reduce her annual trash to fit inside a Mason Jar. I am not there yet; we just rejoice in having less trash in our bin for the city garbage truck. But here's a new goal. I look at some of the advice from the very engaging blog, Trash Is For Tossers and hopefully I might someday be able to put a year's worth of non-recyclable trash into a jar from Mason & Greens.
Hungry for More?
Subscribe to Kitchen Detail and get the newest post in your inbox, plus exclusive KD Reader discounts on must have products and services.
---
Share Us on Social Media: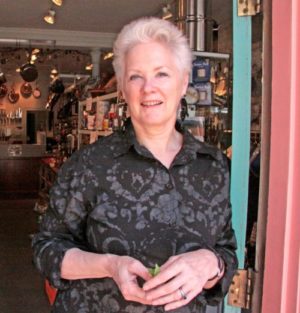 After owning one of the best cooking stores in the US for 47 years, Nancy Pollard writes a blog about food in all its aspects – recipes, film, books, travel, superior sources and food related issues.