July 25, 2018 - Written by: Nancy Pollard
Read Time: 4 Minutes Subscribe & Share
Real Local Restaurants In A Sea Of Corporate Misadventures
It is hard enough to shoulder the responsibility of being the nation that spawned a foul flotilla of fast food restaurants both domestically and abroad. If you don't want to suffer the same burgernfries in Alexandria that you do in your hometown, it is difficult to find a place to eat that is truly local, where the owner is actually a restaurateur and not a venture-capital group looking for a food concept.
When La Cuisine was open, the continuing cry from visitors would be: "Where is a nice local place for a meal? You run a cooking store, so we figure you would know". We still get emails from our Kitchen Detail subscribers asking for local dining advice. So, while I am married to a Wine Maniac, and he always wants to see what is offered for wine, I am on the lookout for cocktails and beers, too, as a welcome alternative. We are not talking fancy-schmancy, but we are thinking about wine or beer by the glass that does not taste like colored water, or a nicely made drink. We are thinking that inexpensive wine does not have to cost four times what I can get at Balduccis or Whole Foods. While I don't mind seeing a burger on a menu (it does seem to be the default choice for a lot of people), I am much more interested in menu choices that reflect local produce and selections from good small purveyors. I'm always delighted when restaurateurs highlight both organic and local produce on their menus. If Sysco is your everyday food-supplier, most likely neither the Wine Maniac or I will be happy.
Explore Local Restaurants in Del Ray And Old Town
So here are some of my favorite restaurants that offer meals driven by fresh and usually local ingredients, which have lovely and affordable drink lists. All are run by local owners and not by some clueless committee. Three are in Old Town and two in Del Ray, which is another lovely, unique neighborhood to visit if you are staying in this area.
A La Lucia is run by Michael Nayeri, who ran the front of the house for Gallileo in DC, hence the Italian trail running through the place. He is extremely knowledgeable about wine, and his selections show it. The seafood choices are excellent, and the mainstays of his menu are varied by season and are wonderful. They make their own mozzarella, burrata and ice cream. Stuffed zucchini blossoms in season? Check. Crispy, not greasy, soft shell crabs? Check. An excellent grilled veal chop? Check. Oh, and the focaccia is so addictive, the Cuisinettes used to call it "Crack Bread". Wonderful for adults of all ages and children who chaperone them.
Our second local recommendation is Nasime, a lovely and intimate Japanese restaurant carved from a tiny slice of the Lamplighter on King Street. It is our date-night treat. Best to make reservations, but occasionally there will be a couple of seats at the last minute. Only one menu is served, and it varies according to what the chef- owner likes that day. You eat what is offered, so there is no salad with the dressing on the side – which to me is a good thing.
The somewhat new kid on the block is Brut Wine Bar — the revamped Grape+Bean run by restaurant veteran Dustin Lara (he also makes a mean cannele). A growing selection of bubblies is paired with simple but lush dishes. One of Dustin's goals is to have one hundred sparkling wines on the wall for us to choose from -a laudable enterprise. I think he has the best cheese and charcuterie platter in our area And if you don't want bubbles, there is a nice selection of wines to choose from for your meal or purchase.
Our most frequented watering hole in Del Ray is Tacqueria Poblano. Actually, we order their slurpily delicious
Margaritas with water on the side. And even though it has two other locations, Tacqueria Poblano is truly home-grown in its ownership and management. Budget- and child-friendly — we have never seen anyone of any age turn down their tortilla chips and salsa. Refreshing agua fresca in several flavors, along with child- sized portions of quesadillas and tacos will keep little ones happy. Two repeats for us are the Duck Carnitas and the Rajas Poblanos. You can sit outside and watch the Del Ray world pass by, or eat inside in a packed, homey atmosphere.
Yet another, more roomy restaurant that plays well with grown-ups or children equally well is Del Ray Cafe. The
owners had a lovely old-fashioned French restaurant in Old Town, which got mowed down in litigation when they wanted to move it to a stately Federal building on Washington Street. Old Town's loss is Del Ray's gain. You can eat inside in a casual dining room, or take your kids upstairs (and my grandsons have enjoyed this immensely) or eat on a real screened porch, if the weather be good. They focus on organic and locally sourced products for all their menus, which remarkably include delicious breakfast choices as well as a well-thought-out lunch and dinner menu.
We all talk about eating local, and when local is superior to corporate concepts, it deserves a social media shout-out. We invite you to let us know the best spots in your area.
Hungry for More?
Subscribe to Kitchen Detail and get the newest post in your inbox, plus exclusive KD Reader discounts on must have products and services.
---
Share Us on Social Media: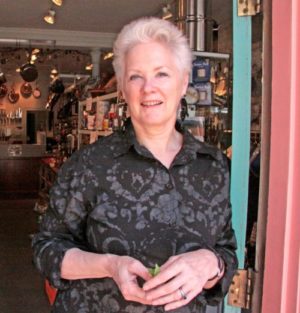 After owning one of the best cooking stores in the US for 47 years, Nancy Pollard writes a blog about food in all its aspects – recipes, film, books, travel, superior sources and food related issues.