May 23, 2023 - Written by: Nancy Pollard
Read Time: 5 Minutes Subscribe & Share
A New Club Is In Town
Red Barn Mercantile, which had a slam dunk author signing with
Brian Noyes of Red Truck Bakery fame, is going to host a monthly cookbook club. Here's how it will work: Sign up here to pay for your space. Plus you'll need to purchase the book, (from Red Barn Mercantile or elsewhere). Read through the book and choose a recipe you can't resist and make it to share with the group. The RBM crew provides the cutlery, plates, napkins and drinks. I have always wanted to participate in a cookbook club (even thought about starting one when La Cuisine was open) because you know, when you read a cookbook, it always has a happy ending.
I will be joining Cary Kelly (who also had a cookware store and now has a web site, and several cooking videos) for the inaugural one on June 7 at 6:30pm. Amy and Cary have chosen the new book by Katie Parla – Food Of the Italian Islands – as the first RBMCC adventure. And an adventure it is, as Katie takes the reader on a tour of the major (and some not so major) islands off the coast of Italy. The author respects the Italian focus on the seasonality of foods so, with our farmers markets beginning to burst forth with wonderful produce; an increase in pasta and bread makers; along with multiplying vendors of artisanal meat, dairy, and fish products, you can create some new experiences and skills in your kitchen.
Rome Calling
Katie Parla had a very single-minded dream when she was about sixteen. I feel a kinship with her fascination with Latin, which she had to take in high school. Remember the adage that Latin is a dead language, it's as dead as it can be: first it killed off all the Romans and now it's killing me? Well, not for some of us. She became fascinated with the Roman classics (as did I to a much lesser degree) and announced to her stunned parents that she was going to live in Italy. She took Italian classes at a community college, dutifully finished getting her art history degree at Yale, and then promptly did as she had warned her parents. She has lived in Rome for over twenty years, earned a masters degree in gastronomic culture at the University of Rome and a sommelier certification to boot. Her diligence in Italian history and its culinary inheritances (and it has many) have paid off in both her own writing, her guided tours, and her exploration of Italian regional cooking.
Made In Italy
Equally impressive, Katie Parla published this book independently and formed her own publishing company – Parla Publishing. While she had the recipes tested in the US for accuracy, the entire production and printing of this inaugural book was done in Italy. I admire that.
As you read through this cookbook and quick guide to these islands, you may want to include one or
two on your next trip to Italy. There is so much more to this storied country than Rome/Florence/Venice. And what better way to ramp up enthusiasm for a visit than to make some of the dishes that Katie has researched so that they can be successfully cooked in your kitchen. For some of the authentic ingredients and tools, a good resource list is provided at the end of the book.
Her style is breezy but anchored by facts and helpful information. She gives you a quick tour of the larger Islands such as Sardenia and Sicily, some of the smaller ones such as Pantelleria (an island I have always wanted to visit) and also a pithy summary of Capri. A bonus is Katie's intense testimony to Lampedusa, the island so many migrants have died trying to reach – tragic journeys by people who are desperate for food, a future for their children, or an escape from imprisonment and torture. She has included a list of the organizations she personally supports, which are genuinely helping this often sanitized and overlooked crisis.
Whetting Your Appetite
I do share the author's love for offal – she has included lung and spleen sandwiches and pasta with
bottarga – not necessarily offal but it is cured and dried fish roe that I adore paired with pasta. Her book offers not only snacks, main courses and desserts, but also goes into some detail about making a few unusual and intricate pasta shapes, herbal digestifs and breads. Do try this easy to make and yummy example of a Sicilian snack from Food Of he Italian Islands – its name is Cipolline Catanesi.
I use Dufour Puff Pastry and get 6 trimmed 4 inch squares. I roll them out so they are a bit larger. Don't overfill your squares. An ounce of mozzarella and a couple of heaping tablespoons of the onion tomato mixture – don't forget the olive- is enough. If you think your packets might split open, run a toothpick through the center top where the corners of he dough meet to pin together the folds of dough. Then remove them before serving. Since my kitchen was hotter than usual, I popped them in the fridge for 30 minutes before putting them in the 400F oven. Check for doneness after about 20 minutes, and you may want to turn your baking sheet around if the ones in the back brown more quickly.
Caramelized Onion Filled Puff Pastry (Cipolline Catanesi)
2023-05-14 20:41:23
A savory treat from Catania that can be served as a snack.
Ingredients
3 tablespoons extra virgin olive oil
3 medium yellow onions sliced
sea salt as needed
4 oz canned whole peeled tomatoes, crushed by hand.
1 lb frozen puff pastry
6 oz mozzarella cheese, sliced into six pieces
6 black olives, rinsed and pitted
1 large egg beaten for egg wash
Instructions
Combine the olive oil, onions and a heavy pinch of salt in a large pan over medium low heat.
Cook, stirring occasionally, until the onions are translucent and falling apart - 30 to 45 minutes.
Add water a few tablespoons at a time as needed to prevent the onions from browning.
Increase the heat to medium high, add the tomatoes, season with salt, and cook until the tomato has lost its raw flavor and the sauce has thickened - about 10 minutes.
Set aside to cool.
Meanwhile, preheat the oven to 400F.
Line a baking sheet with parchment paper.
Cut the puff pastry into 6 squares.
Spoon the cooled mixture into the center of each square, dividing it evenly.
Place a piece of mozzarella and a black olive on top of each dollop of onion.
Join the opposite corners of the puff pastry so that they meet, then brush with the egg wash to seal.
Repeat with the other two corners, sealing the edges to creat a closed packet, then repeat to seal the remaining cipolline, placing them on the prepared baking sheet as you go.
Brush with the remaining egg wash and bake until the pastry turns a dark golden brown -30 to 35 minutes.
Serve warm or at room temperature.
The cipolline will keep in a sealed container in the refrigerator for up to two days.
Warm in the oven before serving.
Notes
There are variations of this onion tomato snack, which can include ham or mushrooms, for example.
Adapted from Food Of The Italian Islands
Adapted from Food Of The Italian Islands
Kitchen Detail https://lacuisineus.com/
Shop the Book
Hungry for More?
Subscribe to Kitchen Detail and get the newest post in your inbox, plus exclusive KD Reader discounts on must have products and services.
---
Share Us on Social Media: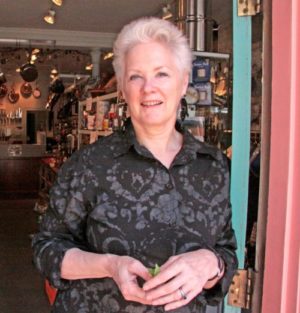 After owning one of the best cooking stores in the US for 47 years, Nancy Pollard writes a blog about food in all its aspects – recipes, film, books, travel, superior sources and food related issues.