February 5, 2020 - Written by: Nancy Pollard
Read Time: 4 Minutes Subscribe & Share
Horses Doovers – A KD Tradition
When we first introduced our Winter Horses Doovers post in mid-December 2018, it proved to be popular, with its recipes downloaded frequently. We got some emails requesting other favorites with drinks in cold weather, so we decided (over cocktails, of course) we needed two annual posts on Horses Doovers – one for winter and one for summer. Thus was born the Horses Doover Contest last summer, whose delightful recipes carried us through the fall. Start polishing your entries for a mid-summer 2020 competition, with prizes for first, second, and third place. Horses Doovers give you a chance to have a drink with your friends, offering something delicious and light before you get the main dining event on the table. Our friends often mix something store bought with something they have made, so here are some winter thoughts….
Out Of Print, Not Out Of Date
First on our list of Winter Horses Doovers is the Parmesan Paprika twists from Martha Holmberg's cookbook Puff which is grrrr! out of print. It introduced me to deep frying puff pastry, although this neat snack with drinks is actually baked. I have frozen them unbaked, packed them in a freezer bag for as long as two months, and then baked them right from the freezer. The only caution is not to use pre-grated Parmesan. Take the little bit of time to grate it fresh. My current favorite Microplane grater for this is now this style. It is all stainless and yields strands somewhat finer than the longer one I have (with a black plastic handle). Plus, the way the handle and frame are designed makes the process a bit faster and less wobbly. A note on silicone baking sheets: I have abused several imitations of the Silpat baking sheets and my original Silpats are still standing (save one that got burnt beyond recognition) while the imitators have come and gone.
Parmesan-Paprika Twists
2020-01-27 21:02:22
Yields 48
One of my favorite horses doovers for any season although I use it in the winter more often.
Ingredients
2+ oz (60gr) Parmesan Cheese (that weight should give you at least 1 cup of finely grated cheese)
1/2 - 1 tsp Spanish Smoked Paprika
1/4 -1/2 tsp fine sea salt
1/8-1/4 tsp cayenne, marash or aleppo pepper
1 9oz (955gr) sheet of puff pastry ( I prefer Dufour)
1 large egg beaten with a few drops water and a pinch of salt
Instructions
Preheat oven to 375F.(180C) and prepare two half-sheet pans (or similar sizes) with either parchment or Silpats.
In a bowl, toss the grated Parmesan, salt and red pepper of your choice until they are well mixed.
On a floured surface or on a large Silpat, roll out your bought or pre-made puff pastry dough into a rough 10x12 inch (25x32cm) rectangle and brush with the egg mixture.
Sprinkle the cheese-red pepper mixture over the whole rectangle.
Lightly press the filling into the puff pastry rectangle.
Cut along the length in the middle to make two equal size pieces.
With a pizza cutter or knife, divide each piece into 24 1/2 inch (1.25cm) strips (approximately!)
Pick up a strip, hold onto each end with one of your hands at each end and twist the strip in the opposite direction from your other hand.
It should take about two or three twists to create a graceful (but uneven) spiral on each strip.
Lay the strip on the prepared baking sheet. You may have to press the narrow edge a bit to keep it from untwisting.
When you finish with all the strips, any of the remaining cheese mixture can be scooped up with a dough scraper and spread over the prepared twists.
Bake until the twists are golden and flecked a bit with brown and are no longer doughy - test one to make sure.
Allow to cool on rack and serve within an hour or two. .
Notes
I have prepped these unbaked, frozen them on a tray, then packed them in sealed freezer bags for up to three months.
Just lay them out on a prepped baking sheet and bake as instructed.
Adapted from Puff
Adapted from Puff
Kitchen Detail https://lacuisineus.com/
An Italian Puf
Number Two Horses Doover is one I got out of the English edition of Cucina Italiana many years ago.
It is simply little puffs of finely grated Gruyere or Comté cheese, mixed with Kirsch, egg whites and rolled in fine bread crumbs. Like the Parmesan Twists, they can be frozen on a tray and then stashed in a freezer bag before the final baking or frying. I have already made the mistake of trying to use Panko instead of fine bread crumbs, so you are now spared that blunder. I let them defrost a bit (around 15 minutes) if they have been stored in the freezer. I usually use grapeseed or sunflower oil to fry in and check with my thermometer that the temperature reaches around 350F before frying. One of the intriguing discoveries I made when I switched over to using the fine graters from Microplane, was that the volume of the grated cheese increased to an astonishing degree. An ounce in weight was more than double the normal volume measurement.
Italian Cheese Puffs
2020-01-24 21:10:23
Yields 24
Freezer worthy before they are fried, these little puffs make a lovely bite with your choice of bubbly, wine or not too sweet cocktail.
Ingredients
2 cups(473ml) fine bread crumbs
2-3 egg whites
3 cups (710ml) frying oil - olive, grapeseed or sunflower
2-3 tbs Kirsch
3/4lb Gruyere or similar cheese grated (fine, not coarse)
freshly ground black pepper
Instructions
Grate the Gruyere cheese in a bowl and stir in the kirsch and add a generous grinding of black pepper.
In a separate bowl, beat the egg whites (2 if they are from extra large or jumbo eggs, 3 if they are from large eggs.)
When the whites are whipped enough to hold stiff peaks, fold them into the cheese mixture. I use a spoonula for this.
With a 1.25 inch scoop or your hands, shape about a tablespoon of the batter into little balls and line them up on a parchment lined sheet.
Put the bread crumbs on a plate and roll the balls in the crumbs, coating them on all sides.
Heat the oil of your choice until it registers 350F on a thermometer.
Drop a few cheese balls in the oil and cook them until they are crisp on the outside. They should be a brownish gold color all over. This should take no more than 3 minutes per batch.
With a skimmer or slotted spoon, remove them as they are done and place on a paper or cloth towel to blot any excess oil.
Serve them warm.
Notes
If you make and freeze these, allow them to defrost a bit before frying.
Adapted from Cucina Italiana
Adapted from Cucina Italiana
Kitchen Detail https://lacuisineus.com/
A Bit Of The Sea And Coast
The third Horses Doover is one that has many variations in French cookbooks. In fact, this was originally one
that Patricia Wells enjoyed in a restaurant when visiting the Mediterranean Porquerolles off the southern coast of France. I have loosely adapted it happily from a cookbook written by Patricia Wells in 1996 – At Home In Provence. These easy-to-do almonds can be kept in a sealed container for at least two weeks, Wells advised. I have made these with those jars of mixed dried herbs under the label of "Herbes De Provence". This is one of those examples where the use of fleur de sel from the Guerande or the soft flakes of Maldon Sea Salt really stand out.
Porquerolles Island Toasted Almonds
2020-01-27 17:01:50
A light and not filling bite that is delicious to have with an aperitif or any cocktail before a more substantial meal
Ingredients
4 oz (126gr) blanched almonds
1 tbs good quality extra virgin olive oil
1 large egg white
1 tbs fine sea salt
1 tbs dried thyme or Herbes de Provence
1 tsp fresh thyme leaves
Instructions
Preheat oven to 400F (205C)
In a large shallow bowl , combine the almonds, oil, egg white, salt and dried thyme or Herbes De Provence.
Transfer to a parchment or Silpat lined baking sheet, arranging them so that they are mostly not touching each other. Shaking the pan and spreading them out with your hands works well.
Sprinkle on the fresh thyme leaves.
Place in the middle of the oven and roast until the nuts are lightly browned - there should be a lovely aroma too.
This roasting process should take about 4-8 minutes, but you must watch carefully and turn the pan if necessary.
Allow the nuts to cool and then break apart any that stick together.
Any egg white crust should be discarded as you place the nuts in a serving container or pack in a covered jar to keep for two weeks.
Adapted from At Home In Provence
Adapted from At Home In Provence
Kitchen Detail https://lacuisineus.com/
Hungry for More?
Subscribe to Kitchen Detail and get the newest post in your inbox, plus exclusive KD Reader discounts on must have products and services.
---
Share Us on Social Media: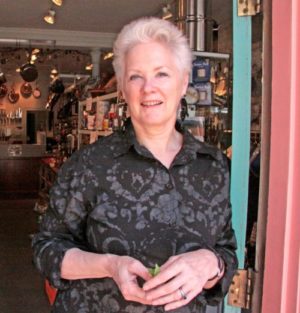 After owning one of the best cooking stores in the US for 47 years, Nancy Pollard writes a blog about food in all its aspects – recipes, film, books, travel, superior sources and food related issues.