March 10, 2020 - Written by: Nancy Pollard
Read Time: 4 Minutes Subscribe & Share
You Are What You Dare To Watch
This is a film that we watched as a choice of one our Soirée Du Film members, or SDF as we like to call it. The group formed as three couples from very different backgrounds, but who shared a love of film along with a good meal. Almost every month, one couple picks a film and prepares a dinner. Each couple has a radically different cooking style as well as a varied taste in films. Over the years, we have experimented with keeping scores (yes, even friendly film-watching can be competitive), and one member of SDF occasionally made posters of the films or video clips of the year. One has religiously kept a tally of all the films that we have watched (along with scores when we did them). We all had friends who wanted to join, but six is the perfect number for dinner and even for film. Scheduling for three couples is about all we can handle. And when we have had more than six, the conversation around the table splits ups. With six, it is a real conversation among all the participants. It is just as the very wise M.F.K. Fisher advised about the size of the perfect dinner party.
We have done this together for fifteen years. and have seen some remarkable films along with some real dogs. We have watched horrifying and life-reaffirming stories, but also sad, funny, kinky ones, and some that were compelling simply because of their unusual artistic outlook and ability to transfer that vision onto the screen. In keeping with the quiet gray period of March, KD has an almost cult documentary to suggest watching, until Spring really arrives and you will be inspired to hunt out your local markets specializing in sustainable food. The documentary is called, Our Daily Bread.
The Process For Your Daily Meal
An Austrian film maker, Nikolaus Geyrhalter is not a household name in the food-centric population of the US
in the celebrity stratum with the likes of Michael Pollan, Mark Bittman or Alice Waters. But if you go to his website, he and his colleagues have produced incisive films on how we live in the 21st century on this planet. Hopefully these films will be viewed by generations to come. The introduction to his films on the Icarus Films website says it best.
"Nikolaus Geyrhalter is one of world cinema's most renowned and celebrated documentary filmmakers. Famous for his unmistakable style which draws on calm, carefully framed wide shots with an eye for geometric compositions, his films eschew commentary or music to create visually striking accounts of places at the margins of our perception while, at the same time, cataloging social phenomena and periods of upheaval in a cinematically epic fashion.
Geyrhalter's static-camera, well-paced observational films tackle their subjects head-on. Whether it's exploring the terrain of post-disaster Chernobyl (Pripyat), reflecting on a post-human world (Homo Sapiens), or investigating modern day food production (Our Daily Bread), Geyrhalter's films are nothing short of startling works of art."
Our Daily Bread, his slowly engrossing film with static images of EU approved food practices in industrial farming and the workers who perform them, are strung together without pomp and circumstance. No voice-over, food pundit interviews, throbbing orchestral highs and lows. Just the visual facts. This is not a documentary of the horrors that are prevalent in US CAFOs or chicken concentration camps, and even in the monoculture farms of Iowa. This is a film which follows what happens in the best of industrial farming circumstances to deliver what Europeans pick up in grocery stores on a daily basis. I doubt that he would ever be allowed to film in industrial food mills and slaughterhouses here. Here food producers are innocent until you can find them guilty, which is difficult since they often write the rules.
So in Geyrhalter's film, you dare to watch what you consume. This is not a bad idea. We should all be aware of how our food is produced, even in more enviable circumstances.This is not about the disgusting process that spits out chicken nuggets. It is a film, however, that may prod you to be more supportive of local farmers' markets, the smaller selection available in grocery stores, butchers, and other purveyors of sustainably grown food.
Hungry for More?
Subscribe to Kitchen Detail and get the newest post in your inbox, plus exclusive KD Reader discounts on must have products and services.
---
Share Us on Social Media: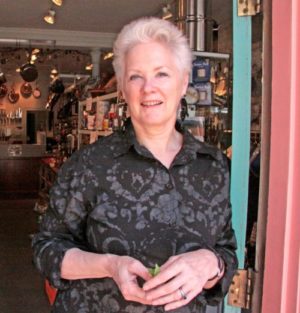 After owning one of the best cooking stores in the US for 47 years, Nancy Pollard writes a blog about food in all its aspects – recipes, film, books, travel, superior sources and food related issues.