June 10, 2020 - Written by: Nancy Pollard
Read Time: 4 Minutes Subscribe & Share
Oh, Father's Day
In spite of the myth, I don't think my husband ever received a tie for Father's Day. In fact, it was always difficult to get him anything, as he consistently bought exactly what he wanted before any of us could purchase it and get the gift wrapped. I used to try to read the smoke signals sent by wine gurus and get an interesting wine that he had not tried or heard of, but to no avail. My daughters did score a couple of literary hits with the writings of Dave Barry or Carl Hiassen. We still have them on the bookshelf, and their male humor has stood the test of time. But ultimately, the two girls decided that they would recognize the day by picking out a film and taking him to a movie theater (I was allowed to come along). This became a Pollard family tradition, broken only when they both moved to Europe. The low point in Father's Day Films was Staying Alive, At the end of the film, The Father In Question confessed that he hated musicals. But the high point was Superman III in which we were introduced to the hilarity of Richard Pryor. In fact, certain among us feel that he made the film, and that the family would watch anything he was in, especially his more cutting-edge stand-up performances with their bitter social commentary.
The Waffle Contest
The other part of the Father's Day ritual was The Breakfast To Make Dad Happy. We had a few trials with French Toast, Apple Fritters, Popovers and Muffins (he nixed the muffins after a couple of tries). The all-time winner was the waffle recipe from Gaston Lenotre's Desserts and Pastries. It is from one of those AOOP books(Alas Out Of Print) which really is a shame, because I learned a lot of French pastry fundamentals from this book. His Buche De Noel is still my go-to recipe every Christmas. While reading the latest book by Bill Buford, Dirt, I found out that Michel Richard had tested and written many of the recipes for this book when he worked for Gaston Lenotre. So there were many waffle-making experiments in our house over the years, and all of them were okay to pretty good. And yes, I had made the waffle recipe Paul Bocuse attributed to his grandmother; it doesn't come close to Lenotre's. Obviously, Paul's grandmother should have met Gaston's grandmother – or perhaps Michel Richard's. In the end, The Father In Question preferred the Lenotre recipe (as did other non-voting members of the family) to the more famous Bocuse one on the internet. Father's Day main dish — check.
A Waffle Iron Discussion
If you are a KD reader of long standing, you already know that I loathe chemically produced non-stick surfaces. I may change my mind with some of the newer ones coming out of the EU, as their regulations are stiffer than ours. But that's not a promise. And you can still purchase waffle makers that are without the non-stick finish. The one that I have had for over thirty years was made by Jotul, a Norwegian company still internationally famous for its cast iron stoves. We used to carry their waffle irons in the shop until they stopped making them. Yet another sigh. Like any cast iron product, it required seasoning, but it works like a champ, and there is no electric cord. You slap it on the burner and brush the grid with the fat of your choice (mine is butter), and you are ready to produce this Father's Day favorite. The waffles themselves freeze beautifully, so go ahead and make the full recipe. I freeze them on a sheet and then transfer them them to a freezer bag. Take out the ones you need, wrap them in foil or throw them in a covered dish in a medium hot oven and you will have happy waffle campers.
Waffles
2020-06-04 17:05:00
Our favorite waffle technique gives 10 large or 20 small waffles.
Ingredients
1 1/2 cups (35cl) whole milk
1 pinch fine sea salt
6 1/2 tbs (100gr) butter
1 3/4 cups (250gr) all purpose flour
8 eggs
1 cup (1/4lt) milk mixed with 1 cup (1/4lt) heavy cream OR 1 1/3 cups (3dl) milk mixed with 3/4 cup (2dl) crème fraiche.
Confectioners' sugar, jam, whipped cream or chocolate sauce are great partners with these waffles.
Instructions
Heat the milk and salt, and then add the butter and bring to a boil.
Remove the pan from the heat and add the flour all at once and mix thoroughly with a wood spoon.
Put the batter back on the heat (medium) for a few seconds, stirring constantly until it comes away from the sides of the pan in a smooth mass and no longer sticks to the spoon.
Scrape this mass into your mixer bowl, with the beaters on low speed, and beat in the eggs, two at a time.
Still beating at low speed, add one of the milk/cream mixtures listed above.
Heat your waffle iron, and butter it lightly - you want it quite hot so that a drop of water pops off immediately.
With a ladle, fill the waffle iron and cook each side around two minutes if it is a stove top waffle iron.
If using an electric waffle iron, it will take longer.
Adapted from Lenotre's Desserts And Pastries
Adapted from Lenotre's Desserts And Pastries
Kitchen Detail https://lacuisineus.com/
Hungry for More?
Subscribe to Kitchen Detail and get the newest post in your inbox, plus exclusive KD Reader discounts on must have products and services.
---
Share Us on Social Media: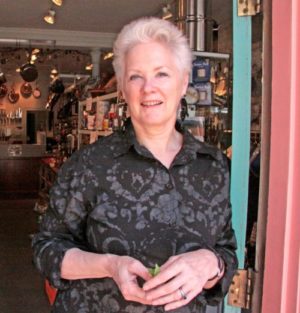 After owning one of the best cooking stores in the US for 47 years, Nancy Pollard writes a blog about food in all its aspects – recipes, film, books, travel, superior sources and food related issues.