October 11, 2022 - Written by: Nancy Pollard
Read Time: 5 Minutes Subscribe & Share
Where Tea Is King
The British are masters at making a ceremony out of almost anything. What they create in pomp and circumstance around royal coronations, weddings and funerals is without peer and watched worldwide. But it is not just limited to an elite class. Every soul in England is tied to the celebration of tea. You have your elevenses (if someone is working at your house, you always prepare a spot of tea for them at 11am) or your afternoon tea at home or in a tea shop with the requisite sweets. Even my mother absorbed this tradition. Both my parents were professed admirers of English customs, as my father was christened at Fowey in Cornwall and my younger brother was named after Kenneth Grahame and Arthur Quiller Couch. She prepared afternoon tea for us at home during school days. My mother served tea from a silver service that she had received from my father's family for their wedding. We almost always had cinnamon toast and occasionally her molasses pecan cookies. Teatime served as a non-bickering moment among us siblings.
Since we visited my daughter Anastasia and her family in England in time for her birthday, she had a Champagne Tea at her home to celebrate. A floral bouquet crowned a strawberry vase. The house and patio were rearranged to make room for numerous guests, both tall and small. Her husband made tea sandwiches – cucumber and cheese, ham and mustard, egg salad and, of course, sausage rolls. Her father, true to his calling as The Resident Wine Maniac, chose an array of bubblies -Ferghettina Francia Corta rosé and a Laurent Perrier rosé. Pink is her favorite color. And English Breakfast was served with her husband's grandmother's tea service.
About The Cakes
But Anastasia was in charge of cakes. In fact, cake is not viewed as a dessert in England, it is reserved for tea. The British Isles Insider has tried to educate me on this serious subject for years. She has baked several traditional recipes and has taken on the challenge of taking the revered Victoria Sponge and Lemon Drizzle to a more delicious level. I have found traditional English recipes for both to be a bit sturdy in texture — not quite melt in the mouth. For a definitive history and discussion of Vicky Sponge recipes, you can do no better than to read Felicity Closke's treatise in The Guardian. And she also philosophizes on Lemon Drizzle in another Guardian article. A fourth = Chocolate Guinness cake – was brought by one her dearest friends and I have asked for her recipe.
Since she was making three cakes and baking them on the morning of the tea party, Anastasia used a single recipe for both the Victoria Sponge and the Lemon Drizzle. In one of her many cake searches, she discovered (and I am now following) a delightful American food blogger who is clearly Southern. The site is Grandbaby Cakes and the writer is Jocelyn Delk Adams, whose family is from Mississippi. Jocelyn Delk Adams' grandmother's caking and baking inspired her blog, and she shares some interesting culinary history and great advice. For instance, she has created her own formula for greasing and flouring cakes. Praise for her Cream Cheese Pound Cake is splattered all over the internet. It is sturdy, but meltingly delicious with or without toppings. The recipe is large enough for a 12-cup tube pan.
Anastasia uses this batter for two 7-inch layers of Victoria Sponge and the remainder goes into an American 1 pound loaf pan for her Lemon Drizzle. In the US, you can use 2 8-inch layer pans. She follows the author's detailed instructions to the letter – and Jocelyn Delk Adams is extremely thorough. The only
addition that she made to Adams' poundcake recipe is the addition of 1 1/2 teaspoons of baking powder – and that does change the texture. Her Vicky Sponge is filled either with strawberry or raspberry jam with fresh berries to match or the Ottolenghi white chocolate ganache that has some whipped cream folded in. The top layer remains unfrosted but is garnished with the themed fresh fruit. For the lemon drizzle, she follows the traditional formula of using 100 grams of granulated sugar (not caster sugar or powdered sugar) to the strained juice of two lemons. Once the cake is out of the oven, but still in the pan, she pokes holes in the cake and liberally pours the glaze all over. It should have a crunchy glaze. Then when it has cooled completely, she removes the cake from pan and parchment.
Cream Cheese Pound Cake (with a variation)
2022-10-06 18:31:05
For making a slightly lighter and higher cake, my daughter adds 1 1/2 teaspoons of baking powder - she then uses it for Victoria Sponge and Lemon Drizzle Cake
Ingredients
1 1/2 cups (341gr)unsalted butter at room temperature
2 tablespoons oil or shortening
8 oz (227gr)cream cheese at room temperature
2 3./4 cups (550gr)granulated sugar
6 large eggs at room temperature
3 cups (375gr)sifted cake flour
1/2 teaspoon fine sea salt
1 tablespoon vanilla extract
Powdered sugar for garnish
Instructions
Preheat oven to 325F (160C) and grease thoroughly a 12-cup (2 3/4L) Bundt pan with butter and then flour the interior.
In your mixer bowl, add butter, oil or shortening, and cream cheese and beat for 2 minutes on high speed.
Slowly add in the sugar, beat on high speed for an additional seven minutes until very pale yellow and fluffy.
There is no leavening in this cake because we add ample air to the cake by having a very long creaming period.
Next, add eggs, one at a time, combining well after each addition and scraping down the sides as needed.
Turn your mixer down to its lowest speed and slowly add flour into batter in two increments, then add salt, being careful not to overbeat.
Lastly add in vanilla extract, scrape down sides and mixture until just combined and turn off mixer.
Pour the cake batter into prepared Bundt pan and bake for an hour plus 15-20 minutes or until a toothpick inserted in the centre of the cake comes out clean.
Cool in pan on wire rack for 10 minutes, then invert cake on serving platter for at least an hour or until the cake is cool to touch.
Dust with powdered sugar and serve.
Notes
Anastasia adds 1 1/2 teaspoons baking powder to the flour if she is making her variation of two British cakes for teas; Victoria Sponge and Lemon Drizzle.
Baking times will be about 30-40 minutes for the layers and 45 minutes for the loaf pan - simply do the toothpick test or check with a Thermapen for a temperature of 195F.
Adapted from Grandbaby Cakes Blog
Kitchen Detail https://lacuisineus.com/
For her third improper cake, she chose Helen Goh's homey lumpy and totally
scrumptious apple and olive oil cake with an unusual maple frosting.Helen herself is Malaysian but raised in Australia and always has unusual tastes and textures in her baking. You can find it in the first Ottolenghi cookbook to hit the US. I have made this cake myself in the JanFebs, and it does help you get through this most difficult time of the year. This cake is even better the next day as the apple keeps the cake moist, the frosting is still irresistible – and it is truly child's play to put together. Some bakers don't even slice it to make two layers and just heap the frosting on top.
Apple And Olive Oil Cake with Maple Icing
2022-10-06 16:24:24
Ingredients
89gr (a bit over 3oz) sultanas
4 tablespoons water
280 gr (10oz) white all purpose flour
1/4 teaspoon fine sea salt
1/2 teaspoon ground cinnamon
1/2 teaspoon baking powder
1 1/4 teaspoon baking soda
120 ml (1/2cup)olive oil
160gr (6oz) caster sugar
1/2 vanilla pod or equivalent in an excellent vanilla essence
2 large eggs, lightly beaten
2 Bramley apples, peeled, cored and cut into 1cm dice
Grated zest of one lemon
2 egg whites
For the maple icing
100gr (3 1/2 oz)unsalted butter at room temperature
100gr (3 1/2oz) light muscovado sugar
85ml (1 bit more than 1/3 cup)omaple syrup
220gr (7.5oz) cream cheese at room temperature
Instructions
Grease an 8-inch(20cm) cake pan and line the base and sides with baking parchment.
Place the sultanas and water in a medium saucepan and simmer over low heat until all the water is absorbed and allow to cool.
Preheat oven to170C (340F)and sift together flour, cinnamon, salt, baking soda, baking powder and set aside.
Put the oil and sugar in a mixer bowl fitted with a paddle attachment.
Strip the vanilla pod of its seeds with a sharp small knife or add the equivalent in vanilla extract.
Beat the oil, sugar and vanilla together and then gradually add the eggs.
The mix should be smooth and thick at this point.
Mix in the diced apples, sultanas and lemon zest, then lightly fold in the dry ingredients.
Whisk the egg whites in a clean bowl either by hand or with a mixer until they have a soft meringue consistency.
Fold them into the batter in two additions, trying to lose as little air as possible.
Pour the batter into the lined cake pan, level it with a palette knife and place in oven.
Bake for 90 minutes or until a skewer inserted into the middle of the cake comes out clean.
Remove from oven and allow to cool in the pan.
Once the cake is completely cool, you can assemble it.
Remove from pan and slice horizontally into two layers.
If the top layer is domed, slice it off to create an even top.
To make the icing, beat together the butter, muscovado sugar and maple syrup until light and fluffy either by hand or using the paddle attachment of your mixer.
Add the cream cheese and beat until the icing is totally smooth
Spread the icing thickly over the first layer and top it with the top layer.
Spread the top with the remaining icing.
Notes
There should be enough icing to make a crumb coating on the side and top.
Refrigerate until cold and then ice top and sides.
Helen Goh does not ice the sides, she uses all the icing on the two layers.
Use Braeburn or Jonagold apples in the US.
Adapted from Ottolenghi - The Cookbook
Adapted from Ottolenghi - The Cookbook
Kitchen Detail https://lacuisineus.com/
Hungry for More?
Subscribe to Kitchen Detail and get the newest post in your inbox, plus exclusive KD Reader discounts on must have products and services.
---
Share Us on Social Media: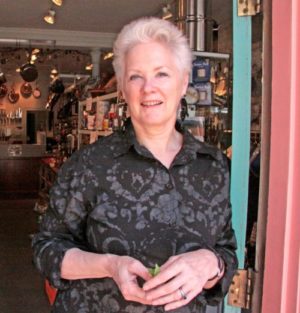 After owning one of the best cooking stores in the US for 47 years, Nancy Pollard writes a blog about food in all its aspects – recipes, film, books, travel, superior sources and food related issues.