February 8, 2023 - Written by: Nancy Pollard
Read Time: 3 Minutes Subscribe & Share
A Red Valentine
In our home, Valentine's Day meals have played an important role in a certain member of this household's efforts to introduce his favorite protein: steak. I have tried introducing fish as a suitable substitute for this special occasion, and the response has always been accompanied with a wan smile when he suggested that a shrimp cocktail would make a great first course. His plaintive request for this year – a post-pandemic celebration at home — was for Joel Robuchon's beef tenderloin in a salt crust.
Down Memory Lane
We actually ate at Jamin, Robuchon's award winning restaurant in Paris, over 25 years ago when we made a fine dining trip to France in celebration of our 25th wedding anniversary. . And while the meal did not deliver the
same WOW factor as L'Ambroisie, it was certainly an enjoyable once in a lifetime experience. The Resident Wine Maniac (RWM) still has a dreamlike memory of the Henri Jayer Cros Parantoux he ordered at an infinitesimal fraction of what it costs today – and the wine was so perfumed, an Italian man next to us asked him what the wine was because he could smell the aroma from where he sat. I, of course,was busy checking out the staff and evesdropping on fellow diners' conversations. The underlying tension that accompanied the excellent service and food was palpable.
Kitchen Tales
Any cook who worked for Joel Robuchon, at least at the original Jamin, has stories about the grueling experience in his kitchen. He led a nightly (or rather wee hours in the morning) inspection of his kitchen, armed with an immaculate white cloth. The entire brigade would stand while he wiped surfaces with said cloth, and if there were a smidge of dirt, the whole team had to stay until the area was cleaned to his satisfaction. Eric Ripert, in an interview not long ago, said that he still has nightmares about painstakingly recreating and positioning Robuchon's signature pattern of sauce dots on each plate. To his credit though, Robuchon threw a plate of food at Gordon Ramsay, who was working in his kitchen, because he could not bear his arrogance and temper tantrums. He did allow that Ramsay's dish was at least correctly done.
Back on earth in a home kitchen, this marvelous presentation of a beef filet can be done without a brigade and minus the tension. Following the recipe authored by Patricia Wells in the book
Simply French, I make the salt crust the night before and wrap it in cling wrap to let it rest on the counter. If your tenderloin is larger, simply double or increase by one-half the recipe for the salt dough. It's pretty flexible and creates an aromatic shroud while the filet bakes in the oven. While I am not a huge fan of kosher salt, even the original recipe in this book calls for it. I have to use my Thermapen to check doneness, as I have never been able to effectively use the metal skewer test to discern the the temperature of roast meat. But then I can't manually take my pulse correctly either.
In theory – for those of you who would like to learn – you should spear a metal skewer or cake tester into the thickest part of your roast and wait about half a minute. Remove and tap it gently onto your lower lip. If it is cold, the meat is underdone. It it is warm, the meat is rare, and if the skewer feels hot on your lower lip, it is well done. While you can prepare the crust hours ahead, the searing and enclosing the beef must be done only an hour or so before you want to serve it. It has to rest for an hour after you remove it from the oven, so you have plenty of time for drinks and a first course – even a shrimp cocktail.
Beef Tenderloin roasted In An Herb Infused Salt Crust
2023-02-04 17:23:16
Serves 6
Ingredients
For the Salt Crust
2 cups kosher salt
4 tablespoons fresh thyme leaves
1 tablespoon minced fresh rosemary leaves
2 large egg whites
2/3 cup water
2-3 cups all purpose flour
For the tenderloin
1 beef tenderloin (2lbs or 900gr) at room temperature
1 tablespoon unsalted butter
1 tablespoon exta virgin olive oil
1 large egg yolk
1 teaspoon fresh thyme leaves
2 tablespoons coarse sea salt (This is a garnish for the top of the salt crust - I don't add this)
freshly ground pepper to taste
Instructions
Prepare the salt crust at least 4 hours before cooking the tenderloin - I do this step the night before.
Combine the salt and herbs in your mixer bowl, and using your paddle attachment, mix to blend.
Add the egg whites and the 2/3 cup water and blend thoroughly.
Add 2 cups of flour a little at a time, and knead until the mixture forms a homogeneous dough.
Add some flour to your board and knead this dough for a few minutes - you can add more flour or water until you have a pliable dough.
The dough should be firm, not too moist or sticky or the beef will steam and not roast.
Cover with cling wrap and let it rest for a minimum of 4 hours and up to 24 hours at room temperature.
The resting time will make the dough less sticky and easier to roll out.
When you are ready to roast the filet, preheat your oven to 375F.(190C).
Pat the meat thoroughly with paper towels and do not salt it, as that will make the juices run out of the meat while you're searing.
In a skillet large enough to hold the filet comfortably, add the butter and olive oil and turn on the burner to moderately high heat.
When hot, add the beef and sear well on all sides, including the short ends - this should be no longer than 2-3 minutes per side.
Place a salad plate upside down on a larger platter, then transfer the seared beef to rest on the salad plate, placing it at an angle.
This will allow air to circulate evenly around the beef as it continues to cook while resting, making for meat that is evenly cooked and tender.
Let it rest in this way for 5 minutes.
Meanwhile on a lightly floured surface roll the dough out to form a 10x15 inch rectangle, or one large enough to enclose the beef without stretching the dough.
In a small bowl, combine the egg yolk and 1/2 teaspoon water to make a glaze and set aside.
Sprinkle the beef with the thyme.
Completely wrap the beef in the salt crust pressing all the seams together.
Be sure that all the seams are well sealed - wrap the beef only before roasting.
Transfer the wrapped beef to a baking sheet and with a brush, coat the entire surface of the crust with the glaze.
(Robuchon's recipe calls for sprinkling the crust with additional sea salt - I do not do this.)
Place the baking sheet in the center of the oven and roast for 15 minutes per pound for rare meat (or until the interior registers 125F when measured with a meat thermometer).
For medium rare, roast an additional 3 or 4 minutes per pound.
The crust should be a light golden brown.
Let the beef rest in the crust on the baking sheet for 1 hour before serving - the beef will remain warm.
To serve, slice off the crust at one end, remove the beef and discard the crust.
Season the beef with pepper, and cut on the diagonal in thick slices and arrange on a warmed serving platter - Serve immediately.
Adapted from Simply French
Adapted from Simply French
Kitchen Detail https://lacuisineus.com/
Shop Items Mentioned in the Post
Hungry for More?
Subscribe to Kitchen Detail and get the newest post in your inbox, plus exclusive KD Reader discounts on must have products and services.
---
Share Us on Social Media: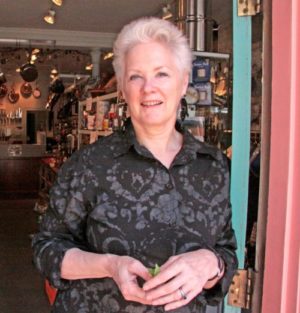 After owning one of the best cooking stores in the US for 47 years, Nancy Pollard writes a blog about food in all its aspects – recipes, film, books, travel, superior sources and food related issues.