September 29, 2021 - Written by: Nancy Pollard
Read Time: 3 Minutes Subscribe & Share
5th Wednesday = Bonus Recipe
No, these are not crèpes as the September 2021 Bonus Recipe on KD. Even better! These are pfannkuchen, a treat I remember vividly from my childhood in
post-war Germany. I thought I would never find a recipe for the genuine article again, but after looking in several German cookbooks, Eureka! I found it in this quaint relic from way before the Before Times of Covid, back to another form of BC – Before Computers. It remains the very best version of this delicious memory.
The recipe itself is from a paperback book from a publisher that we used to carry in La Cuisine's infancy (October, 1970). Back then, the few catchy cookbook titles in existence rarely had good recipes. Most were staid tomes like the Joy Of Cooking or Junior League books (and we carried several) in which you had to tiptoe carefully through the canned goods ingredients. So, when I found clever paperbacks from a California publishing company and tried successfully several recipes from different ones, I was really happy — so were our clients. The company was the brainchild of Craig Michaels. Nitty Gritty Publishing existed from 1968 until 1999 and published over 260 titles, many of them about food. I still have a couple, including one on Italian cooking by an American author whose recipe for Pasta Carbonara included excessive loads of both butter and cream – both unheard of in Italy.
The Right Stuff
Craig Michaels, the owner of Nitty Gritty Productions, actually authored this particular book and obviously considered himself quite a breakfast cook, hence the title, Sunday Breakfast – A Cookbook For Men. My first sourdough starter was from this tiny tome, and I have fond memories of our daughters poring over its pages in search of breakfast recipes. I make these pfannkuchen in a classic blued carbon steel short-sided crèpe pan
from De Buyer. My way of keeping the pancakes warm as I am making the next one is to put a plate on a pan of simmering water – you can turn the water off once the plate gets hot – and then just transfer them on to the plate. And I use a generous pat of unsalted butter each time I ladle about 1/4 cup of the batter in. Tilt the pan as you swirl to create an almost paper thin pancake in your pan. It is easiest to use an offset icing spatula or my beloved line cook spatula to flip them. It takes less than a minute on each side.
Tradition in the Germany of my childhood, was to squeeze lemon juice and add some cinnamon and sugar – and a small amount of butter. The tradition here with the other person in this house (and obviously his son in law from across the pond) is to liberally slather it with Kerrygold salted butter and artfully place blobs of his favorite raspberry or strawberry jam. It is then rolled up cigarette style before slicing and genteel consumption. To each his own.
Papa's German Pancakes
2021-09-24 19:42:45
Not a crepe, but the paper thin German pancake, which is one of our family favorites for a Sunday breakfast.
Ingredients
4 eggs
1 cup (120gr) white all purpose flour
1/4 teaspoon fine sea salt
1 tablespoon white granulated sugar
1 1/3 cups (316ml) milk
6- 8 oz(170-227gr) unsalted butter
Cinnamon sugar
Juice of a lemon
Fruit jam of your choice
Instructions
Beat the eggs in a mixing bowl until really light and frothy - this can be done in a stand mixer, a hand mixer or with a large whisk.
Add the flour, salt, sugar and milk and beat for 3-5 minutes - you want a thin but completely smooth batter.
Preheat your frypan on high so that when you grease it with the first tablespoon of butter, it spatters and turns light gold.
My pan uses 1/4 cup of batter for each pancake - so tilt the pan, so that the melted butter is spread across the pan, and then pour in the batter, tilting it until the batter is thinly spread across to the interior edge of the base of the pan.
This takes a bit of practice to rotate and tilt the pan, but the "ugly" ones are still good to eat!
With the spatula of your choice, slide it under and flip - Have some courage to do this quickly rather than slowly!
The German pancakes are done on each side in a matter of seconds - when the top looks a bit dry after you first pour in the batter, it's time to flip!
Once you have made all the pancakes, you can set out a long platter or gratin, sprinkle each pancake with the cinnamon sugar and lemon juice (you can add the jam here as well) and roll them up, cut them on an angle into two pieces, sprinkle with some more cinnamon sugar and serve.
Adapted from Sunday Breakfast - A Cookbook For Men
Adapted from Sunday Breakfast - A Cookbook For Men
Kitchen Detail https://lacuisineus.com/
Hungry for More?
Subscribe to Kitchen Detail and get the newest post in your inbox, plus exclusive KD Reader discounts on must have products and services.
---
Share Us on Social Media: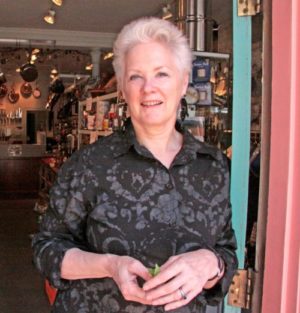 After owning one of the best cooking stores in the US for 47 years, Nancy Pollard writes a blog about food in all its aspects – recipes, film, books, travel, superior sources and food related issues.