January 30, 2019 - Written by: Nancy Pollard
Read Time: 4 Minutes Subscribe & Share
An American In Paris
In keeping with our tradition of adding an extra recipe when there is a fifth Wednesday in the month, our contribution for January 2019 is the classic technique for making Steak Au Poivre. I learned this from Mary Bond with whom I cooked for almost three years. She was one of the few Americans who took the three-year program, Grand Diplome at Cordon Bleu in Paris over 60 years ago. She is probably the only person who did so well in the final exam that the chef wrote "Très Bien" on her diploma.
She taught me this technique with New York Strip or Delmonico steaks, but I frequently sear tenderloin cuts that are about 1.5 inches thick. You can certainly do this with other steak cuts too, but they should be at least an inch thick. This is also where American cast iron or French carbon steel pans shine. You want a dark sear, plus the ability to cook over a longer period of time to get the rare temperature you want with no burning before it is done. You will want to have the steak underdone before you add the cognac, as this will cook the steaks further. The Resident Wine Maniac in our house loves this recipe so much that he has taken it over as his dish.
Ingredients & Equipment Matter
Check out De Buyer for carbon steel pans and Lodge Manufacturing for cast iron ones. Although Mary really had the touch in discerning the doneness of meat, I do not. I pull out my trusty Thermoworks Thermapen for this (get yours here), and it never fails. When it hits around 105F, that's the moment to allow the photogenic flames to do their thing and remove the steaks at about 120F. Also, please promise me that you won't use Ultra Pasteurized whipping cream – one of the many food travesties visited upon US citizens. It would break my heart and never coalesce into a nice sauce. My current favorite heavy cream is from Trickling Springs, but Chrome and Lewes Dairy are also lovely. You can crush peppercorns in a mortar or set a pepper grinder to its coarsest grind. My pepper mill is from Fletchers' Mill in Maine.
A little side note on Cognac – Hennessy, Remy Martin, Courvoisier and Martell are good brands, generally available throughout the US both in VS and VSOP grades. VS is cheaper and is certainly okay to cook with. But if you want a nice digestif as well as a cooking cognac, spring for the slightly more expensive VSOP. The VS (Very Special) stands for an eau-de-vie that has been aged in oak barrels for two years and VSOP ( Very Special Old Pale) is for one that has been aged in the same wood as VS but for four years. Even though this is a grading system initiated in France, the terms are in English, as the first importers of cognac were the English.
Not All Peppers Are Equal
Normally, I recommend Lampong or Sarawak black peppercorns. Lampong, when I can get it, has a mild bite and a real citrusy aroma. Sarawak is more mellow in aroma but still has less of the hot bite that some others do. Tellicherry is the more tightly controlled peppercorn grown in the Malabar region, but it's pretty intense for this dish. Try a mix of white (Muntok), Pink (which is not a real peppercorn), green (not in brine) and a black pepper. It is a bit of heresy for this classic recipe, but the combined flavors give an added depth to the final dish.
And, as Mary admonished me years ago, nothing else needs to garnish this, not even parsley!
Steak Au Poivre
2019-01-15 18:10:26
Serves 2
A little attention, very little time, and you will have steak that cannot be improved upon!
Ingredients
2 individual steaks with a thickness of 1.5 inches (3.75cm) - New York Strip, Delmonico, Filet Mignon approximately 8oz (225gr)
2 tbs butter & 2 tbs grapeseed or olive oil to film pan (28gr of each)
3-4 tbs mild black peppercorns (or an assortment) crushed (30-40gr)
Coarse Sea Salt, fleur de sel, or Maldon salt to finish
2-3 tbs cognac
3/4 cup heavy cream (not Ultra-Pasteurized!)
Instructions
Press both sides of the steak into the crushed peppercorns.
Heat oil and butter in heavy skillet until hot and add your steaks- the fats should have just finished bubbling.
Press down on the steaks so they become more compact.
Allow them to set for a moment to take the heat, and then lift them slightly with your spatula, to let the fat run underneath.
Lower the heat to medium and let cook - not too fast, so that the pepper will be grilled, but not burned
When blood begins to rise and the meat swells slightly (4-5 minutes), turn the steaks.
Salt the second side only and spoon over the juices.
Continue to cook for another 4 minutes for medium rare. basting once again.
Remove the steaks and pour off most of the fat
Return the steaks and add the cognac (which should be warm)
Flame by tilting the pan toward the burner if you have gas, or light it with a match.
When the flame has died out, return the steaks to a warm serving platter.
Add the cream to the pan and swirl sauce over medium high heat. until it bubbles along the edges and has the consistency of a thin sauce.
Spoon over steaks and serve.
No parsley needed.
Notes
Sauteed spinach, a few parboiled and sauteed fingerling potatoes (you can add parsley to these) and a baguette to sop up the sauce makes this a restaurant-worthy meal.
I use a mix of green, red, white, and mild black peppercorns.
Adapted from Cordon Bleu Paris
Adapted from Cordon Bleu Paris
Kitchen Detail https://lacuisineus.com/
Hungry for More?
Subscribe to Kitchen Detail and get the newest post in your inbox, plus exclusive KD Reader discounts on must have products and services.
---
Share Us on Social Media: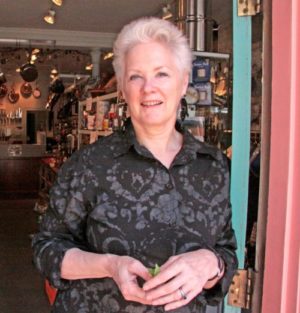 After owning one of the best cooking stores in the US for 47 years, Nancy Pollard writes a blog about food in all its aspects – recipes, film, books, travel, superior sources and food related issues.