October 29, 2019 - Written by: Nancy Pollard
Read Time: 3 Minutes Subscribe & Share
Fig Tart Of My Dreams
Tarte Aux Figues Georgette may be your secret weapon for fall desserts, as it will mount a challenge to all those critters that have been stealing from your fig tree. I'm talking about you, Squirrels! Even if you are sans figuier, grocery stores and farm markets have them now at somewhat reasonable prices. All you need is a pre-baked pie or tart shell of your choice, and this recipe for a sort of fig jam that takes 2.2lbs of figs. In the oven for less than 40 minutes, and you are a hero (except to the squirrels). The recipe comes from the earliest cookbook I have from Patricia Wells, titled Bistro Cooking. It is now Alas Out Of Print. There is a shelf in my collection dedicated to AOOP cookbooks that I treasure, and this is one of them. In fact, my husband was so worried about losing it to disintegration, along with all the glorious recipes contained within, that he purchased another used copy, albeit with a few missing pages, (but not the ones with his favorite recipes!) This prudent practice reminds us of Dave Barry's back up dog. According to Patricia Wells, the creator of this figful wonder was Georgette, the proprietor of a small restaurant in Mougins, Estaminet des Remparts, who was known as the "queen of tarts and magician of Provençal cuisine." And no wonder.
Figgy Details
Her recipe calls for 160 grams of white sugar and for my own taste, I use 120 grams of India Tree Light
Muscovado sugar and 40 grams of their Caster Sugar. It has a more intense flavor, I think, but I have made it plenty of times with all white sugar. If you don't have a vanilla bean, substitute 1/2 teaspon of Vanilla Essence from Grasse, France or 2-3 teaspons of vanilla extract. . It is very important that you cook the figs in a thick saucepan. If you choose stainless steel, make sure it has a heat diffusing alloy so as to avoid scorching. Enameled cast iron works well for this, as does the copper fait tout that is used in this photo. The original recipe advises about an hour's worth of cooking time, but I have clocked it at around 30-40 minutes in a Mauviel Copper Fait Tout. The filling will fit a 24cm (9.5in) deep tart pan or pie pan – or a more shallow 26cm (10.5in) tart pan. It should be served at room temperature. I usually put it under a cake dome in the kitchen and not in the fridge. It doesn't hang around for long. If there is any left, it makes a great breakfast treat.
Tarte Aux Figues Georgette
2019-09-28 20:11:50
Serves 6
Our favorite fig tart, and maybe our favorite fig dessert. Period
Ingredients
2.2lbs (1kg) fresh figs, dark are preferred
3/4 cup or 160 grams (5 2/3oz) white caster sugar
1 vanilla bean split lengthwise or 1/2 teaspoon of Vanilla Essence from Grasse, France
1 prebaked tart or pie shell of your choice
1/2 cup (12,5cl) water
Instructions
Cut the stems from the figs and cut each in half.- this makes the jam-making part go faster.
Combine the figs, sugar and vanilla bean in a heavy saucepan with the water.
Preheat oven to 375F (190C)
Bring to a boil over medium high heat, stirring, and then turn the heat down to a simmer.
Stirring occasionally, allow the figs to develop a jam-like consistancy.- usually in 30 minutes, although the original says it can take an hour.
Allow the jam to cool to room temperature, then pour into tart shell.
Spread the filling evenly and put in preheated oven.
It should be done in 20 to 30 minutes.
Serve with crème fraiche, whipped cream or ice cream.
Notes
The flavoring essences from Grasse, France are superior to our domestic flavoring extracts. You will use less and the flavor and aroma will be exceptional. These are the ones that we carried at La Cuisine. They are available at www.simplygourmand.com
Adapted from Bistro Cooking
Adapted from Bistro Cooking
Kitchen Detail https://lacuisineus.com/
Hungry for More?
Subscribe to Kitchen Detail and get the newest post in your inbox, plus exclusive KD Reader discounts on must have products and services.
---
Share Us on Social Media: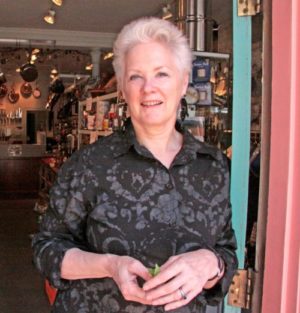 After owning one of the best cooking stores in the US for 47 years, Nancy Pollard writes a blog about food in all its aspects – recipes, film, books, travel, superior sources and food related issues.