April 12, 2018 - Written by: Nancy Pollard
Read Time: 1 Minute Subscribe & Share

This mouth watering bite size mexican sopes recipe was brought over from the classic La Cuisine website.
Bite Size Mexican Sopes
2018-04-11 12:48:29
These are great fun for kids to make and eat. They can be made whatever size and shape you want.
Ingredients
1/2 head iceberg lettuce, shredded
1/2 medium red onion, thinly sliced
1/2 lb black beans cooked and pureed (use cooking water to thin if necessary)
2 bunches cilantro, minced (I include some stems)
2 6 inch stems of mint leaves, minced
1/4 cup Mexican or Central American Creme
1-2 limes juiced
6 small flavorful tomatoes, diced
2-3 cups Masa Harina
1 cup water plus
1.5 cups queso fresco
Salt to taste
Instructions
To make the masa: Start out with 2-3 cups of masa flour in a large bowl.
Add about 1 cup cold water and begin to mix by hand.
Add more cold water as needed to form a ball of dough that is soft but does not stick to your hands.
To make Chimol: In a medium size bowl combine cilantro, onion, tomatoes, lettuce, mint, and lime juice.
Toss ingredients with a spoon until well combined and salt to taste.
To fry sopes: Heat a large cast iron skillet on low-med heat.
Add Grapeseed oil or lard to skillet and allow to heat.
Form masa into bite sized discs about 3/8" thick.
Fry until golden on both sides.
Transfer to a half sheet pan.
To assemble: spread refried beans, then crema over, grated queso seco, and top with chimol. Transfer to platter and serve while still warm.
Notes
A small offset icing spatula is perfect for setting up the sopes. And as usual a line cook spatula makes flipping sopes really easy. The number of sopes this recipe makes depends on the size of the disk you make.
Adapted from Cuisinette Meals
Adapted from Cuisinette Meals
Kitchen Detail https://lacuisineus.com/
Hungry for More?
Subscribe to Kitchen Detail and get the newest post in your inbox, plus exclusive KD Reader discounts on must have products and services.
---
Share Us on Social Media: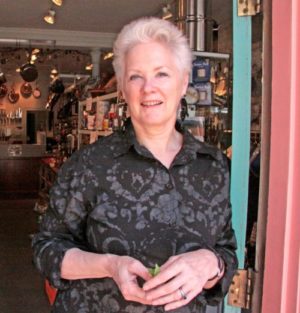 After owning one of the best cooking stores in the US for 47 years, Nancy Pollard writes a blog about food in all its aspects – recipes, film, books, travel, superior sources and food related issues.