October 8, 2019 - Written by: Nancy Pollard
Read Time: 5 Minutes Subscribe & Share
Fruitcake Is Your Friend
My mother-in-law made heavenly fruitcake. Stephanie Gorenflo, our baking Cuisinette extraordinaire, made a divine one too. But I know their superior results don't tell the whole fruitcake tale. When my family received commercial fruitcakes as gifts, they were indeed, pretty much the proverbial joke that we all know. In many cases, the additives listed on their labels made longer reading than the actual ingredients. And in some instances, the fruit consisted primarly of candied melon rinds colored to look like the fruit of choice. But, real fruitcake is a different thing entirely. Studded with genuine candied fruits and fresh nuts and flavored with complex spices, it becomes one of the most glorious things in a cook's Christmas repertoire. Your home-baked version of either this fruitcake or one from another book will really be appreciated by any recipient. Trust me, there is nothing better (except maybe a bubble bath) than a slice of (good) fruitcake with a cup of tea on a dreary February day.
Ingredients and Recipes Make A Difference
I remember watching my mother-in-law, who worked full time, prepping her fruitcake progression. On a Friday after work in November, she stopped at her Safeway to get her ingredients. On Saturday, she would precisely cut brown
paper grocery bags to fit the interior sides and base of all of her pans. Then she would mix all of her fruits and nuts in a large bowl, pour some bourbon over the concoction, and cover it with a dish towel. Then on Sunday she would mix the batter and fold in the fruit and nut mixture (having dredged them in some of the spiced flour). The cakes were baked and then wrapped in bourbon-soaked cheesecloth. Her recipe came from one of the few cookbooks she had in the cupboard – The United States Regional Cookbook edited by Ruth Berolzheimer in 1939. I used to look at it, with its grainy black and white photos, frequently when we stayed with them. It even had little thumb indexes, indented places along the outside edge,with a label in each to indicate different chapters in the book. There are chapters with recipes dedicated to New England, the South, Pennsylvania Dutch, Creole, Michigan, Mississippi Valley, Wisconsin Dutch, Minnesota Scandinavian, the Southwest, the West, and something titled Cosmopolitan America.
Fruitcake's keeping power, like its Italian counterpart, Panforte, is remarkable. It can be wrapped in cheesecloth or cling wrap, and kept frozen or at room temperature. It should have a regular massage of the liqueur or fruit juice of your choice . One customer in the shop told me that in his family, the fruitcakes were stored in the sideboard with a glass of whiskey in the center hole of each cake.
The Jewel In The Crown
Most fruitcake recipes will give you enough batter to make an assortment of sizes, so this is the time to allot
smaller ones in disposable cake pans to only your closest friends. My favorite disposable pans are the ones from Panibois or Novacart. Panibois are made by a French company, and the frame is a birch wood veneer (which is bakeable up to 500F) with a peelable and oven proof paper liner. Novacart is an Italian company, which pretty much dominates the patisserie world. And like Panibois, their disposable containers are ecologically friendly. In either case, there is no greasing and
flouring involved, as the paper or the cardboard pull away. I make at least one showpiece fruitcake to keep on a cake stand that was baked in one of the Birth-Gramm copper molds that we used to sell in the shop.
Here are a few things I have learned along the way. We found that Muscovado sugar has more flavor than light brown sugar, which is why we always baked with India Tree Muscovado. I still do. The best candied fruits come from Italy, France, Australia, and sometimes California. Vanini, International Glace, Pariani, Agrimontana are all superlative producers of candied fruit, and online sources abound.
Fruitcakes are best when made at least four weeks in advance. No need to turn fruitcake-making into a one-day marathon. It is easier to chop fruits and nuts on one day, then mix
into batter the next. When baking, you can place a pan of hot water in the bottom of your oven for a moister fruitcake. Cool the cakes in their pans, then turn them out, give them a baste with your preferred liqueur. Before storing in an airtight container (I use a large plastic box that is designed to hold boots), you can wrap them in soaked cheesecloth or just in cling wrap. If they are baked in disposable containers,
just brush the tops thoroughly and regularly with your liqueur, brandy or whiskey. On the issue of cheesecloth, I have found, after way too much trial and error, that the best one is an organic cheesecloth that is manufactured by a New Zealand company called Country Trading – and you can even wash and reuse it.
Still need inspiration? There is a nifty little book Fruitcake: Memories of Truman Capote. which was written by his aunt. Besides her charming memories of the author and his cousin Sook, you'll have 22 different fruitcake recipes. If Dorothy Remington Pollard's recipe doesn't suit, you'll surely find one that can become your family tradition.But when you are counting out cakes to give away, make sure to stash away at least one for yourself to relish during those interminable dreary days of winter.
As far as Dorothy Remington Pollard's recipe is concerned, if you don't like glaced fruit, use a variety of dried fruits. Change the nuts to ones that suit you, if almonds and pecans aren't to your liking. Her recipe is as unflappable as it is delicious. Trust me.
Dorothy Remington Pollard's Fruitcake
2019-10-07 19:29:56
My Christmas tradition in fruitcake. It borders on divine.
Ingredients
3 cups(472gr) light Muscovado Sugar
3 cups (340gr)unsalted butter
12 large eggs separated
1 cup (140gr)blanched whole almonds
2 cups (300gr) raisins (blond or dark)
2 cups (300gr) dried currants
2 cups (450gr) glaceed cherries
2 cups (300gr) dried figs, chopped
2 cups (350gr) chopped pitted dates
2 cups (450gr) mixed diced glaceed fruit ( citron, orange and lemon)
2 cups (450gr) glaceed chopped pineapple
2 cups (250gr) whole pecans
1/3 cup (79ml) brandy
4 cups (480gr) white all purpose flour sifted with
2 tbs (15.8gr) cinnamon
2 tbs (15.8gr)mace
2 tbs (15.8gr) ground cloves
2 tbs (15.8gr) ground allspice
2 tbs (15.8gr) grated nutmeg
1 tbs (14.4gr )baking powder
Instructions
Preheat oven to 275F (135C) and prepare your pans by greasing and flouring them thoroughly. or lining them with parchment.
Fill a roasting pan with water and place it in the bottom of your oven.
It will bake one 12-cup tube pan and about 3 9x5 inch loaf pans OR several smaller loaf pans
Dredge the mixed fruits and the nuts in some of the sifted flour mixture.
In a large mixer bowl, cream the butter and sugar together until light and fluffy using the paddle attachment.
Beat the egg yolks separately until thoroughly mixed and then add them to the butter mixture, whisking thoroughly with the paddle attachment.
In a separate bowl, whisk the egg whites togther until stiff and then fold them into the batter. I always use a spoonula to fold the whites in.
Add a bit of the flour and then the brandy alternately.
Next fold in the fruit and nut mixture, using a large spatula, spoonula or mixing spoon..
When all is folded together evenly, fill your molds three-fourths full- as the cakes do not rise too much.
Bake at 275F which can take anywhere from 1 hour to 3 hours depending on the sizes of your pans. I look for an internal temperature on my Thermapen of 195-200F or 91-93C.
Cake tester should come out clean.
Notes
You can toast the nuts before adding them to the mix and if using dried figs, snip the stems off before slicing.
Adapted from unknown
Adapted from unknown
Kitchen Detail https://lacuisineus.com/
Hungry for More?
Subscribe to Kitchen Detail and get the newest post in your inbox, plus exclusive KD Reader discounts on must have products and services.
---
Share Us on Social Media: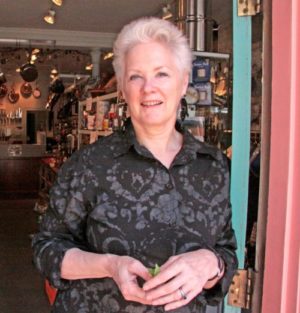 After owning one of the best cooking stores in the US for 47 years, Nancy Pollard writes a blog about food in all its aspects – recipes, film, books, travel, superior sources and food related issues.