September 13, 2023 - Written by: Nancy Pollard
Read Time: 4 Minutes Subscribe & Share
Geography Lessons
My grandson, in an effort to educate me on the geography of his father's region, pointed out that in Le Marche one can travel from the sea coast through its verdant hills and to its mountain tops in a very short time. And if you look at one of those 3D maps, it almost makes you dizzy to see how quickly its beaches rise up into hills and then to the famed Apennines. In fact, some say Le Marche resembles a comb, from its teeth of mountain ridges and valleys etched with rivers that run to the sea. Innumerable and exhausting hikes are to be had for hardy souls. A much more enjoyable and delicious way to explore the same turf would be to take a leisurely road trip via these three restaurants.
A Seaside Shack
My first encounter with the highly satisfactory concept of beach shack restaurants was a few years ago
in San Benedetto Del Tronto while on a family vacation. These concessions lined the seaside esplanade and had patios with tables, chairs, sometimes equipment lockers, perhaps a shower and occasionally some arcade games. I particularly loved their license to rent and maintain umbrellas (serviced with attached tables – so handy), deck chairs or lounge versions with little shades. All had some sort of bar with snacks, and some even had really good and very casual restaurants. I wrote about one we loved, but we discovered another in the older beach town of Grottammare, which has some very stately and largely unairconditioned seaside homes with lavish Art Deco details.
Again, on the sandy beach front dotted with umbrellas lined up like soldiers in a colorful military formation are a slew of these concessions. The Italy Insider chose Bagno delle Sirene, run by a very young crew headed by a talented Moroccan chef. We fe
d 5 people for less than $160 including wine and desserts. Although I loved their version of Trippa di Rospo (don't knock it 'til you've tried it) – a succulent stew featuring strips from the stomach of a monkfish – their simply grilled
seafood sings of maritime Italy at its best. Not farmed, and what a difference in flavor and aroma. A squeeze of lemon and a good olive oil suffice. And one of the desserts was a surprising limoncello based tiramisu served in a small jam jar – smashing.
A Locanda In The Hills
If you wanted a quick tour of a beautifully curated hillside town with both medieval and Renaissance architecture, followed by a serene dinner overlooking gorgeous views, Ortezzano and the restaurant I Piceni would be a good choice. And then you could spend the night. The chef, Giammpiero Giammarini, returned to this area after cooking in restaurants in Rome and some stints in the US. And looking at the views from the veranda of his
restaurant, who could blame him? He features
elegant but simply plated interpretations of local specialties. Duck, rabbit, locally raised meat and poultry, and excellent fruits and vegetables from the Aso valley are all highlights. Do not skip dessert here – imaginative and delicious. Mine was an unusual pistachio semifreddo.
Into The Heights
Il Parco Nazionale Di Monti Sibillini is a jewel among thoughtfully planned parks where adventures for children, parents and grandparents, people with disabilities, hikers, bikers and walkers with and without dogs abound. There are working farms, some with accommodations for travelers, and you can
also dine in some pretty remarkable restaurants. Probably the most impressive would be Il Tiglio which has received a Michelin star and as my geographically inclined grandson says,"it is in the middle of nowhere." Its owner and his restaurant have withstood both the disasters of an earthquake and the pandemic. The building, which housed his parents' trattoria, became the touchstone for Enrico Mazzaroni, who after earning
a law degree, has turned it into a magical dwelling of refined yet whimsical dining. While carefully studying and meeting the somewhat old school requirements of the much vaunted Michelin system, Enrico provides a top notch and uniquely Italian dining experience. You dine in a sober stone-
walled room with amazing lighting. Your course comes out dressed in a combination of classic plates and kitschy containers. There's a bit of Redzepi of Denmark and a touch of Adria of Spain, but his compositions mostly reflect Mazzaroni's locale and culinary zaniness. Artichokes and roses, pine needles and smoked trout, an unlikely pairing of veal liver and oysters, and a cold dessert with caviar – it makes your head spin, but it works.
Trust me, these three dining way-stations beat any hike hands down.
Hungry for More?
Subscribe to Kitchen Detail and get the newest post in your inbox, plus exclusive KD Reader discounts on must have products and services.
---
Share Us on Social Media: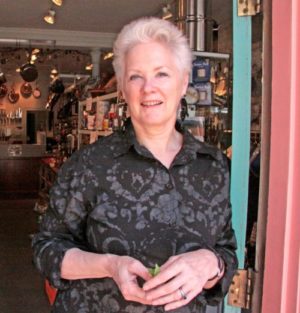 After owning one of the best cooking stores in the US for 47 years, Nancy Pollard writes a blog about food in all its aspects – recipes, film, books, travel, superior sources and food related issues.