January 16, 2019 - Written by: Nancy Pollard
Read Time: 4 Minutes Subscribe & Share
Little Things Mean A Lot
Sometimes it's the simplest things that make all sorts of tasks easier in your kitchen, and this is one of them. Of all the little tools that I have played with, this one surprises me the most by its absence in many home kitchens. There are dozens of models to choose from, and they come under a bewildering assortment of names: bench knife, dough scraper, dough cutter, dough slicer. Originally used in bakeries, their purpose was to scrape recalcitrant dough on the wood counter or "bench," and also to cut through the dough before weighing out portions.
My all–time favorite (and I have had this model for over 30 years) is the one from Matfer Bourgeat in France. Matfer has now merged with Bourgeat,Flo, and In Situ — all professional equipment producers – – but has always been a major supplier and manufacturer of bread and pastry equipment in France. We used to import directly many of their products for La Cuisine, including this bench scraper. Their collection of dies for paté, chocolate and ice cream molds, which resides in a cage at their manufacturing facilities in France, is a wonder to behold. And you'll find their catalogues an education in professlional culinary tools, so enjoy perusing them (as I have for many years) on their site.
Not Just For Bakers
But back to this marvelous baker's tool. It is made from 18/10 stainless steel, which is what I look for in a tool destined to become beloved. To paraphrase a much longer description about stainless steel components, 18/10 stainless steel, as well as 18/8 and 18/0, are fractions explaining the percentages of chromium and nickel alloys, respectively, added to stainless steel to reduce rust and enhance shine and durability. 18/0 contains limited nickel and is, therefore, slightly less resistant to oxidation, while 18/10 provides the highest amount of nickel, thus the greatest resistance to rust and longest lasting polish. Tools without the 18/10 classification will oxidize and stain over time. Matfer's version of this bakers' tool is single-piece construction, so there are no separate wood or plastic handles to get burned, melted, or cracked. The curved handle is really comfortable to hold if you have to exert pressure, and the cutting edge is beveled, which makes it much more effective at scraping and slicing.
When chopping parsley or cilantro, use it as an effective scoop to pick up all those pesky green pieces sticking to the counter. Making a fruit salad? Use this to add the ingredients to your bowl as you cut them into dice. For the leftover peels, cores, and trimmings on the counter hopefully headed to your compost bucket — this guy is your buddy. Using this tool to help knead doughs that need to remain loose and sticky will keep you from adding too much additional flour. If you make chocolate chip cookies and use good quality bar chocolate, this design is a godsend for transferring them to your batter. If you chop meat, poultry, or fish for a ecipe, this scraper just makes the journey to saute pan more efficient. You'll be grateful for it when you dice onions too.
I use it to make chocolate shavings and curls. Melt tempered chocolate by sliding it on a hot sheet pan and then use the scraper to create cigarette like shards. You"ll find it helpful in scraping up dried caramel, pasta dough, and chocolate from any pastry project you have embarked on.
Racle Who?
The Matfer dough scraper has a nylon cousin called a Racle Tout, which is nice to have on hand as well. It is thin but stiff enough to provide you
with a serious scraping edge, and it has the advantage of having a curved side for bowls. This design is the darling of many pasta, pastry, and chocolate professionals who use it to shape and portion and then clean the bench.
"It is the perfect combination of flexibility and firmness," says Sarah Rich of Rich's Table in San Francisco. "Some of the ones you get have no give at all, and some of them are really flexible to the point that they are useless." The Matfer Bourgeat has a slight bend to it, so "when you are scraping things off your counter and you want to be able to curve it a little to dig in there," you can, without fear of the tool breaking or flopping over. The thickness, too, makes for a perfect grip, she says, and its compact size means you can fit it in your back pocket for easy access while you cook.
Both of these are more expensive then the myriad look-alikes, but believe me the investment is worthwhile. They can be bought at certain cookware stores (make sure you specify the manufacturer) and on a variety of online professional kitchen supply outlets, including Amazon.
Hungry for More?
Subscribe to Kitchen Detail and get the newest post in your inbox, plus exclusive KD Reader discounts on must have products and services.
---
Share Us on Social Media: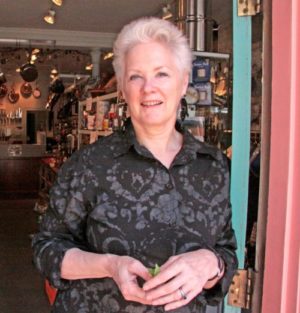 After owning one of the best cooking stores in the US for 47 years, Nancy Pollard writes a blog about food in all its aspects – recipes, film, books, travel, superior sources and food related issues.