September 17, 2019 - Written by: Nancy Pollard
Read Time: 2 Minutes Subscribe & Share
Biscuit de Savoie is a centuries old cake recipe and its roots are indeed from a pastry chef in the Savoy Court. It can be baked in a mold, or as a layer to be split, or even as
roulade, so you can fill it with whipped ganache, roll it up and drizzle with a thinner ganache from this post. We have finished our version baked in a copper mold and finished it off with our Chocolate Caramel ganache glaze. You can see the difference in the crust in the photo on the left when you do not use a non-stick mold. As I have said in other posts on making cakes, non-stick molds give your crust a somewhat sweaty appearance and texture. And the damage to the environment that discarded non-stick cookware brings is still being assessed This recipe works in any 6 -8 cup or a or two 7 or 8-inch layer cake pans. For a roulade, use nothing larger than a 10×15 sheet pan . We usually butter the pan of choice and then use finely ground almonds or cake crumbsr instead of flour for lining the greased interior. This versatile recipe for both the cake and the ganache is part of our Juicy Post for November, 2018
A note on the vanilla flavoring in this recipe: the Vanilla Essence from Grasse, France will give you a superior vanilla flavor to our extracts and you will use less.
Biscuit De Savoie
2019-09-17 20:23:50
A modern variation of a centuries-old recipe for a light melt-in-your-mouth cake. Serve it with fruit compotes or covered with ganache. It can be split into layers with any filling too.
Ingredients
100 gr (3 1/2oz) caster sugar
50 gr (1 3/4oz) all purpose flour
50 gr (1 3/4oz potato starch
4 large eggs
40gr 91 1/3oz) unsalted butter
2 tsp vanilla paste or extract
OR 1/2 tsp Vanilla Essence from Grasse, France
Instructions
Preheat oven to 190C 375F
Butter an 8 inch(20cm) mold of your choice or 2 plain layer cake pans that are no more than 20cm or 8 inches in diameter.
Sift powdered almonds or flour into the greased mold
Separate the yolks from the whites.
Melt the butter and allow to cool
Whisk the yolks in a mixer bowl with the vanilla and half the sugar until it is creamy and smooth.
Sieve the flour and potato starch together and add it to the yolk mixture at the edges without folding the flours in yet.
Whisk egg whites until they hold somewhat stiff peaks and then gradually fold in the remaining sugar, still whisking,
You will have a meringue like mixture which you will fold into yolks, flours and cooled melted butter.
This folding method keeps the cake lighter than if you folded ingredients in stages.
Pour the batter into your mold and slide into oven.
Bake approximately 25 minutes, using a skewer to test the middle. It should come out clean.
Allow the cake to cool for about 5-10 minutes before releasing it from the pan.
Place cake on a cooling rack on top of a half sheet pan.
You can split the layers and fill with whipped cream.
Cover with one of the classic ganaches from this post.
The ganache can be decorated with a variety of fruits in any way that you choose.
Refrigerate until ready to serve.
Allow cake to rest about 15 minutes at room temperature before slicing.
Notes
If you are making it in a mold as we did here in this image, it should hold about 6-8 cups or a1 1/2 liters to 1 3/4 liters.
The flavoring essences from Grasse, France are superior to our domestic flavoring extracts. You will use less and the flavor and aroma will be exceptional. These are the ones that we carried at La Cuisine. They are available at www.simplygourmand.com
Adapted from The Taste Of Savoie
Adapted from The Taste Of Savoie
Kitchen Detail https://lacuisineus.com/
Caramel Chocolate Ganache
2019-09-17 20:50:43
A simple but clever variation of a classic ganache. Allow to cool before testing as a truffle filling or whipping for a mousse dessert.
Ingredients
8oz (227gr) mild bittersweet chocolate (less than 64% cocoa solids)
1/2 cup (100gr) caster sugar
1 tbs (1.5cl) water
1tsp (1/2cl) lemon juice
1 cup (24cl) heavy cream
2 tbs (30gr) unsalted butter, cut into small cubes
Instructions
Chop the chocolate and put into a heat resistant bowl, set aside.
Combine sugar, water, lemon juice in a heavy saucepan (I use unlined copper as it inhibits crystallizaton).
Over medium heat, stir just until the sugar has dissolved.
Allow the syrup to come to a boil, without stirring.
When the syrup has reached a dark amber color, swirl the pan to distribute the color and heat.
Then remove the pan from heat and pour in the cream in three increments.
There will be a fierce bubbling at first and then the mixture will subside.
Gradually add the cubed butter and return to medium heat.
Stir until all ingredients are combined and then pour the caramel cream into the chocolate.
Allow the cream to start melting the chocolate and then stir in circles (I prefer spoon or spoonula to a whisk) from the middle outward to the edge of the bowl.
You should attain a glossy pourable thick glaze.which can rest at room temperature for an hour or two.
If you want a thicker frosting-like texture, allow it to cool either on the counter for three hours or for half an hour in the fridge, until you get the spreadable consistency desired.
Adapted from Vintage Cakes
Adapted from Vintage Cakes
Kitchen Detail https://lacuisineus.com/
Hungry for More?
Subscribe to Kitchen Detail and get the newest post in your inbox, plus exclusive KD Reader discounts on must have products and services.
---
Share Us on Social Media: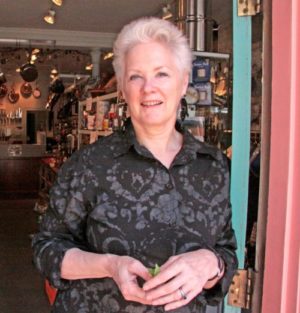 After owning one of the best cooking stores in the US for 47 years, Nancy Pollard writes a blog about food in all its aspects – recipes, film, books, travel, superior sources and food related issues.