December 27, 2022 - Written by: Nancy Pollard
Read Time: 5 Minutes Subscribe & Share
Abandon All Stress Ye Who Enter Here
You have now entered my Peace & Quiet Zone, an area I invented when recovering from the retail craziness that is a part of the holiday madness when we bury the old year and ring in the new. After Christmas, it is my tradition to do nothing. Except read a pleasant book (outside of cookbooks, which are always pleasant) and watch an equally pleasant film. Here is a quick look at last year's Holy Week – I still stand by my opinion that Fay Weldon's production of Pride And Prejudice is the best film series based on that timeless novel. And for the best summation of our Christmas during the pandemic I nominate the video from Match.com. I still get emails from readers who re-watch the film from my first Holy Week post. Should someone else join you on the couch, the His n'Hers book choices of 2018 are as good today as they were four years ago. It is very important that you not read something that is superlatively written and taxing to your brain. Ditto with films. Scary thrillers and sad but true stories are out.
An Eatery For Everyman
When I marched over the bridge from being twelve years old to thirteen, my mother decided that I was
finally old enough to have a ladies suit and to wear high heels. She swept me into a dress shop on Connecticut Avenue named Jean Matou, where we purchased a black watch plaid suit with a straight skirt (also a sign of my now being thirteen) with a boxy Chanel type jacket. My first pair of high heels from Hahn's Shoes were a heady two inches in height. And to top it off, I could wear my outfit (with a hat) on the train with my older brother. Our parents allowed us to travel to New York City by ourselves to visit our very sophisticated cousins.
My brother, who was knowledgeable in all things cool, told me that we had to eat at the Automat. After all, he read Scientific American while I read movie magazines. When we were younger, he first informed me of this technological miracle called a television and became exasperated when I thought it was a telephone with a picture in it. And, fresh off the boat from Germany, I remember my astonishment
when I saw my first TV – at the house of the same sophisticated cousins on Long Island. And so it was with his breathless description of the wonders available to us at our first visit to the Automat in Manhattan. I recall the experience well. Whether you have a childhood memory of its charm or are ignorant of this most American phenomenon, Lisa Hurwitz's documentary is a must.
This marvelous American invention owes its roots to a German restaurant, which the founders of Horn & Hardhart expanded. It offered simple meals (but really good sandwiches, soups, stews, desserts and beverages) to people of all incomes and ethnicities who ate seated together in somewhat grand dining halls. The restaurant was waiterless, with cooks behind a wall of glass and metal boxes. And all you needed was a handful of nickels to click into the slots, open the little door, and collect your choice. It was the wave of the future; it was fast food. And to top it off, the company was good to its employees. You will enjoy the memories and social commentary from not only Mel Brooks, but also from Colin Powell, Ruth Bader Ginsburg and, surprisingly, the founder of Starbucks.
Another Tuscan Tale
My book choice for my Holy Week this year is a one of a Tuscan trilogy written by Ferenc Máté, a Hungarian by birth, a Canadian by asylum (from the Hungarian Revolution) and currently a vintner in Tuscany. While his wines may not meet the Wine Spectator heights and prices of one of his neighbors,
Angelo Gaja, his books about his adventures in what we call Chiantishire, are endearing and often hilarious. He and his wife were both sailors, and they have other books describing this pastime, including a highly noted one dedicated to boat building. Each chapter is somewhat self-contained, so you can put it down anytime you feel the need to heat up Christmas leftovers or clean up discarded gift wrap. A Vineyard In Tuscany has not been, thank God, turned into a misbegotten film (case in point – Under The Tuscan Sun) and has such charming and surprising revelations about the Italians who make up his world.
My eyes normally glaze over when I have been on winery tours in which the guide explains in technical detail how their vineyard produces its wines (remember I read movie magazines instead of Scientific American in my misspent youth). Instead, Ferenc Máté writes about his stumbling education in running his vineyard in manageable and engaging terms. That said, one of my favorite passages is this description of the iconic Italian Ape.
We went to the Consorzio in Paolucci's three-wheeler Ape, which is best described as a mechanized vest – it's so tiny that you don't really enter it as much as you put it on. It has a small truck-like flatbed in the back and a motorcycle engine with a cylindrical capacity of 50 cubic centimeters, which, in cookie-baking terms, is a quarter of a cup. It goes up hill roaring like a lion at the pace of a snail.
And from my couch to yours -Happy New Year and a peaceful Holy Week to all!
Hungry for More?
Subscribe to Kitchen Detail and get the newest post in your inbox, plus exclusive KD Reader discounts on must have products and services.
---
Share Us on Social Media: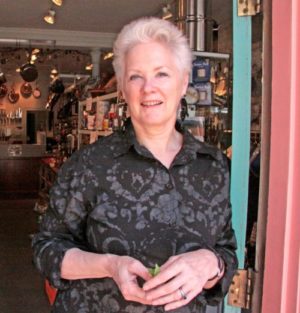 After owning one of the best cooking stores in the US for 47 years, Nancy Pollard writes a blog about food in all its aspects – recipes, film, books, travel, superior sources and food related issues.